by Hundmutter on 30 December 2017 - 17:12
Re: working ability and the fall in numbers of GSD in those sorts of classes and competitions, I fully agree with you SS. It IS a shame that people seem more interested on both sides of the Pond in getting rosettes and prize cards for conformation than for perpetuating this, our working breed, in its intended incarnation (no matter what the job of 'work' is, (g)breeders won't make time & effort to train for it, they are just satisfied to say "The stock we produce goes to make good guards for our customers homes...(or) Well, we sell some of our pups to LE ( or Army or Prison Service, whatever ) and THEY have successfully trained them ..."

The DOGS' lives would be immeasurably improved by having something to do, rather than sit around for hours in kennels, or in vans en route to Shows. But its all time and money.

In the early days of the Breed in the UK (say 1920s to 1940s) there was a lot more dedication and interest in keeping the breed a working breed; and I am pleased to see a bit of a return to that in current years; but for far too long "Show Dog" has meant just that.

by Sunsilver on 30 December 2017 - 20:12
Hundmutter, I agree with you about that female's conformation. Her owner is a pro handler, and no doubt, that helped in getting her championship. They know how to show a dog to its best advantage, and pick the judges that may be sympathetic that particular type.

Star definitely turned out much better as far as conformation is concerned, though I could have done without the faded pigment!

"Well, we sell some of our pups to LE ( or Army or Prison Service, whatever ) and THEY have successfully trained them...."

Usually the dogs are donated. And I am sure they are the ones that don't have good enough conformation for the show ring!
by Diamondgal on 30 December 2017 - 22:12
The difference between the two are: Germany created the breed for all round working purposes. When the military returning to the U.S. introduced the breed, people at that time basically said "too big, too much muscle, too aggressive." Not realizing the breed just survived war. So Americans at the time changed the look and it resulted in dogs with soft temperaments and pretty faces.

If American lines still held true to what European lines are, like they once were - there would be need for police departments to import any blood from Europe.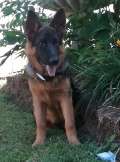 by Vom Haus Chacon on 31 December 2017 - 05:12
What is the difference between the European GSD? I did some research and found out that dog of biger size are the standard GSD over there.

by Hundmutter on 31 December 2017 - 07:12
Generally speaking, 'Europe' - by which I mean France, Italy, Spain, Portugal, Greece etc and of course Germany; plus the UK and Ireland - and including the eastern parts, from Poland over to Hungary, Czech Republic, the Baltic States etc etc, can all be said to be
close enough to the country of origin of the breed to have absorbed the SV's view of what a GSD should be.

For formal breed propagation and Exhibition purposes, that means the dogs are all subject to the FCI Breed Standard. And the size limits stated in the Standard. I don't get, OP, what research has shown you otherwise; or what you are comparing ? Bigger than what ?

There is, of course, a market in larger than Standard dogs, in European countries, as
everywhere else in the world. Some people prefer a larger, heavier dog for various reasons - there are many threds on PDB devoted to THAT debate, too ! But 'dogs that people prefer' that are not of the Standard - eg 70 cm tall and weighing 100 lb - cannot be said to be truly representative of the breed for purebred, pedigree, purposes. So there is actually no distinctly developed 'European' sort of larger GSD.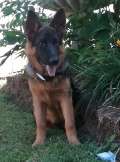 by Vom Haus Chacon on 01 January 2018 - 14:01
I like to see what you think about this specific dog.
http://www.pedigreedatabase.com/german_shepherd_dog/dog.html?id=2709842-max-vom-haus-chacon



by Hundmutter on 01 January 2018 - 17:01
OP I'll give you an honest answer as far as I can, but please bear these points in mind:
Nobody can properly 'critique' a dog from one still photograph, much less one that is taken front-on with the subject seated. Apart from not seeing all the 'bits' ( as one can, to some extent, from a standing photo taken side-on, or some video), it is impossible to assess teeth, temperament, gait, etc etc etc. All of which are equally important to the Breed Standard. ADDED: I see now that you have just put on one side-on picture of him overnight. But it is stretched because he is playing tug.
And, I have ZERO expertise in the trading of dogs and puppies internationally, ending up in the States.
This is still very much a puppy, having been born towards the end of the first week of June 2017. He seems over large and heavy, although in this photo there is nothing to make comparison with. He has what I wrote about earlier, that very typical ASL head and facial expression, which - as a UK Shepherdite - I am completely uncomfortable with - I suspect many Germans might be, too. I think this is about three things: a slightly insufficient 'stop', altering the plains of the head; a bit of unwanted 'lippiness'; and the expression in the eyes which always, for me, indicates a bit lacking in the 'spark' that I am used to seeing in the dogs around ME.
Now what I can glean from his pedigree page:
If genuine, the top (WGSL) half is fine. Although I have absolutely no idea where his Sire "Urbo Krndijayu (jr 745537) is, originates from or was bred by. Others on PDB might recognise that 'jr' registration code, or maybe you can tell us ? I don't think we were meant to know - Krndijaya is also the username of the person who registered him with PDB and the only Kennelname given, too.
It looks as though he (or his parents) may have been bred in Germany then exported elsewhere before arriving in the States ? [As I said, not my field of knowledge.]
I reckon his size (if it is already as overlarge as it looks) and his headpiece result from the mixture that forms the bottom (Dam's) half of this pedigree.
(I am used to seeing products of the two main kennels listed for the Sire's ancestry, and they do not look like this).
For myself, although I have vaguely heard of the US kennels involved, I've never encountered any of the individual dogs named here, or other progeny. Maybe some US members have ? But the real "trouble" I suspect, lies (as it often will) with what appears to be total "pet breeding" at the end of this pedigree. Or maybe these dogs were bred for Showing
and didn't win anything; might explain the owner's apparent lack of interest in putting complete or accurate information on PDB, or recording (or even getting them?) health tests, or working qualifications. There is very little back-story on these dogs.
Which brings me to ask: why you are advertising him at Stud already ? Seven months old, with no health results yet, apparently no working qualifications or info., and an incomplete pedigree, sounds premature to me for deciding your dog is worth breeding with ("breedworthy"). Or has
reaction to your Classified Ad prompted your questions ?
FWIW your bitch pup Mia looks a better prospect AS A PUPPY, but with the same caveats about the photos on her page all being taken front-on, and sitting or lying down.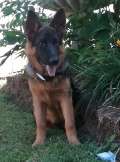 by Vom Haus Chacon on 01 January 2018 - 17:01
I am working on finding all the information necessary on his pedigree before I decided breed his two specimens. Thanks for all the research you have done on your side.

by Sunsilver on 01 January 2018 - 17:01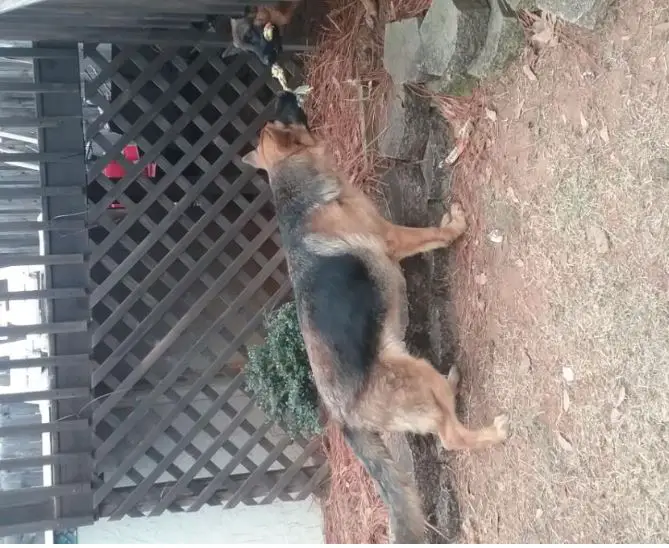 Posting photo so others can see -sorry, I have tried to change the orientation of the photo, but it is still posting sideways.
The dog's legs look weak to me. He is down in the pasterns, and the front feet look flat instead of arched, as called for in the breed standard. He is standing with his feet very close together, which may indicate a chest that is narrow. Back legs also look overangulated and weak to me. He also looks to be overweight.
He may fill out and get more muscle as he matures. I would give him more exercise, to muscle him up, and trim his waistline. And I have to be honest about this: no one is going to want to use this dog for stud. He has no titles, is not hip scored, he is too young, plus he's a mix of two very different lines. Neither German show line people nor American show line people are going to want to breed to this dog.
Star was the result of an 'oops' litter, and her breeder had great difficulty finding homes for the two pups that came from the litter. A well known American breeder of SV dogs once said, "When you breed shit to gold, you don't get silver. You just get shit on your gold."
I don't agree with this sentiment, because Star is a pretty nice dog by anyone's standards, but it's exactly how many people would feel about mixing ASL dogs with GSL.
Edit: there is some pretty irresponsible breeding on the dam's side of the pedigree. This dog was x-rayed and found to be dysplastic, yet he was still used for breeding!

http://www.pedigreedatabase.com/german_shepherd_dog/dog.html?id=1354204-adorher-black-jack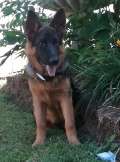 by Vom Haus Chacon on 01 January 2018 - 18:01
Thanks for the feedback, I won't allow this two dogs to breed.
You must be logged in to reply to posts
---
---
---
---
Contact information
Disclaimer
Privacy Statement
Copyright Information
Terms of Service
Cookie policy
↑ Back to top