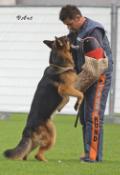 by jdiaz1791 on 28 December 2017 - 15:12
Jana vom Demenhof was bought by Lino Calvo in 2013, call AKC 919-233-9767 and ask when she was transferred/registered to Lino Calvo. I commented here because Ruben said I bred and registered this Sasha with Jana vom Demenhof and Tyson as parents,which is a lie.
I took Lino Calvo to Germany for the first time in 2013 to show and help him,as I thought was my "friend"...

I believe Jana was born in 2010. Jana was never bred to Tyson,you can verify this with the German SV.
Looks like Sasha was born of Babette and Tyson, I imported Babette and sold to Calvo in 2011,if memory serves me right.....but why was registered to a different mother,Jana, here and offered for sale as this,only they know.

Ruben is not related to Lino Calvo, but lives or works in his property, as Sasha was registered to him and with Von Calvo's address and Ruben receives mail at Lino Calvo's address.
These type of things is why,after teaching Lino Calvo about German Shepherds, getting the VA dogs we co-owned, Peik and Chaco, I told him didn't want anything to do with him ,let's sell the co-owned dogs and to go our separate ways, he then sue me.
Lino Calvo tells everyone he brought the VA dogs,and he knows it all, All lies; in his deposition he testified I was the one who got the dogs because of my connections. It's on the lawsuit,his depo, public records.
by German Shepherd on 28 December 2017 - 15:12
If you have a way I can post a copy of her AKC papers stating that
Sasha von Calvo dob 11/30/2011 DN33283901
sire Tyson vom Kottersbusch
dam Babette von der martinskapelle (akc verifies that Lino Calvo was owner of this dog- he is same person who put up her pedigree link with her photo and date of birth (changing parentage twice)

I am hoping you can pull up the old ad I saw posted in September when I inquired about her and purchased her

maybe if we can see who listed her for sale?

I have contacted Jose Diaz who was the breeder of Sasha who verifies that just the paper work was in his name

I have further found out that there was an ongoing court case between Lino Calvo and Jose Diaz from May6 2016-Sept 2017
(this dog Sasha was put in Ruben Cabellos name with the same address as Lino Calvo 1811 SW 92nd Pl Miami Fl 33165-7735)
and Jose said that in court Lino stated that he was not breeding dogs

I only know that Ruben Cabellos replied when I inquired about Sasha von Calvo
he sent me the pedigree link with the mother as Jana (that von Calvo has submitted)
but there is a different mother on the AKC papers
I was told the dog was an indoor family dog
I was Lied to about the size of the healthy litters
I was told that I would receive a REQUIRED by law Florida Health Cert
I was told I would receive her hip and elbow xrays -

I was required to leave a dep on Sasha and to meet to receive her

I was met by a young man who wore a Von Calvo shirt
he then stated that Lino was his uncle (this was never told to me in any emails
I had no idea Ruben resided with Lino )
Ruben had another dog to deliver

Ruben had NO other paper work but the akc papers
NO bill of sale-nothing required by Florida law and gave me excuses and promises that I would receive all
and I believed him because he Vowed he would send it all as soon as he arrived

please give me an email and I can send photos of the papers for proof of different mother

but if you just look on the dog when she Von Calvo put her on pedigree database
you can see he had Peir as sire then changed that


If you research the address you can see it is Von Calvo kennel address

If you research court you can see where there was a law suit - that Lino was involved in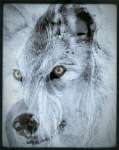 by Fantom76 on 28 December 2017 - 17:12
German Shepherd - I sent you a private post so that you could email me Sasha'a AKC pedigree. I will then correct it and post a picture of the pedigree in her Gallery.

by Western Rider on 28 December 2017 - 17:12
Just remember no matter what the paper work says and who is clamed to be the dam and sire, you may have a dog that is not related to any on the AKC cert. You would need a DNA to prove anything it sounds with this group.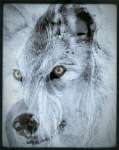 by Fantom76 on 28 December 2017 - 18:12
True about the DNA, but the first step is to get the correct sire and dam names and check to see if the SV has their DNA in their files. Unfortunately the AKC website does not list any DNA information for Sasha, but the person who owns her can get that done.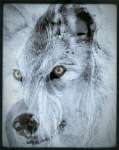 by Fantom76 on 29 December 2017 - 21:12
I received the AKC registration papers for Sasha and indeed her dam was not correct. Her dam according to the AKC is not Jana vom Demenhof . Her dam is Babette von der Martinskapelle. I corrected Sasha's pedigree and included a picture of the AKC registration papers in Sasha's gallery.
Sasha was born Oct 30, 2011 but Babette is not listed until Jul 2012 in the AKC stud book. It normally takes about 2 months for a dog to appear in the AKC stud book after having produced a litter, but this could be because the litter was not immediately registered because of having to wait for import papers.
Both Tyson and Babette have been DNA tested, so it could be easily proven as to the authenticity of Sasha's parentage if she were to be tested
.
by German Shepherd on 30 December 2017 - 03:12
Thank you everyone for all your help! - A man was sent to get Sasha and her papers from me , ONLY the purchase price was refunded, nothing extra for all the care I had to spend while she was in my home for 2 months or registration fees, this was a Sad deal, mostly for the dog :( and my daughter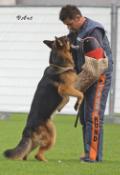 by jdiaz1791 on 30 December 2017 - 16:12
Yes, you should had been compensated .
Still, representing the wrong pedigree is fraud, registered by Lino Calvo as Von Calvo, as stated by the Admin here, Jana vom Demenhof was not the mom.
Accusing me of breeding,registering her with that pedigree, is defamatory-misrepresentation-fraud. There is a good reason he refunded the money, he knows he got caught lying.
by German Shepherd on 27 April 2018 - 20:04
April 27, 2018

I Linda Strand was wrong to accuse the Calvos for any wrong doings. I never did any business with Lino or Cary Calvo or Von Calvo German Shepherds. In the Future I will not speak negatively or disparage in any way the Calvos or Von Calvo German Shepherds. I will post this letter on Pedigree database and any other location where I accused the defendants. Linda Strand

You must be logged in to reply to posts
---
---
---
---
Contact information
Disclaimer
Privacy Statement
Copyright Information
Terms of Service
Cookie policy
↑ Back to top