by ValK on 16 October 2017 - 22:10
Gustav, that was very noble gesture, typical, when someone want to get out, without their virtual image to being shaken.
i took a look at your profile and some messages since 10 years back. what i saw - you're definately, unlike me and other in here, have spend more than 15 minutes of reading. but i haven't saw anything, where you did share your personal practical experience based on own mischiefs and achievements. maybe i miss such messages but what i seen is an practical experiences of third parties, you refer to.
also quite confusing - you're in many instances mentioned your experience and knowlege as practicing breeder, who breed the dogs for wide range of services. how come, here i can't see any of these dogs registered by you in this data base.
do your dogs destined for only James Bond use?
b.t.w. was very interesting to learn about issue of delayed maturity in DDR dogs and early maturity of Czech dogs.
Joanna, i didn't expect you would take so painful my remark about your Otto.
if that so much have offended you, my sincere apology.
in regard of Gero
"no staged", well, dogs are smart creatures but not to the level to have abstract thinking abilities and figure out that they have been taken to be shown to someone. i also saw Novotny left with dog only and no one, who carried the sleeve. most likely sleeve was provided by watching party.
the dog were in surrounding, which definately isn't a training facility, able alone to alert and disturb the dog.
hardness don't manifest itself in form of signs of agrression toward anyone or anything, near the dog. Gero did what supposed to do dog with high confidence. he react to non threatening objects with indifference.
i never met him in person but can see his progeny and names of kennels with their respective owners, who not only used him in their program but still continue his heritage.
i apologizing upfront, but their established names and works does mean for me more than just words. i saw the highest point the dogs from your program reached, was 2 dogs at Alpinek9. after that no traces of them which means they wasn't used for breeding.
b.t.w. my guess you have mentioned Putin to somehow hurt me... i'm not russian

by joanro on 16 October 2017 - 22:10
Valk, the dog on page one here that I referenced in my above post is Otto's grandsire, so I wasn't talking about Otto.

As for 'highest point' my dogs reached is Alpine, I don't know what that even means.

Not to worry about who has used my dogs for breeding. You won't find them on this site.

It seems you don't really know first hand what a 'hard dog' is, since you put a very poor video up as an example. That video doesn't show anything special in the dog. Like I said, his condition looks poor.
There are lots of better videos representing better work to be found of other dogs, if one searches.
He was a very popular dog and used a lot, but so are many other highly promoted stud dogs.

BTW, most of my pups which became my foundation stock, I got from the two jiris. So your snarky comment was just silly.
by hexe on 16 October 2017 - 22:10
ValK, it is quite obvious you're new at this...Gustav is a known and highly respected quantity in the working GSD community--and when I say 'working GSD community', I'm referring to LE dogs, facility security guard dogs, MWDs and in the dogsport worlds. He will only suffer so much foolishness, however, and then he's done.

Also, you would be wise to not make assumptions about whether or not a dog was used for breeding here in the USA, unless you have access to the stud books or the Win-SIS program--you probably don't realize it, but pedigrees in this database, as with the European database, are entered voluntarily by owners or other people who are interested in those dogs. IOW, this isn't an official database that gets data uploaded to it by all of the breed registries in the world, so there are a LOT of dogs, and a LOT of breedings that haven't been entered in here.
by ValK on 16 October 2017 - 23:10
hexe i'm aware about the way how this pedigree data was created. i'm not aware of motives for which owner of kennel, producing the dogs, outstanding and very valuable for breed, would hide them?
nevertheless folk, you have beat me by english literacy. i'm definitely can't keep pace with you in the depth and colorfulness of expressions.
but i guess it doesn't matter much. anyway everyone will stuck to their guns, be it view on breed, method of training or breeding programs.
by ValK on 16 October 2017 - 23:10

by Reliya on 17 October 2017 - 02:10
Alpine K9 and Jinopo were breeders for the z Pohranicni straze dogs, Valk. I think Jiri ended up taking those dogs with him when he left.
by joanro on 17 October 2017 - 12:10
Valk, I don't know what your agenda is, but Apine purchased five males from me out of one litter from my Ixe jipo-me, to raise and train for LE. This was a repeat breeding at their request after Jiri saw a male they got from me from the prior breeding. One of those males was sold to a breeder of protection dogs in Mexico.
You must have assumed that Alpine used my male Axel on Ixe...I never offered Axel for outside breedings. The reality is that Ixe is my female, I imported her as 8 wk old puppy and raised her. I only bred her two times, both times to Axel. Alpine changed the names on the papers for those five puppies when they registered them, that's why you thought that Alpine was the breeder.
One female I raised from the first Axel/Ixe litter became an apprehesion dog for a PD in La...a brother of Axel's I raised went to the same department, also became apprehension dog.

A grandaughter of Axel's is a detection dog. From a litter of three, another is P3 high score in trial for SDA.

That's the extent of the in house breeding with Axel. And you're correct, Im sticking to my guns on my oppinion, view and breeding of gsd.
Btw, Valk, no worries about Axel's progeny 'licking to death' a felled person....placing them with capable handlers was the issue. That's why I kept four from Ixe's sister and Axel.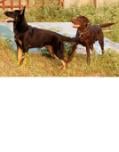 by aaykay on 17 October 2017 - 14:10
I have Gero z BZ descendants at home, and those are certainly no sleeve fetishists or sporty dogs, regardless of the impression from this one video posted above. One common factor among all of them (certainly the other non-Gero ancestors contributed too, in their temperamental makeup) is uncompromising hardness and true aggression. Not sporty sleeve aggression, but raw and active civil aggression.

When I happen to leave on errands, I make sure that one of those Gero descendants is left unleashed within the home, since I can be dead certain that the place is as secure as it can be, with nothing, absolutely nothing, getting past them, without their knowledge. There is courage, there is unnerving civil aggression with strong anger level that scales up to the threat level, and the tendency to never back down. One has to see and experience that, since it opens one's eyes to what a true old-school GSD is capable of ! I will take any one of those Gero descendants over a million other sporty, play-drive suffused new-style GSDs.
by joanro on 17 October 2017 - 15:10
Klara is the female who Gustav credits gero's 'hardness' to...she is behind Puci, I linebred on Puci....
My male, Body ( who I imported at 8 wks old, raised trained and Titled bh, sch, kept his whole life)
my littermate females, Ixe and Igrochka, were pups of Puci. I bred Axel ( Body son) to both those females so the litters were 3-2 on Puci.
Here's a link to give some insight to Puci's character...
Sorry Joanro I had to delete this link as it was from Hans site and we cannot cross post with out permission Western Rider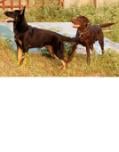 by aaykay on 18 October 2017 - 07:10
Joan, did not see the contents of the link (since it was removed) but the Gero descendants referred above, also have Puci Jipo-me behind them. So maybe a double-dose of Klara there !

Either way, Gero is not a sport/IPO-dog by any stretch, and will target the man/woman, going from personal experience of how his descendants turned out. Maybe not the best type in a sue-happy society like the US, but this is as close as possible to the "real deal" as far as I am concerned. To me, going back to Gero will infuse active (and early) civil aggression (which seems to be in short supply) into today's GSDs.

Interestingly, among the 1000s of dogs that have gone through them, Jinopo has chosen Gero's image as their poster-dog on their site. I think Jiri (of all people) certainly knew that Gero was exceptional, and thus using his image in their site as their poster-dog, was no accident.
You must be logged in to reply to posts
---
---
---
---
Contact information
Disclaimer
Privacy Statement
Copyright Information
Terms of Service
Cookie policy
↑ Back to top