by Bundishep on 15 October 2017 - 17:10
Was the video taken down i have a 8 week old pup that shows way better drives and nerves than the dog did in the video i m not sure how a dog can get to that high level without being washed out along the way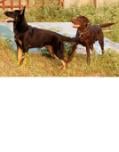 by aaykay on 16 October 2017 - 15:10
Wonder if the bitches in heat had any effect on the performance of the male dogs.......
by joanro on 16 October 2017 - 15:10
IMO, by the time a dog gets to that level, he should be trained enough not to be affected by females in heat.

Even my three year old GSL dog managed to pass schH1 when we FOLLOWED a bulldog bitch in full heat. The club was not following pro to call by making the bitch go last, instead made my dog last because we were not members of their club. So I doubt that females would affect those seasoned competitors.

by Sunsilver on 16 October 2017 - 16:10
'seasoned competitors'....had to lol at that!
Sucks that they'd do that to you, though...

Totally agree with Joan that a dog this well trained should be able to completely ignore bitches in season. Besides, the females in heat were last to go. And being in heat certainly didn't keep Debby from taking the #1 spot, and another in-heat bitch placed 9th.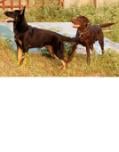 by aaykay on 17 October 2017 - 02:10
I think simply having a bitch in heat in the vicinity, does affect the males to varying degrees. Maybe not enough for them to fold in, but enough to create a gap between their current performance and their peak performance. At these elite levels, that gap could spell the difference between say #5 and #85.

Just an observation from my end, since I know how bitches in heat affect my dogs at home, throughout the period that the bitch is in heat (even when the dogs are kept significantly separated from the in-heat bitch).....even when they follow commands perfectly, there is a distractive element that slows things down.
You must be logged in to reply to posts
---
---
---
---
Contact information
Disclaimer
Privacy Statement
Copyright Information
Terms of Service
Cookie policy
↑ Back to top