by ValK on 16 September 2017 - 15:09
i'm not sure what bengal tiger have in common with east german dogs but nevertheless, wish you best luck with their training or breeding or whatever your program are

by Creek33 on 20 January 2018 - 00:01
Malinda Weber, Weberhaus.com, just bred two of her DDR GSDs. Think it will be Kim aka Kora's last litter.
by ValK on 25 January 2018 - 03:01
can anyone name USA/Canada breeder, who's keeping East German lines alive for sake of their now forgotten qualities,
rather than for opportunity to put the sticker "100%DDR" on price tag, regardless what crap is behind of it?
i would be really thankful for such info.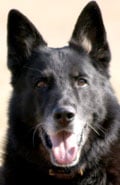 by BlackthornGSD on 25 January 2018 - 03:01
Sure, here's 3, off the top of my head:

Sentinel Harts
Schraderhaus
Timberhaus (http://www.waldkonigk-9.com/)

I have a couple of all DDR girls. I really like a lot of their qualities and what they bring to a combo with a strong working line dog makes for handsome, versatile, sound puppies that are active in all sorts of activities, from working SAR dogs, service dogs (seizure detection, mobility, PSD), herding, IPO, PSA/SDA, AKC agility, USDAA agility, AKC and UKC obedience and rally, nosework, barnhunt -- as well as just being family companions. I do some all DDR litters just for the sake of keeping the lines going, but it's not my primary focus.

Christine


by ValK on 25 January 2018 - 16:01
thank you Christine.
i already did homework in research on these and few others "DDR exceptional" domestic kennels. wasn't able to find any evidences, which can prove that their dogs somehow significantly differ from typical GSD's mass product. sure, they able to "kill for ball" and playful enough to overcome fear toward of yelling decoy and bit the sleeve. but thats about all.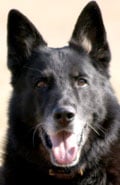 by BlackthornGSD on 25 January 2018 - 19:01
I guess I have no clue what you're looking for, then. I have found traits to value and really like what they bring to a breeding combo. But they're not magical glitter pooping rainbow beasts.

Christine

by Koots on 25 January 2018 - 20:01
"But they're not magical glitter pooping rainbow beasts."

Awesome!!!
by JillSue on 25 January 2018 - 21:01
Thought I would put in my "2 cents". I have DDR dogs and have for a number of years. One has inspired an "app" for detecting black powder. (Patent applied for) Have several that are PTSD service animals......one in Canada......his handler/owner has been able to go back to work full time....2nd time in Canadian history. Several that are on SAR teams, a few that have found cancer on their owner or the other dog in the household. Many are "best buds" to their owners, etc. I am not into "sport" and I don't "talk trash" about the people who are. Each of us has that "draw or pull" that gets us to do something with ours dogs. We all don't look for the same criteria. Christine....I agree.....there are valuable traits in the DDR lines. Have I met the "perfect" DDR dog.......no.......but I have yet to meet the perfect human either.

by Sunsilver on 25 January 2018 - 21:01
Christine, sent you a PM.
by ValK on 25 January 2018 - 23:01
Christine, thank you once again.
it was very enlightening to learn that the german shepherd to be considered good one, must be a beast with ability to shit by glitter rainbow.

Virgilia i'm not in position to doubt your claims but i can say - that is just your words. and you're not alone in this.
i wondering why such advanced breeders so much reluctant to shoot only few mins. long video which will show how good balanced and brave the dogs in their breeding program?
You must be logged in to reply to posts
---
---
---
---
Contact information
Disclaimer
Privacy Statement
Copyright Information
Terms of Service
Cookie policy
↑ Back to top