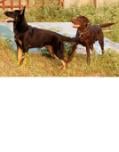 by aaykay on 08 September 2017 - 12:09
I prefer a well-proportioned 65cm dog, for my purposes. Not over-sized but at the top of the height standard.

If I were exclusively after agility, I might have preferred a dog that's on the lower end of the height standard.
by Workingk9s1 on 08 September 2017 - 16:09
I wouldn't own a working male german shepherd under 90 pounds .. I've owned dozens and it's what I lprefer .. my current male is a dual purpose /IPO1 and is 26.5 inches tall , 98ILBs on the dot at 2.5 with a 24 inch neck.. this whole notion that working gsd should be 60 pounds is nonsense.

by KYLE on 20 December 2017 - 12:12
The German standard for the GSD was written prior to the attention that is now given to canine nutrition. So a small percentage over in height and weight is understandable. The GSD was also meant to be a medium sized dog, look at the standard.
Size/weight

Male dogs:

Height at the withers: 60 cm to 65 cm

Weight: 30 kg to 40 kg (60.6 to 88.8 lbs)

Female dogs:

Height at the withers: 55 cm to 60 cm

Weight: 22 kg to 32 kg

Anyone can prefer what they want. But is it within the standard. For me it's about performance. Can the dog work all day? How does is recover? How quick is it? How is its agility. An offensive lineman is not as agile as a linebacker and a linebacker is not as agile as a D back. Are there exceptions? Yes. I will stick to the standard.

by yogidog on 21 December 2017 - 19:12
Kyle on the money for me. I want power but lasting power
You must be logged in to reply to posts
---
---
---
---
Contact information
Disclaimer
Privacy Statement
Copyright Information
Terms of Service
Cookie policy
↑ Back to top