by Rdt on 15 April 2017 - 20:04
Thanks for the answers!

Well let's take it step by step.

- last time I spoke with the breeder he still promised to send me the registration of the pup, I asked him about the parents pedigree (both where imported) he said that both are with pedigree and it's all good. Then I told him that I am thinking to breed (maybe) he asked me for an another 500$ for breeding rights (I agreed to it, even though we never talked about it initially).

- I have nothing from him as parents name just picture with dam and sire. No names, etc....

- I found this breeder on a local classified website, he's selling almost always there.

- I have he's personal name (I can disclose it via PM).

I have a lots of patience, there is no rush for me, meanwhile knowing (now) that to transfer the paperwork will take a long time is helpful!

About the breeding part, I do know it's a long process, I have started to search for a club, then breeding the dogs, I still have an another two years to go until my first litter, I think there is time to learn.

Meanwhile I would like to learn more about the paperwork which is needed for every pup and how can I improve my future litters. I am not willing to have a litter from a dog before I have all the health checks done....

Thanks for the helpful replies!


by Sunsilver on 15 April 2017 - 21:04
Okay, that says a lot. Good breeders don't sell in the local classified ads, and most of them only have a couple of litters a year. If this guy always has ads in the paper, he's likely churning out more puppies than he can properly look after. Did you see his facility? Or did he meet you somewhere to pass the puppy over to you?
Feel free to PM me his name and location, and I'll see what I can dig up.
by vk4gsd on 15 April 2017 - 22:04
Those steps listed should be printed and distributed to all new guys under the heading;

How Not To Purchase a Dog - A step by step guide.
by Fantom76 on 15 April 2017 - 23:04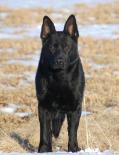 by Jenni78 on 16 April 2017 - 00:04
Possible the guy is a broker, not a breeder, too.

How do you NOT demand to know exactly who the parents are, though, Rdt? I don't understand that, unless you spent time with them both and were fully satisfied with everything about them.
You must be logged in to reply to posts
---
---
---
---
Contact information
Disclaimer
Privacy Statement
Copyright Information
Terms of Service
Cookie policy
↑ Back to top