by joanro on 17 April 2017 - 12:04
Barenf, vk lives in the middle of nowhere, all alone with only his dogs that he uses to kill cats...that's his world and his reference point for his tilted opinion of the world he will never be capable to identify with ..... He obviously believes he is above you and anyone else who BREEEDDZzz gsd. He does have some sort of math degree so therefore.....
Best to ignore his insults, as it's all he has to offer.
Quality gsd like your's are what this breed is supposed to be.

by mrdarcy on 18 April 2017 - 07:04
VK once again I will tell you to quit with the insults can't you offer anything else? I tend to agree with Joanro's comment above...so this is the last time I will say this to you...be civil in your replies or you can walk!

by BlackMalinois on 18 April 2017 - 09:04

B.E some nice videos you have posted.... have some nice decoys helpers around you keep them coming


by Baerenfangs Erbe on 18 April 2017 - 14:04
Helper learned a lot from actual KNPV People and spent years learning from them. He's super nice and really good. If there is weakness in your dog, he can bring it out. Usually he can bring it out on the spot, right there and then, when he first meets the dog.

I really like and enjoy his expertise. I knew that at least you would see the quality in the pup and what he brings to the table. My dog LOVES to be up in the pocket. He doesn't drop weight. He wants to be up there close to the helper and they more pressure you put on him they more he loves this. His pup, is the very same way. He loves to come up, shows no signs of stress, has nice grips, doesn't drop weight and will push forward.
by adhahn on 18 April 2017 - 18:04
I like the puppy shown in the OP and I don't see anything wrong or abusive happening.
The OP has not gotten an answer to his question.
The puppy in OP's video is just playing. I like the confidence, determination, hardness and drive the pup displays. IMO, it's a good sign when a dog enjoys roughhousing.
Sparing helps condition responces to close body contact, getting bumped and banged around, defensive and offensive movements, etc, etc.
Similar to the OP, I have a question about what (if anything) a dog's enjoyment of roughousing with the handler has to do with "real" protection work. Some dogs relish a rough game of "combat" while othe dogs are uninterested or actually become stressed/conflicted.
Are the dogs that enjoy sparing displaying a form of "fight drive"? If it's not fight drive that promotes a desire to spar, what IS driving these dogs?
Additionally, reguardless of what the drive's the behavour; can we conclude that dogs who enjoy play "fighting" with humans are born with a better temperament when it comes to taking on a human under serious conditions????

by Mithuna on 18 April 2017 - 19:04



adhahn
You actually kind of hit the nail on the head.
A dog especially a pup acting with such persistence and cmbativeness must be doing so from some drive even if its a learned behavior. The " learning " simply taps into the drive which is present as a product of genetics.
There are many dogs even if exposed to a learning experience does noit have to genetic material to respond in the intended way. There are many pups at this age ( familiar with the owner/breeder or not ) will just fold up and go cold turkey or may give a luke warm response.

by Baerenfangs Erbe on 21 April 2017 - 13:04
And how many litters have you evaluated to make such a statement?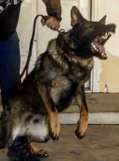 by Shawnicus on 21 April 2017 - 16:04
I gotta agree with mith, they either got it or don't and it shows

by Baerenfangs Erbe on 21 April 2017 - 17:04
Again, how many litters have you evaluated and how many of these pups have you watched developing and growing up?

Sometimes, the one that is the biggest bully and strongest appearing puppy, isn't the most confident dog later on and turns out to be the weakest link of the litter.

by susie on 21 April 2017 - 18:04
In case we are talking about puppies younger than 8 weeks ( still with dam and siblings ) "the biggest bully and strongest appearing puppy" only tells about birth weight, health, and actual seize - but all of this has nothing to do with evaluation fo a working dog prospect.
I saw douzends of litters grow, I saw a lot of them maturing ( pretty normal in local German clubs ), and there almost never was a real "surprise".
You are able to develop given traits, you are able to suppress given traits, you are able to screw up a good dog, you are able to make a "normal" dog look good with proper training, but you are not able to create traits that genetically are not there.
You must be logged in to reply to posts
---
---
---
---
Contact information
Disclaimer
Privacy Statement
Copyright Information
Terms of Service
Cookie policy
↑ Back to top