by jrmullenax on 11 March 2011 - 20:03
Ryder, my 13 week old black and tan german shepherd, weighed in at 21.5 pounds yesterday at the vet. The vet said that she was in perfect health and will most likely get to be 75 pounds at her mature weight. To me 21.5 seems a little low for this age, what do you all think? Thanks.
by VomMarischal on 11 March 2011 - 20:03
I think that's what mine two girls were, roughly. At 11 months they are 70 lbs.

by Emoore on 11 March 2011 - 20:03
Some dogs grow more slowly than others. My male pup is 12 weeks and 21lb, but his dam is 75lb and all his male relatives are in the 80-90lb range. I'd rather have them grow nice and slow than too fast.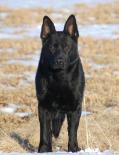 by Jenni78 on 11 March 2011 - 22:03
Sounds perfect. I have had them anywhere from only 17-18lbs at that age to 30lbs...45lbs at 18 weeks, and they all ended up just fine;-). Keep her thin and don't worry about numbers as long as she's healthy.

by dogshome9 on 11 March 2011 - 23:03
Weighed my 12 week old female last week she was 11.3 kg / 24.9lbs (I think that is correct conversion).
She is still quite lean. Her litter sister is smaller, probably about 10.8kgs about 23.8lbs.






by dogshome9 on 11 March 2011 - 23:03
by nittygritty on 12 March 2011 - 04:03
My male weighed 13 pounds at 4 months. I was terrified that I had a mini-shepherd. He was in perfect proportion, not the big bones, big feet, knobby knees I am use to. He is a year old now and just weighed him yesterday. He now weighs 78 pounds and is healthy as a horse. I now hope he doesn't gain any more weight!

by nonacona60 on 12 March 2011 - 05:03
Our male puppy turned 3months old on 3/9/11. We weighed him on that date and he was 34.6 lbs....Not fat, just big bones and stocky....Thats alittle more than what I like, but not much we can do about that...
by jaggirl47 on 12 March 2011 - 08:03
My pup was around 21lbs as well. She turns 9 months next Wednesday and is currently 53lbs.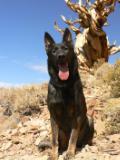 by Prager on 12 March 2011 - 08:03
At 13 weeks 10 - 18 lb. Keep the weight DOWN(!!!). Fast growing dogs develop hip dysplasia (HD) and other bone disorders (like "pano") more readily. Older dogs suffer from high weight.
Make sure dog grows SLOWLY(!!!)
You should always be able to feel the dogs ribs. In dogs over 9 mo you should be able to SEE the last 2 (free floating) ribs. IF THE DOG WEIGHTS MORE THEN 40 LB at 6 MO then the probability of HD grows tremendously.
Prager Hans
You must be logged in to reply to posts
---
---
---
---
Contact information
Disclaimer
Privacy Statement
Copyright Information
Terms of Service
Cookie policy
↑ Back to top