---
by Koach on 09 April 2012 - 01:04
The owner of this dog had reason to take her young female of 7 months for x rays to rule out early HD as reason of the dogs pain. Vet took many x rays and this is the one of the best quality (really not that good technique). The vet could not come to a conclusion if the hips were normal or not and if they were the source of the dogs discomfort. She paid the bill but no disagnosis. She will seek out another vet this coming week and have to put the poor dog through the whole procedure again.
Anyone care to take a shot at the quality of the hips as per this radiogragh.
Thanks for your time.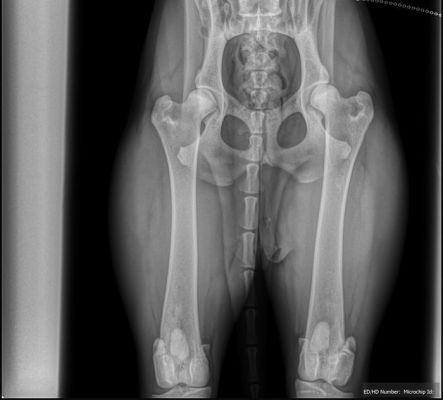 by Nans gsd on 09 April 2012 - 01:04
Although a little loose, how close to season is this bitch?
by Admore on 09 April 2012 - 01:04
Hips look very good. The dog has probably
pano
, growing pains. What kind of vet doesn't see how good the hips look like??? Your friend should send the x-rays to
OFA
.

by dogshome9 on 09 April 2012 - 01:04

No problem with those hips

Exactly why could this vet not see that they are good? Find another vet.



by trixx on 09 April 2012 - 01:04
hips look good, yes i agree could be pano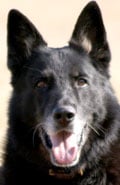 by BlackthornGSD on 09 April 2012 - 01:04
Not the straightest xrays. but I'd be pleased to see those hips--very nice coverage of the sockets.

by ziegenfarm on 09 April 2012 - 01:04
i see nothing, either, that could be causing pain. if she were my dog, i would ask the vet to xray the spine--pretty young, but i would still check just to be sure there wasn't something out of the ordinary. as suggested above, most likely pano.
pjp
by eichenluft on 09 April 2012 - 06:04
I can see areas that look to be Pano in these x-rays. the hips look fine.
by Koach on 09 April 2012 - 10:04
Thanks very much for your replies. I know the young owner of this dog will appreciate your input.

I think it's just great to have a forum like this where the more experienced on a certain dog issue can be helpful to those who are novices. Thanks again to everyone for your sound opinions and advice.
by Blitzen on 09 April 2012 - 12:04
Good to excellent for breed and age. She needs a new vet.
You must be logged in to reply to posts
---
---
---
Disclaimer
Privacy Statement
Copyright Information
Terms of Service