---

by isachev on 08 April 2012 - 23:04
Can I please get your opinions. 17 month old female. Thank you in advance!
by SitasMom on 08 April 2012 - 23:04

the xray needs to includ the knees

by isachev on 08 April 2012 - 23:04
They do, I just can't get a full pic off the film's. Do you need to see them to for an opinion?
Please let me know and I will try to get full pic. Thank you

by trixx on 09 April 2012 - 01:04
i think this may pass with OFA fair

by dogshome9 on 09 April 2012 - 01:04

The xray looks tilted?
by Admore on 09 April 2012 - 01:04
I don't think it's an
OFA
fair, more like a mild
dysplasia
, especially the right hip looks worse than the left.
The knees have nothing to do with the hip joint, we don't need the whole x-ray.
Send the x-ray to the OFA you'll have an answer in 2 weeks. I, personally, would not breed this dog.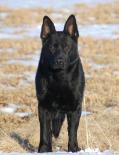 by Jenni78 on 09 April 2012 - 02:04
We don't need the knees? They have nothing to do with the hip joint?

I guess for some silly reason, all along I've been thinking the same bone connects to both the hip and the knee. Boy, I must be really dumb.

And the hip certifying bodies must be equally dumb, to have such strict protocol for how the knees must be positioned in a hip xray.
We cannot tell nearly enough without the knees, as has been mentioned previously. The knees are where we can tell with certainty if they are rotated inward to the proper degree to show an accurate portrayal of the hips. Just looking at the hips, I'd say they're most likely not perfectly rotated. The pelvis is ever so slightly tilted, as you can see the two sides are not quite symmetrical. Positioning isn't bad, but without seeing the whole film, I have to be picky......
They look younger, to me. Like not finished growing, kind of young/subluxated. Is the dog near her heat cycle? Or is it a very large, lanky-type dog that may need more time to mature?
Personally, I think it's a bit early to say you would or wouldn't breed this dog, as one poster said. The xray isn't even complete, and I have seen far worse hips improve with age than these hips. I don't think they're bad. If you're looking to buy a dog, these wouldn't stop me from buying the dog.

by GSDPACK on 09 April 2012 - 03:04
Isachev,
As they are right now I don't like what I see but you need to wait and do better x-ray, pelvis is twisted some noticeable degree. And of course, the knees are very important.

Good luck




by Blitzen on 09 April 2012 - 12:04
OFA always wants to see the knees on the film to be sure the legs are rotated inwardly thus demonstrating the true depth of the socket. In close calls, that can be the deciding factor.

IMO this dog may not pass OFA in another 6 months, but a better positioned xray could make the difference between mild HD and and OFA fair or borderline at 24 months.



by mirasmom on 09 April 2012 - 13:04
I have sent a few x-rays to ofa without the knees showing and got passing grades....

I agree with most everything Jenni78 has to say, the pelvis does look tilted slightly,
but, I really don't like the look of the right hip, maybe see where she is at in her heat
cycle, that could make a difference, 3 or 4 weeks before the start of a heat cycle,
and 3 or 4 weeks after a heat cycle, is good to x-ray.
You must be logged in to reply to posts
---
---
---
Disclaimer
Privacy Statement
Copyright Information
Terms of Service