---

by wlpool on 16 January 2012 - 18:01
Of the dogs that I did see, I would consider most of them to be a little shy. I did see one run away and hit the end of the leash. She didn't see to be afraid of them, just conteptuous. I did see my girl and she was nothing like the American dogs. She kinda smiled and happily said "Hi". lots of tail wagging and playing around. But, when gaiting, she was playing a little. She finally settled into her gait.
I expected to be in the back because of my dogs style, so the fact that Yatzee was the first dog in the class was my win :-) I just wanted to get her out to get her ready for Sieger.
Thanks! I didn't know you could do that. Nice to know.
W
by Blitzen on 16 January 2012 - 18:01
Lack of merit means that, in the judge's opinion, the dog is not close enough to the breed standard to be eligible to compete for the points or BOB. It's kinda of confusing at first. The 1st place winner of each class goes back in the ring, males with males. females with females. The judge then selects the dog he feels is the best and that dog is awarded winners (dog and bitch) and those are the only dogs of that breed that get any points. Some judges will withhold all ribbons in a class they consider lacks merit. There's a lot more, but I won't go into it unless someone is interested. It's pretty boring.

Withholding for lack of merit is not the end of the dog's career. Many dogs that have had ribbons withheld go on to finish their championships. It is only the opinion of one judges and not every judge has a good eye for a GSD.

Clearly showing a GSL at an AKC show is going to be a difficult journey and most are not going to do well under all judges; imagine an ASL at NASS or the BSZS, same difference.




by Hutchins on 16 January 2012 - 19:01
You said your bitch was awarded the second place ribbon which was the highest awarded for that class....How many total were in her class?
In the American show ring, the judges generally like a dog that carries a straight topline, that is neither weak or over strong, (roach). Your bitch
seems to have an overly strong (roach) topline. By looking at the pictures posted, that is the most obvious distraction that might cause a judge to say
there is lack of merit.

Just remember, that is only one judge's opinion on that given day. Was your bitch shown on more than one day? If not, Just remember, that is only one judge's opinion on that given day. Good luck with your girl.
by Blitzen on 16 January 2012 - 19:01
I agree Hutchins. Even the smallest hint of a roach is going to be a negative in the AKC ring. Side gait is going to have to be big and balanced on both ends with none of the overreaching like I see on so many photos used here to represent good movement. I'm not sure that type of movement is acceptable in the SV ring either.

BTW, I think this puppy has a pretty nice side gait with no overreaching at all.

by trixx on 16 January 2012 - 22:01
i must say i had my boy in a show and i ask why he did not like my boy and he said it cause he has a roach back, so i would not bother to show any dog in AKC show ring that is roach.
i do have a female that is very straight back and she did well.

by trixx on 16 January 2012 - 22:01
your girl looks very nice , i think she will do well in the SV show ring.
by Hutchins on 17 January 2012 - 00:01
Blitzen,
Yes I also see good balanced movement. However that is with a still shot. The transmission while in motion must be easy and effortless without distortion,
which of course we can not see in a still shot. With that said, I like the opening of the hocks, follow through and the nice front reach. It is not extreme on
either end and is balanced which can be seen with the postion of each foot. Its all with the timing which appears to be right on. I would love to see this
girl in person.
JMO
by Blitzen on 17 January 2012 - 00:01
Hutchins, I agree and I'd love to see her one day too.

by wlpool on 17 January 2012 - 05:01
Hi! Thanks all. In the "American Bred" class that day there were two dogs. Here is a picture of the dog behind me (third place).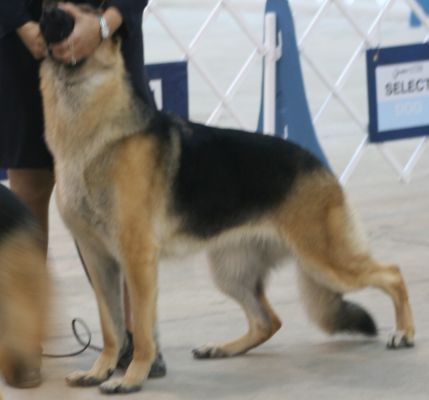 Yatzee's gait was flowing and smooth, but yes has a very old school top line. Well, she did hop around happily a few times, but it was all just playful banter with the handler. Here are some more of Yatzee: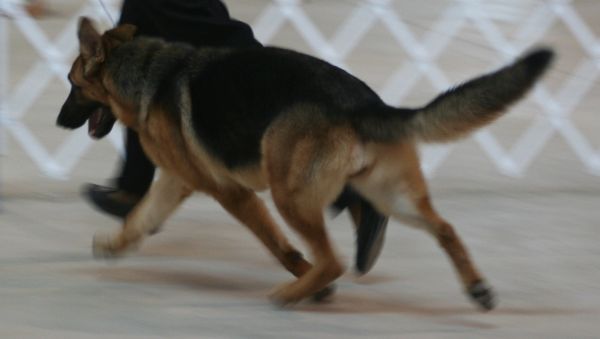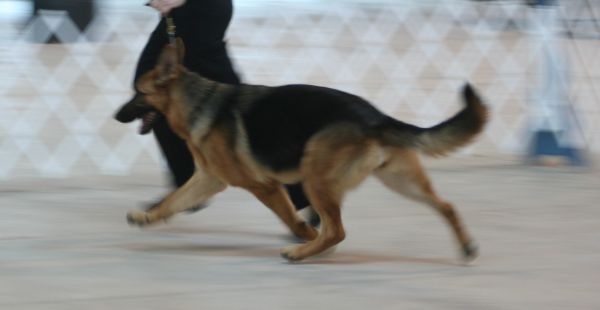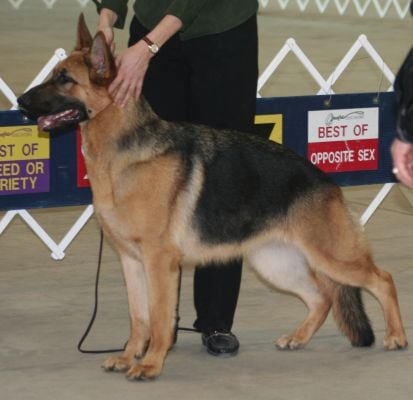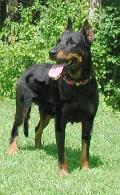 by BoCRon on 17 January 2012 - 13:01
The feet on the dog behind you are atrocious.
You must be logged in to reply to posts
---
---
---
Disclaimer
Privacy Statement
Copyright Information
Terms of Service