by ShellyK on 05 September 2009 - 23:09
I am a volunteer foster home, and while I'd like to feed all my guests Taste of the Wild or Orijen, I can't afford it.
Can anyone recommend a quality food that is not full of filler? I have them on Costco's Kirkland Signature Lamb, but the stool volume and odor are something to contend with.

I need a national brand, I know there are some good regional brand but I'm interested in something I can get at a Petco or Petsmart.

Thanks.



by VonIsengard on 06 September 2009 - 04:09
Do you have a Pet Supplies Plus? Check out your local feed store, they may have high quality kibble at lower prices than chain and holistic stores. All of our dogs are on Taste of The Wild and are doing great. Petco carries Natural Balance, which isn't a bad food, I fed it for a while and my dogs looked good and loved it.


by Idog on 06 September 2009 - 14:09
Taste of the Wild here as well.....Several in my SchH club also feed Taste of the Wild.

by GSDtravels on 06 September 2009 - 15:09
Blue Buffalo is moderately priced and a good quality. I've been feeding Blue of a year now and although happy with it, will be switching to raw.
by eichenluft on 06 September 2009 - 15:09
IMO you can't find a better food for a more moderate price than TOTW. It is lower-priced (and better quality IMO) than Blue Buffalo, and most other "premium" dog foods. I just priced Purina Pro Plan, interested in using a better quality (but still cheap) dog food for my boarders - and it was within $2 of the TOTW. So I feed my boarders (the ones who don't bring their own crap food LOL) and my rescues Diamond Maintenance - it's cheap and the dogs do fine on it. My dogs eat TOTW.

molly
by missyfly96 on 06 September 2009 - 16:09
I too did a lot of research on price and quality of dog food. In my area Blue Buffalo is more expensive than TOTW. My dogs had very soft stools on Blue Buffalo. The price in my area of TOTW is the just about the same as many grocery store and petsmart foods. For the price and quality I believe TOTW is best. My dogs eat the prairie (bison) formula and do VERY well on it. All grocery store foods are full of filler.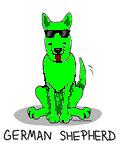 by luvdemdogs on 06 September 2009 - 17:09
TOTW is very expensive here - and the dogs get the runs from it.


I was feeding some high quality locally made (the 100 mile diet) organic dogfood, but again, the stools varied from watery to normal.

I read a suggestion on here for the Kirkland brand from Costco. I went to Costco, read the ingredients, and it looked pretty good.

I started feeing my dogs Kirkland brand about three months ago. The dogs like it, and their coats and health are excellent. The stool is also now uniformly firm.

Saturday we all went to the vet for the routine check ups and immunizatons - vet's exact words " whatever you're doing, your dogs have exemplary health" She repeated it three times because they are in such great physical health and their coats are lovely.

I'll keep buying Kirkland.


by gagsd4 on 06 September 2009 - 22:09
I have heard good things about Healthwise, by Natura (make EVO and Innova).
Recently, I wanted a lower Calcium food, so went with Canidae chicken and rice.Found it at the local healthfood store. It is less than the TOTW that I feed the big dogs, and you may qualify for their rescues/breeders program--info is on their website.
--Mary

by eddyhdy on 07 September 2009 - 02:09
petco, dick van patten natural balance, 33 lb bag for 49.00

pam
by alaman on 07 September 2009 - 03:09
Kirklands, Diamond Natural, TOTW, Chicken Soup
You must be logged in to reply to posts
---
---
---
---
Contact information
Disclaimer
Privacy Statement
Copyright Information
Terms of Service
Cookie policy
↑ Back to top