This is a placeholder text
Group text

by The Organic Pet on 11 February 2023 - 01:02
HI Everyone--
Looking for detailed information on the entire litter that Norbo ben-Ju was born into, including his known sister Nixa and the kennel they came from. *sources would also be helpful*

I'm interested in pictures ( I have several of Norbo) of Nixa and any other littermate at all age stages.

I'm also interested in names of the other pups in that litter, breed survey if any, personalities, health,colors of the dogs, other working information on how they were to train, etc.

Essentially, anything I can learn about that litter and kennel would be great!
Also interested in trainers thoughts on these lines.

Thank you!
S.

by GSDHeritage on 11 February 2023 - 11:02

by Sunsilver on 11 February 2023 - 11:02
Following - My female Eska has Norbo 5 generations back. https://www.pedigreedatabase.com/german_shepherd_dog/dog.html?id=2224084-eska-von-den-roten-vorbergen?_v=20171103225743
by Hukka on 11 February 2023 - 12:02
The litter had 6 pups, Nelf, Norbo, Nora, Nicol, Nixa and Nesie. I have no info on Nelf, Nora or Nicol.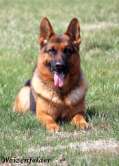 by motocrista on 11 February 2023 - 19:02
Following also! Thank you for posting this!
Hukka, do you have pictures of Nixa or any of the others.  Nixa has no picture on the P.D.
Thanks!
by Hukka on 11 February 2023 - 19:02
Sorry, I do not. Will look for it and post it if I find one.
---
---
Contact information
Disclaimer
Privacy Statement
Copyright Information
Terms of Service
Cookie policy
↑ Back to top