This is a placeholder text
Group text

by GSDvonJägersHouse on 06 April 2022 - 12:04
I'm not sure if this is normal, but I have a few AKC dogs. I wanted to look their pedigrees up, but a few of the generation dogs don't come up.
I have tried their names & their DN numbers in search to find the dog. Without any luck..
Could this be because they were never entered in the database?

For example my male puppies parents cannot be found by name or #, but have AKC registration. (Which I saw when I bought the puppy along with both parents on site)

Those dogs parents all come up in the data base except the Dam of my puppies father.
In fact this Dam has only a first name, no last & cannot be found.
The rest of the pedigree is in the data base.

Is this normal not to find registered AKC dogs in the pedigree database?
by GSDHeritage on 06 April 2022 - 13:04
GSDvonJägersHouse  Dogs need to be entered on the PDB regardless of Breed Registry in order to be found.
Dogs need to be proven to be Purebred dogs to be on the PDB.
Terms of Usage and Conditions of Service
Pedigree Database ("PDB") is the world's leading free source of pedigree information for purebred dogs. In keeping with this status and to promote knowledge of dogbreeds, breeding practices, health, training and other aspects relating to dogs and dog ownership, PDB provides a general dog forum and breed specific forums. The forums are free for all to use; however, the site administration of PDB requires all members to follow the rules as set forth below.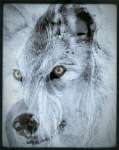 by Fantom76 on 06 April 2022 - 14:04
PDB is not a complete registry like AKC or the SV. Dogs are only in PDB because members have entered them. You can add a dog to PDB if you have the correct information. Sometimes the dogs are in PDB, but sometimes you can not find them because of a slightly different spelling
A big problem with finding dogs in PDB are dogs with special characters in their names, like the apostrophe. Some computers print the apostrophe with a straight tail and some with a curly tail, Some people use German vowels with umlauts, and others use a few special characters from other languages.
The best thing to do when looking for a name is to only enter part of the name, stopping just before these special characters, For example when looking for Smith's kennel. just type in Smith and see what comes up. If you can spot thse correct dog, then you know how the name is stored in the computer.
And when looking for a sire or dam, always be editing the progeny, Do not try to enter the sire and dam from the progenys front screen.
If this make no sense, send me a note and I will try to help you. I have spent half my life trying to find dogs, and have gotten quite good at it.
---
---
Contact information
Disclaimer
Privacy Statement
Copyright Information
Terms of Service
Cookie policy
↑ Back to top