This is a placeholder text
Group text
by kitbaby39 on 08 March 2022 - 18:03
Hello All,
Last week, I made my first post on this forum regards looking for a breeding partner because I want two puppies from that litter for pets and I received so many good feedbacks from you. I would like to say Thank You very much for all of your comments and advices.
I have been checking the classified section and I found this litter.   
https://www.pedigreedatabase.com/german_shepherd_dog/classifieds.viewad?adid=290554
This litter has one male and three females.  I would like to get two males so the dogs can play with each other but too bad, the litter has only one male.   I may get one now and maybe one later if I can find another good, beautiful boy.
The breeder is in Poland and I am in Maryland, USA.   I have had two GSD's before but I bought them locally here in the USA.   I want to buy one overseas to see how it goes.   Plus, the parents look great and pedigrees are awesome.
I have some questions I would like to ask you.  Hope you can help:
1.  Have anybody dealt with this breeder before?  Is he legit or a member of our forum?  I searched our forum and I did not see any complaints on him so I am not sure if he is good or nobody has dealt with him before.   Here is his info:
Name:  Wojciech Skoneczny
WhatsApp: 0048507071847
e-mail: a_posse_ad_esse@o2.pl
FB:  https://www.facebook.com/wojciech.skoneczny
2.  To ship a dog from Poland to Maryland, US.  How much will it cost?  Do I pick him up at the airport or D2D?  What kind of paper do I need to fill out?  Do I need a broker or the breeder will handle all of this and I just need to pay him?
3.  What is the best way to wire the money to him?   Is there a escrow service that I can use?  or COD?
4.  Can you tell if this puppy has short coat or long coat?   What color of the coat is that:   Red/black or tan/black?   Does he has normal bone structure or big bone or hard to tell at this age?   He is 6.5 weeks old now.
https://www.facebook.com/wojciech.skoneczny/videos/354202156578813
5.  Is anybody in the US interested in getting a female from this litter so we can combine and save some shipping fees.  It is ok that I can pay a bit more as long as both of us can save some money for shipping?
Thank you All for helping again.  I am so sorry for asking too many questions.  I just hope I can get a beautiful boy (or two) so I can enjoy him for the next 11-12 years.
Best regards,
Tom.

by RLHAR on 11 March 2022 - 22:03
I'm missing something here.

You want these dogs as pets. Perfectly reasonable and I am assuming that temperament would be a paramount considerations if these dogs are to be your pet companions.

Why wouldn't you investigate the options for German Show lines here in the DMV area where you can go and meet the parents, see how the puppies are raised and if bone is important to you, put your hands on the puppies before investing in your companions? I can think of at least three solid kennels breeding beautiful German show lines in the area.

You are looking at sinking $4,000 to $8,000 into this endeavor for shipping alone, probably more depending on the base cost of the puppy and you have no guarantee you'll get what you can live with for 11-12 years.

Why take such a gamble?

by Rik on 12 March 2022 - 01:03
I wasn't going to reply further, but, Tom, most folks here have been around the block a time or two. What you are suggesting is that someone you don't know and who doesn't know you enter into a financial transaction with you for dogs you choose from pictures. Maybe you find someone, but unless they are driving distance from you, then they save no money at all.
some very knowledegable people gave you their best advice. when I wanted a Euro dog, I got on a plane, went there and got one that fit my needs pretty well.
anyway, good luck. I don't really understand you keep looking for someone else to invest money in your plan. if you like the dogs, just jump in. I've bought dogs from a picture before, so I understand. I don't do that anymore.
I know shouldn't have responded and will not again.
best,
Rik
just want to add, I won't respond further unless I just can't help it.
by kitbaby39 on 12 March 2022 - 10:03
Thank you very much for the advices Rik.

by Sunsilver on 12 March 2022 - 11:03
I would never buy a dog sight unseen unless I knew the seller REALLY well. I know of so many people who have had dogs shipped to them from overseas, and the dog they received wasn't the one they thought they were getting, or they got the dog and not the paperwork, or the dog was unhealthy.

Add to that people who made a down payment on a dog, and the seller pocketed the money and walked away.

When an international transaction goes wrong, your chances of getting it made right are very slim. And, as the moderators on these boards will tell you, there are a LOT of scammers out there!
Caveat emptor!
Oh - and never mind that getting two pups of the same sex is a bad idea. They can become the worst of enemies once they reach sexual maturity, and you will have to keep them separated for the rest of their lives to keep them from killing one another. Yes, a friend of mine had this happen - her husband put her two male dogs out together, unsupervised, and one of them killed the other! 
Also, pups raised together tend to bond with each other, not their owner, making it much harder to train them.
by dogsportman357 on 12 March 2022 - 15:03
I think everything that Sunsilver said is spot on here. There are so many advantages to going local.

I would only add the following. A couple weeks ago, I was talking to a pretty respected and established trainer in my area who mentioned that even he is often disappointed with the quality of dogs he receives from overseas. This is despite the fact that this guy has established, ongoing relationships with European vendors and despite the fact that he is far from a no name in the industry. Now this guy is dealing with working line green dogs, but the overall lesson still applies: your chances of getting what you want, and of having recourse if things go awry, are much better if you deal local. Plus, you will probably save money on shipping and headache on paperwork.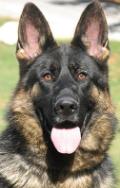 by katjo74 on 12 March 2022 - 21:03
Good evening.
Well, I agree with everything said here. While there's nothing wrong with trusting an established, reputable overseas breeder, a lot of research should be invested to make sure you aren't going to end up ripped off like many have indeed experienced.
With the cost of gasoline going up, I won't be surprised if the cost for airline fares will go up. I paid $1350 for an overseas dog shipment to the US this past week before gas prices went above $3.99/gal.
If shipping from overseas to the US, you need to find out where the breeder will ship to international airport wise -not all flights will go to your airport close to you so you need to know those details before you ever buy anything. You might end up having to drive or fly somewhere, get your dog cargo and head back home via a drive. These things all take planning and logistics ahead of time [just done this exact thing this past Wednesday].
The dog must be registered with a kennel club recognized by the AKC and accompanied by a bescheinigung [certification of ownership transfer to you of the dog you specifically have purchased] if you plan on AKC registering said dog(s). If the dog isn't with a recognized registry, then you cannot AKC register it. Check the AKC's site for acceptable foreign dog registries prior to purchase. Foreign dog registration papers and bescheinigung alone aren't sufficient-the registration papers must be with an "EXPORT" pedigree-which often entails sending the original registration papers you get from the dog's country of origin with fee to the dog's country of origin to get the export pedigree needed for AKC registering. That involves another international wire transfer from your bank with fee. If the breeder does you a big favor and sends you registration papers with the pedigree having "EXPORT" on it, then they've done you a big favor and saved you having to do this.
I am absolutely against purchasing 2 of the same gender in this breed. It's not worth the risk. Period. Good advice has already been provided on this subject in this thread.
I strongly recommend having a broker to clear your dog/pup thru US customs before any airline plans are made-those details will need to be made known by the breeder of choice to you and your broker [paperwork should include passport info, airwaybill & flight details, health certification, permanent ID, so forth]. If those documents are not in proper order by the breeder, US Customs will hold up your shipment and it can quickly turn into a very big mess.
If you do this, make sure your government ID matches shipping information because they will check that prior to releasing the dog into your possession at the cargo area.
There's essentially no guarantee with a dog/pup purchased from overseas so be aware of that. I have purchased from world class German breeders very highly reputable and once I got the pup, it was mine and good luck.
Also, what about any language barriers? That could create a headache also if you didn't prepare and plan ahead of time with good communication prior to making the final decision to purchase a pup/dog overseas.
As you can see, there is a lot to this and I haven't touched on everything.
Ultimately, it sounds to me like you need to work with someone as a mentor to help you through these obstacles smoothly, or stick with a US breeder to find what you seek. There's a lot in this gsd world that is just too much to try to explain in one post. I truly hope you get what you seek and that you can have an enjoyable experience within this wonderful breed.
by GSCat on 12 March 2022 - 22:03
I agree with what others have said about buying in the US, preferably reasonably local. Not just because of money, recourse if something goes wrong, and papers, but also because of support and advice after the sale. Someone reasonably local can help with referrals to trainers, facilities, clubs, veterinarians, sources of food and equipment, etc.

Thinking ahead 15-18 years, having an established and ongoing relationship with a local breeder will help when it's time for your next puppy(ies)/dog(s).

Hopefully, you find the puppy(ies) of your dreams and you have many, many enjoyable years together.

by Sunsilver on 13 March 2022 - 00:03
First time I bought a dog outside of Canada, she came from Ohio. I drove all the way to the kennel to check her out, and make sure she was what I wanted.

The breeder had imported the male from Poland, and, as I later found out, the breeding was accidental. The father of the litter didn't have his AKC papers yet, and as it turned out there were problems with the SV papers. The original owner hadn't signed the proper section, and the dog had not been DNA tested, which was required for AKC to register him as the father of the pups.

It took NINE MONTHS to get everything sorted out, and during that time, I couldn't enter my dog in any shows or working/obedience competitions. It was a total headache!

by Hundmutter on 13 March 2022 - 04:03
Tom, I do so hope all these further replies have convinced you of the guidance we were trying to give you on your first thred ? We steered you away from Serbia, but obviously failed to convince you that 'buying local' would be a better bet.

But when you are not extensively experienced, and haven't the knowledge to think of a lot of these issues and possible problems, a breeder who is easy to keep in contact with can be an invaluable help to you, as you go along and your pup (s) get older. Many of us have made real friendships with breeders over the years, and would not have done well without them !
With best wishes, Linda.
---
---
Contact information
Disclaimer
Privacy Statement
Copyright Information
Terms of Service
Cookie policy
↑ Back to top