This is a placeholder text
Group text
by khensrude on 21 March 2021 - 12:03
Looking to hear feedback about this person! Thanks.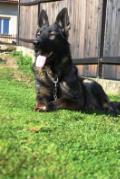 by aqhastallions on 24 March 2021 - 22:03
I imported a dog from the Czech Republic in 2011 and Petr was the person that found the dog for me and assisted me through the process. I was very pleased and would contact him again if I was interested in getting another dog from the Czech Republic.
by adlitas13 on 08 June 2021 - 09:06
I bought a pup from Petr in September 2017 and had no issues. The pup has grown up to be an awesome dog. He's in good health and have had no problems.

by TayborSnapping on 11 July 2021 - 19:07
Got a dog from Petr in May of 2020. I love my dog Hogan (pet name), but there was a bit of false advertising when it came to my dog. https://www.pedigreedatabase.com/german_shepherd_dog/dog.html?id=2982879-falco-jilavo

Petr said that he was coming with a ZVV1(I have the score sheet) which I was very excited about because I was pondering if I wanted to get into Schutzhund or not. When I got him to the US I was very excited. I took him to Applied Canine Concepts in Florida where we did a Schutzhund evaluation with Fabian Robinson(2 time world champ) and Gina Pfeffer(5th at Universal Seiger) turns out Hogan had never seen a dumbbell before (40% of points in an obedience routine) and had never tracked in his life (literally didnt know how to keep his nose on the ground to track source).

I was incredibly disappointed when these issues came to light. I will say I did not originally go to Petr for a sport dog, I wanted a personal protection/family dog. That said, when you tell me this dog is coming with a title, I expect it to perform at a certain level.

Hogan and I are training for Schutzhund and I expect us to earn an IPO3 at some point. I love my dog very much and Petr is a super nice guy, but be wary if you're buying a dog that is "titled" from him.

by Hundmutter on 12 July 2021 - 03:07
@TaylorSnapping
Wrong 'qualification' !  Something got  lost in translation.
A dog's Zuchtwerk number is an assessment of its potential for passing on Hip Displasia. Has nothing to do with sports training, IGP/IPO/SchH.
What you look for in terms of basic training is the BH certificate, the test every dog has to have before it starts the sport properly and works its way up the Grades.
Breeders are in general quite keen to get good low ZW figures on their stock; maybe Petr thought you would be excited about this, too, and you hadn't asked him for a sport dog ...
I think there is an info sheet somewhere here on PDB which lists and translates German dog terms, and tells you what all the abreviations mean. If you can't find it usually someone at a Club can direct you to one such.

by TayborSnapping on 12 July 2021 - 20:07
@ Hundmutter

No, there was a ZVV1 score sheet which is the Slavic equivalent to IPO/IGP. It included the 3 phases of Schutzhund in the score sheet. I did receive hip and elbow Xrays and the evaluations for those respectively.
I just translated the ZVV1 sheet in google translate and it is most definitely a Schutzhund trial score sheet. 

by Hundmutter on 13 July 2021 - 03:07
Oh, the dangers of obsession with initials ! You'd think at least authorities in the different countries would look at what each other are calling things, and try not to cause confusion by duplicating. Sorry Taybor, it was easy to think this was just some newbie getting confused.  At least I've learned now that there's another 'ZW' out there ...(although my own internet search to check did not turn it up ! - but then, I wasn't using a direct translation service).

by mrdarcy on 13 July 2021 - 03:07
I'm a bit lost as I see Z V V 1 in Taybor Snapping's post and not Z W as in Hundmutter's,?????
by hexe on 13 July 2021 - 04:07
Hundmutter, I think your phone or computer screen is causing some confusion for you-- the OP is referencing an abbreviation of Zed-Vee-Vee, not Zed-Double U.

Z V V not Z W



by Hundmutter on 13 July 2021 - 07:07
Yeah I think it may be the font I've got it on. Very little difference to see between W and VV. Plus, not having heard of this working qual. for Czech dogs, but being reasonably familiar with the German abreviations, I went with my initial gut reaction.Thanks folks.
---
---
Contact information
Disclaimer
Privacy Statement
Copyright Information
Terms of Service
Cookie policy
↑ Back to top