This is a placeholder text
Group text
by majorskennels on 06 March 2021 - 12:03
Has anyone shipped a Rottweiler from Serbia to Chicago in 2021. Do I need a broker in the US and what was the total cost of shipping and broker if needed.
by Griffin1030 on 06 March 2021 - 16:03
I would expect to pay $2000-$2500 for an average size adult Rottweiler including broker and airport cargo fee. The broker will cost $250-$350(my experience). Use a broker if there is any possibility the dog will be used for breeding, training demonstration dog, etc..complications upon arrival in the U.S. can have serious consequences for both you and the dog. It can get extremely expensive if the dog has to be detained or seized by Customs. There is no talking to them if something is not in order. You will be charged all costs and in some cases they deport or adopt the dog out to someone other than you. A broker will assure all will be in order before the dog is shipped.
by duke1965 on 07 March 2021 - 06:03
cant the seller provide you with that info, im amazed how individual people offer their dog for sale and let the buyer figure everything out and do all the works, and get screwed most of times, just got messaged by somebody that has to pay 3400 euro for shipping of a a pup on a direct flight from germany to LAX , really amazing things going on right now
by Lexhaus on 08 March 2021 - 01:03
We imported in 2020 to Chicago, from what I gather, a broker is now required. We used Larissa Greismeyer at AAA Customs. She is very reasonable compared to others we priced. Around $250.

aaacustoms.com

Phone number
(847) 261-0100


5500 Pearl St Ste 120 Rosemont, IL 60018

Goodluck!!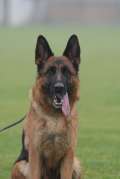 by kvisko on 10 March 2021 - 16:03
Contact Igor Beljanski to fb.
Best shipper ever, safe and confidence!
by krysia44 on 11 March 2021 - 15:03
I never used a broker, when I imported a German Shepherd puppy from Europe. They do nothing, just take your money. I have imported several times, the puppy needs a medical record and you just pick up from O'hare at the cargo unit. Why do you need a broker? The puppy would not be shipped if papers were not in order. Also an adult dog will cost more than a puppy. I paid around $2500 total for a puppy, an adult would be around $3,000, depending on pedigree.

by Koots on 11 March 2021 - 20:03
krysia44 - when was the last time you shipped a dog/pup from Europe? Think covid has changed a few things in this regard?
by Griffin1030 on 11 March 2021 - 23:03
I am not sure what you guys are telling Customs but I learned the hard way many years ago. If you are going to involve the puppy or dog in any business or if the value of the pup is over a certain amount it becomes a "formal entry" triggering the need for additional paperwork and a bond... I agree that it is ridiculous as there is $0 duty/tax on dogs.
If you have an internet presence as a breeder, trainer, groomer, etc. they will find it if you are questioned.
For years, I was blissfully ignorant to the actual rules/laws until one time I was denied entry to the U.S. with three puppies I was importing from Canada...during a blizzard...
I was furious. When I finally got through, I called Customs and spoke with a very high up Customs supervisor. I explained I called and asked if I would have any trouble coming back...I was told no by Customs but then I am not let back into my country.. we figured out that I failed to mention that the dogs were being sold to my customers....much different than saying "this pup is strictly going to be a pet. No broker needed if the puppy is just a pet.
I am sure some lie but that is a very stupid thing to do. Today, they can pull up so much on you in seconds, it is scary. This includes your internet presence and activity. Misleading a federal agent is a crime as is defrauding the government...for the sake of saving a $200-$300???? Seriously? I write this because I vividly remember being denied entry to my own country...
At the airport you could face having the dogs deported or confiscated...all to save a few bucks??
It is a traumatic experience and if you mislead them you open yourself up to federal criminal charges..

---
---
Contact information
Disclaimer
Privacy Statement
Copyright Information
Terms of Service
Cookie policy
↑ Back to top