by ggturner on 23 November 2019 - 10:11
My 9 yr old female gsd was just diagnosed with IVDD. She can walk but has a wobbly hind end. We are taking a conservative treatment route. Vet has her on nerve pain meds, anti inflammatory meds (not steroids though), and muscle relaxers. We are restricting her physical activity with a crate.

Has anyone here experienced this with a dog and taken the conservative route with success?

by Hundmutter on 23 November 2019 - 14:11
Not I, GG, especially as it's not the most common of conditions in GSDs - but you might like to take a look at the Fitzpatrick Referrals IVDD web page, if you can see this in the States; it's a comprehensive description of the types of disc disease which come under the IVDD header and Prof.Noel Fitzpatrick is our leading light on veterinary structural issues, and their treatments. Hope what you are doing helps her, good luck.
by astrovan2487 on 23 November 2019 - 18:11
IVDD is extremely common in GSDs. The neurologist that did my dog's surgery told me if it's not a Dachshund, it's a GSD that he's doing surgery on( though they suffer different types of IVDD)
I've spent an ungodly amount of time and money trying treatments for this, so if you have any questions feel free to ask.

The conservative approach was not really an option for my dog as she was very young and the spinal cord compression was severe. Clinical symptoms were almost unnoticeable even though her spinal cord was compressed 9/10 of its normal size at the disc rupture. Dorsal Laminectomy Surgery relieved the compression but the mild clinical signs remained unchanged.

I did try a lot of the conservative treatments after her surgery and what had the most noticeable improvement was working with Penn Vet to come up with daily rehab exercises and stretches for her. Low impact, core muscle building exercises that focus on balance and rear end awareness, this kind of stuff is great even for a healthy dog. Still, I would not try any of this without a vet's approval.
https://www.vet.upenn.edu/research/centers-initiatives/penn-vet-working-dog-center/specialized-programs/k9-performance-blog
Swimming helped a little but she was sometimes sore afterwards.
Chiropractor did nothing
Gabapentin, Carprophen, oral steroids made no visible difference.
Cold laser therapy did nothing either
The only treatments I'm aware of that we haven't tried yet is acupuncture, steroid injections, and stem cell therapy.


by Hundmutter on 24 November 2019 - 03:11
Astrovan - sorry, maybe in the US ! Not here (yet ?).
Although we are aware a lot of cases of DM were probably just as likely disc disease ... if the dog was not showing actual pain (and many dogs are good at suppressing / disguising their pain), I am sure some have been misdiagnosed. The Fitzpatrick page majors on Dachsies.

by ggturner on 25 November 2019 - 12:11
Thanks, Astrovan. What was the outcome for your young female dog? So far, my dog is resting well and responding well to her meds. She walks to go outside for bathroom breaks and takes short walks inside to eat/drink. Mostly, she is crated or laying next to me when I am at home. She has an orthopaedic crib mattress in her crate and a couple orthopeadic mattresses in the house. I'm keeping nonslip soft dog shoes on her feet as we have hardwood floors. Also using a harness. I've ordered a sling for her hind end.

Sadly, this is my 2nd gsd with IVDD. The first one had no early signs. She was just walking outside with me and suddenly collapsed in pain. She was paralyzed immediately and was in a lot of pain. She was an older gsd. She also had severe HD. She was not a good candidate for surgery. We had to euthanize her.

I'm really hoping we have good results with my current female. She goes for another vet check at the end of this week.
by astrovan2487 on 25 November 2019 - 17:11
I've got hardwood floors in most of the house too, bough a bunch of big cheap rugs to put down and helps a lot.
My female had surgery at 2.5, she just turned 4 and her symptoms are pretty much unchanged. A follow up MRI last year showed minor nerve thickening possibly from instability (an unfortunate symptom of the surgery most surgeons won't tell you about) and slight bony changes where the disc ruptured but the surgery had fixed the spinal cord compression. Probably getting an MRI yearly to keep track of the progression. Going back to the neurologist next week to try steroid injections.

Since your dog is older and less active she might do well just taking it easy. Let us know what the vet says.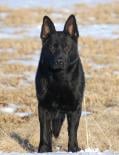 by Jenni78 on 30 November 2019 - 20:11
I had a dog diagnosed with IVDD and sought a second opinion. Glad I did. MRI showed two herniated discs that were surgically repaired with excellent results. Far better outcome than a life of steroids and taking it easy.
by astrovan2487 on 01 December 2019 - 20:12
IVDD is broad term for just about any issue where a disc herniates or ruptures. I agree its a good idea to a get a second opinion, hell I got 7 or 8 second opinions. MRI is the best way to figure out whats going on. If you are thinking of surgery at all I'd get an MRI soon as the surgery is not an easy one to recover from, especially an older dog, it can take months. Some dogs do well with medication and taking it easy.

Might be a good idea to check with multiple neurologists if you do decide to go through with surgery. The surgery often causes more destabilization and some think it should be mandatory to perform spinal fusion surgery along with the dorsal laminectomy.

by ggturner on 06 December 2019 - 13:12
After almost 3 weeks of conservative treatment, she is showing signs of improvement. She is stronger and more steady in her hind end. Still needs help walking, but is not as wobbly. Our vet examined her again today and is optimistic.

by ggturner on 11 December 2019 - 16:12
She is improving a lot with conservative treatment.
---
---
Contact information
Disclaimer
Privacy Statement
Copyright Information
Terms of Service
Cookie policy
↑ Back to top