by BlackMalinois on 17 August 2019 - 10:08
a few years ago there was a topic about GSD females what you like this topic is closed so I start part 2 my personal opinion what I have seen also in real live not only in video.
Its only my personal opinion others will have different opinions
Fenna Hornhutte KNPV certified PH-1 427 with honour
Pedigree is the same as her sister
http://vandegeldersepoort.simplesite.com/418272702
The young helper doing also a great job

by emoryg on 18 August 2019 - 00:08
BM, thanks for sharing another video of a nice female. Good job on the decoy giving the dog the handshake just after the gun fire. He has been taught well.

I don't have any particular female that I watch. But one of my favorite females was Jana Glockeneck. Sometimes I see little female puppies who like to talk on the rag or tug. They can grow up being a little sharp, like to play rough with their teeth. often too rough and no matter how many times you think you put a stop to it, it always comes back. They never seem to lose that fast purr type growl. I like to think when you see Jana way back in their pedigree; she still has something to say.

by BlackMalinois on 18 August 2019 - 08:08

Jana Glockeneck is the mother line same as Robby never seen him but must a nice GSD from the past
some people say that that oldschool GSD legends not as good some GSD from today but I have more
feeling with that GSD from the old days and producers. .

Anyway the reason I start this topic too many people focus too much on the males, talking about
a good quality female is a rare find. Hope to see more nice quality GSD in this topic and what they produce,
see global better pups from good quality females than that famous males only.

by emoryg on 18 August 2019 - 13:08
BM, Yes, I agree on good females, but have a different thought process on what qualities make a good one. I see more and more videos of high flying, hard hitting females that make excellent dogs to train with. They're in demand and bring a good price. This isn't what I am really after from a female's contribution for the kind of dogs I like. If all other things were the same, I prefer a sharper female. I mentioned the young female puppies who talk to helper when they get near the rag or try to compete for it. Some of these puppies will not hesitate to sink baby teeth into the helper or any other person who tries to interfere with her happiness. Some are quick to call them nervy and write them off as a bad example of the breed, but they have something going on inside that interest me. At a very young age, mother nature is playing her cards. While others may fold and throw in their hand I'm willing to call and see what's on the table.

Jana also produced a nice dog in Pascha Glockenneck. Like you with Roby, I didn't know this dog in person, so I had to rely on dogs down the line that I could actually see. Pascha's blood was mainly where I saw the females that I mentioned. In the 90s a good bit from a dog named Lewis Maltesea (SP?) and 2000s through Sid haus Pixner. Again, for me I like that type female.


by BlackMalinois on 18 August 2019 - 19:08

I don,t mean hard hitting dogs are automatic good dogs I look always to the complete package
but for marketing handlers like to see for the audience the hard attacks .
hard hitting is not only a blind drive but also a dog need some courage and for sure the KNPV stick attack wthat is more frontal and contfrontal for the dog with the helper.When a dog is too much conditoned with this exercise the dog will loses from every serious unknown helper and sometimes this happened and dogs run scared away

Some good health sharpness or some handler agression I have no any problem with that
but most of this already gone in today sport bloodlines ( see many condioned dogs fake guarding a helper )people today went the more easy
trainable SOCIAL dogs, personal I like a challenge the more difficult dogs with more charactar.Condioned dogs
what are a lot today is not my taste but handlers become very smart with today training tools and some dogs look stronger than they realy are, thats why i like to see and follow the foundation and the proces training from pup to adult .
But now I,m off topic

by BlackMalinois on 19 August 2019 - 08:08

by emoryg on 19 August 2019 - 12:08
BM, Look forward to more videos. Especially with good work from the helpers. When I see that young helper take the dogs paw in his hand (the handshake) I know he was schooled well.
by ValK on 19 August 2019 - 15:08
i like this girl. albeit she's seems on smaller side but had very nice impressive strong proportional build.
don't know other aspects but according to her ZTP 4433/23 should be OK.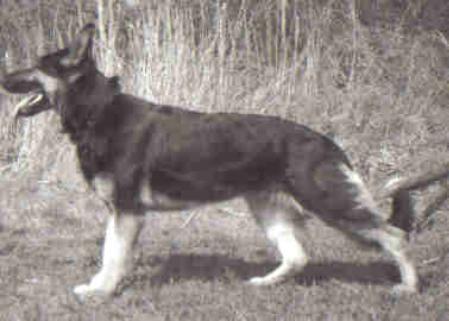 http://www.pedigreedatabase.com/german_shepherd_dog/dog.html?id=79703-franzi-vom-grafenstein
by ValK on 19 August 2019 - 15:08
regarding the strength, here is a girl who remind me very much the girls from border breeding.
they were very strong, absolutely equal to male dogs in strength and temperament.

by apple on 19 August 2019 - 16:08
The dog Jessie vom Ostschutz was bred by John Latorre in Florida I believe. I don't know if he still alive or still breeding. I believe he was one of the few breeders in the states that actually bred DDR dogs was were similar to the better early DDR dogs. The handler in the video is a guy from Romania who was sort of mentored by John, but I'm not so sure he knows what he is doing. I've seen some pedigrees from his breedings that didn't seem to make much sense in terms of what he was trying to produce. I still think the DDR dogs' appeal was their structure more than anything. Some were very dominant as well, which can add power to the bite work, but I'm not convinced that them not being very biddable/managable is worth the dominance.
---
---
Contact information
Disclaimer
Privacy Statement
Copyright Information
Terms of Service
Cookie policy
↑ Back to top