by VictorGA85 on 28 April 2019 - 19:04
Hi everyone, I'm planning on getting a dog at the end of the year and am researching breeds to consider. I've had two West German Showline German Shepherds in the past but looking for something new this time around that doesn't shed as much. The Giant Schnauzers caught my eye and from what I've read of them I like them but want to get input from real dog people.


by Diamondgal on 01 May 2019 - 01:05
While I don't have one, I've been around a few. They have a Terrier attitude in the body of Working dog. They do have Great Dane blood in their background.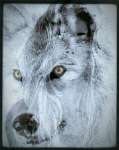 by Fantom76 on 01 May 2019 - 03:05
There is a quiz on the GSDPEDIGREE.COM website basically about DDR GSD's, but question number 9 might be of interest to you.
http://www.gsdpedigree.com/ddr-pop-quiz.htm
9. The GSD placed the greatest number of dogs in the top ten (DDR Meisterschaft) for many years. However, during the last years, what breed of dog increasing bested the GSD?
The Giant Schnauzer (RS) started with one entry in 1970 and ended with a total of 14 entries in the 1989 trial. There has always been at least one RS in the top 10 except for 1969 (none entered), 1980, and 1981.
1983- 7 entries out of a total of 36 dogs (19%), with one RS taking first place.
1984- 10 entries out of a total of 40 dogs (25%), with a RS placing 3, 6, 7, and 9.
1985- 18 entries out of a total of 51 dogs (35%), with a RS placing 2, 3, 4, 5, and 10.
1986- 14 entries out of a total of 37 entries (38%),with a RS placing 3,4 and 5.
1987- 8 entries out of a total of 38 entries 21%), with a RS placing 7.
1988- 15 entries out of a total of 47 entries (32%), with an RS placing 1 and 8.
1989- 14 entries out of a total of 35 entries (40%), with an RS placing 1,3,4,5,8, and 10

by Hundmutter on 01 May 2019 - 06:05
Like Diamondgal, I've known a couple but would not call myself 'experienced' with them. We had one, Murphy, who was a member of a dog club I used to attend (years n years ago !) and he ended up working competition Obediance and his owner turned into a Trainer herself I think. She had to work quite hard with him as when he started Club he was the Class Clown. Very puppish. Great fun but I would not have said anything like a GSD. I think what Diamondgal said about the Terrier aspect is spot on.
by apple on 01 May 2019 - 11:05
They are like any breed. I have seen one that was exceptionable, tough as nails and very socially aggressive. I have also seen one not worth feeding.
by Rik on 01 May 2019 - 21:05
I was in a couple of obedience classes with a Lady and her GS. other than seeing them at shows, my only exposure. very handsome dog.

If you're in the U.S., do a google on "working Giant Schnauzer".

I just typed it in out of curiosity and there is quite a bit of info on breed, breeders and clubs out there.

good luck,
Rik
by Diamondgal on 02 May 2019 - 02:05
Depending on where you're located - I can point toward a few breeders I know of
by ali44 on 02 May 2019 - 10:05
I think you should ask yourself what is worse for you: the shedding of the GSD or living with a less intelligent dog?
You can consider a breed other than GSD only if you are bored and you need a challenge in your life as your patience will be tested daily.

by emoryg on 02 May 2019 - 13:05
My experience with the breed has been limited to what I have seen in their capacities of being police dogs. This is further reduced to only seeing them perform at seminars, certification events or on training days, never actual calls. They are rare in the field, with me maybe seeing a new one every 2-3 years. They appeared to be aloof, confidant and capable of the work.
There was a handler in a neighboring jurisdiction that would bring his out on training days when permitted. He was also aloof and had an almost intimidating appearance, due in part to his black coat that appeared to partially cover his almost black eyes. I laid practice tracks, hid in buildings, areas… and thought he worked well. In protection work he was comfortable on the bite and willing to take whatever he could. Not a super crushing grip and a different launch from what I was accustomed too. Hard to explain but there seemed to be this odd step (stutter or hickup) right before the bite that you typically did not see with the GSD and Mals. Because of his eyes, ears and tail, it was a bit hard to keep a good read on the dog, so I was a little more cautious being around him. Overall I thought he had good drives and was a willing worker.
Please keep in mind these were top tier dogs at the higher end of workability and probably do not represent the entire breed. Not sure about the shedding or other ways to compare.
I still have contact with the handler listed above. He was a treasure chest of information on the GS and I believe he may still use them at one of the local KNPV style clubs where he decoys. No idea if he breeds them. If you PM I will forward your email to him.
---
---
Contact information
Disclaimer
Privacy Statement
Copyright Information
Terms of Service
Cookie policy
↑ Back to top