by Stolen Pets on 25 January 2019 - 15:01
A woman who should take care of Bonnie and 2 other dogs in Westerlo Belgium probably needed the money for drugs, took them to Amsterdam and sold them. Fortunately two dogs were found but Bonnie is still missing and very much missed by her owner.
Please help us to find her back, her owner is heartbroken...
Bonnie has a microchip registered in Belgium, the Netherlands and Germany.
Who bought her after ca. July 1st 2018?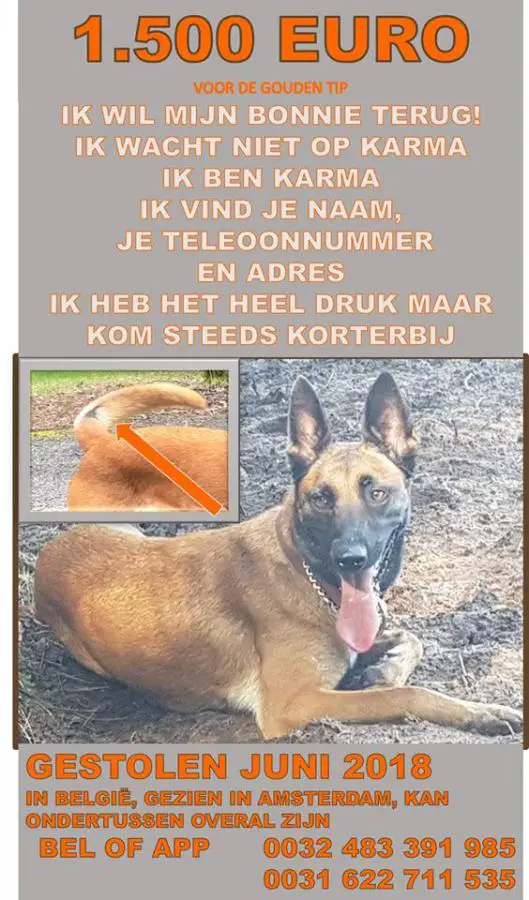 https://www.facebook.com/bonniegestolen/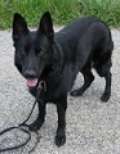 by Lunastar on 26 January 2019 - 00:01
Translation of the Facebook post to English:
Someone has my Bonnie and I want her back! ‼️ 1.500 euros is for you when you give the golden tip ‼ ️ https://m.facebook.com/story.php?story_fbid=568605926987964&id=308717376310155 Do you know anyone who suddenly has a Malinois Shepherd bitch, somewhere between June 2018 and now, then that could be Bonnie. A clear feature is a light spot on her tail with a dark stain in it. Stolen in Belgium, last seen in Amsterdam but can be anywhere in the meantime. App, send a message via messenger or call anonymously:
0032 483 391 985
0031 622 711 535
Because of the many parts, we are blocked by Facebook. Do you want to help us by sharing and tagging on Facebook, Twitter, Instagram?

by Stolen Pets on 26 January 2019 - 13:01
Thanks for the translation, Lunastar!
(BTW our FB (@GestolenDieren) is not blocked by FB, I guess Bonnies page probably had been blocked for sharing a photo of the woman who stole the dogs.)
---
---
Contact information
Disclaimer
Privacy Statement
Copyright Information
Terms of Service
Cookie policy
↑ Back to top