by aleksandra1202 on 14 November 2018 - 09:11
Hi, I'm studying animal sciences and writing an essay about GSD puppy weight since 1st day to 8 weeks of their lifes. Is there anyone who weighed their puppies on 1st day, 1week old, 2weeks old etc. to 8weeks? Sending me those informations will be really helpfull for my studies, thank you a lot :)


by Jessejones on 14 November 2018 - 17:11
Aleksandra-
Every breeder should have lists of every litter and every puppies weight, everyday. I hope you get some good information here.
I am not a breeder, but I have some historic evidence for you that may serve as your baseline.
The founder/developer of the German Shepherd breed, Rittmeister Max von Stephanitz, in his book "The German Shepherd in Word an Picture", (the copy I am quoting is from 1921) gives us a chart of his 10 litters (42 dogs) with the averages of weight.
Perhaps you have this already, if not, I hope it helps.
Remember, this is written in 1921, so only 2 years after World War I, which went from 1914 to 1918. So some of his litters were likely produced during the war. He does not write what years he had the litters. Or if he had them before the war.
The people of Germany during the end of the war, and for a few years after the war, did have trouble finding any meat, much less being able to afford any quality meat. Unlike before the bad war years, when everything was plentiful and meat was cheap . So that may press some of the wieghts down a bit. But, I do think these weights are still pretty accurate, although maybe a tad low towards the end of the 8 weeks.
Also remember, that dogs were a bit smaller then. Stephanitz always warned about the dangers of breeding large German Shepherds, as many do breed too large today.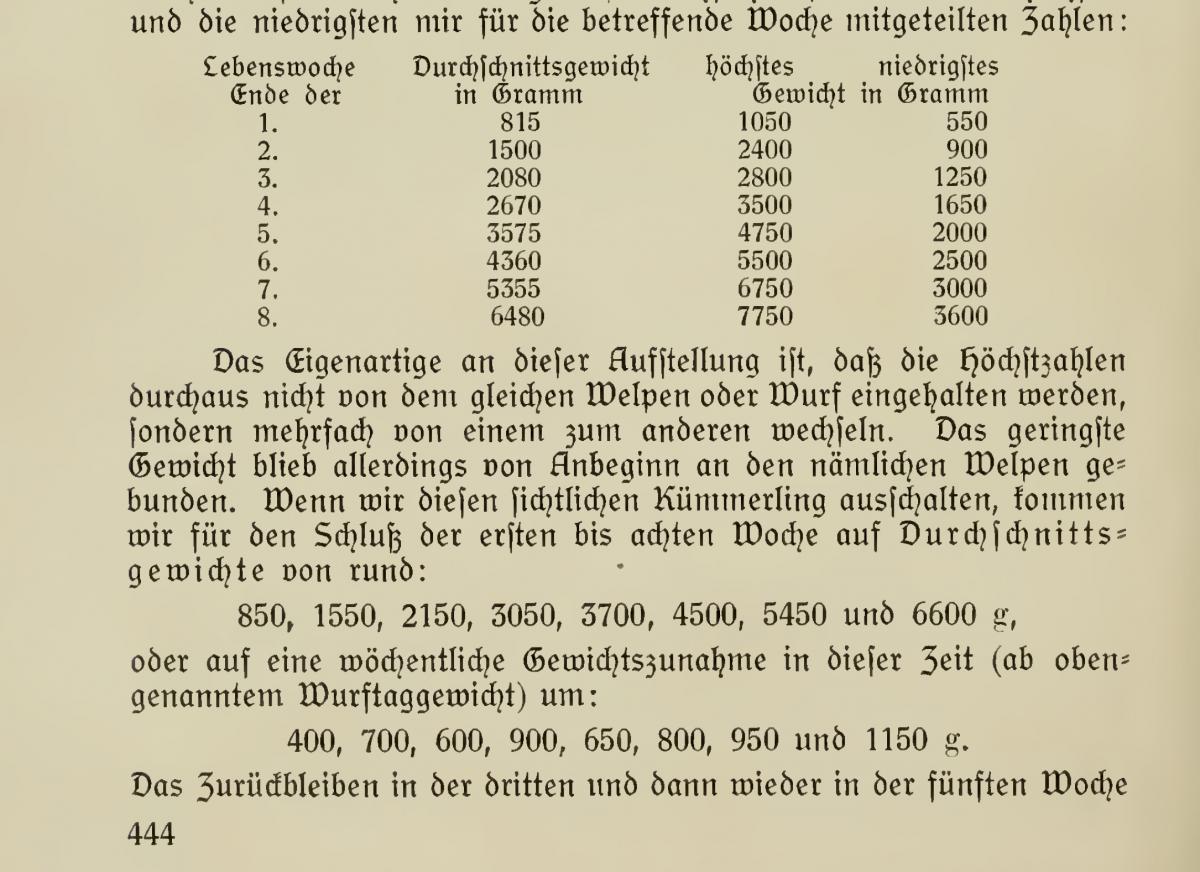 First column is "End of week 1,2,3 etc.."
Second column is "Average weight in Grams"
Third column is "Highest Weight"
Forth column is "Lowest Weight"
He writes that the highest weights for a puppy or litter, did not always remain the highest weight over time. But...the lowest weight puppies and litter, usually remained the lowest. Then he proceeded to remove the lowest weights , and came up with a new average of 850, 1550, 2150, 3050, 3700, 4500, 5450, 6600 grams.
The average weight GAINED every week was starting week 1: 400, 700, 600, 900, 650, 800, 950 and 1150 grams.
Stephanitz believes the dip in weight gain in the 3rd week an 5th week come from weaning off only mothers milk (which is very fat in content), and teething.
He only had 42 dogs out of 10 litters.
Back then, he prescribed , that if a large litter was born , one should, and it was not unusual for the weakest of them, sometimes several, to be culled, killed, and to keep only around 6 pups, which he encouraged. Large litters were considered bad for the mother and bad for all pups as the milk had to be shared between all pups. Creating a less than strong pup/total litter.
Hope this helps you in your paper!
by ZweiGSD on 15 November 2018 - 16:11
I have weights on 3 litters if you are interested. You can PM me with an email and I can send it over.
You must be logged in to reply to posts
---
---
---
---
Contact information
Disclaimer
Privacy Statement
Copyright Information
Terms of Service
Cookie policy
↑ Back to top