by 1Ruger1 on 09 November 2018 - 01:11
Lol ~
I'm laughing because I can hardly believe what I am seeing with only four days of raw feeding!
Even my fiancé who is no stranger to working line gsd's or raw feeding sits back and laughs as we watch our 18 month old Damien leap around like a gazelle !
This really deserved it's own thread instead of it getting lost in the "What's 4 Dinner Doggie" thread ....
It's been four days since we have stopped the kibble and have been feeding strictly raw. Now Damien is an 18 month old working line and is definitely typical ....
Having only had show lines in the past I was not accustomed to the high energy and drive of a working line and Damien definitely has a lot of both! But I have witnessed such a drastic increase in his energy and drive that it is almost unreal.
It's like taking a stock sports car and modifying the engine!!!! He went from high energy to almost irritating lol 😮😆🤣
It's as if he is in a constant state of energy! Again he has always been a high energy dog! He goes until you make him stop! but he's almost got springs on his feet since the switch!
Just in case anyone wondered what we were feeding before ~ a quality kibble with protein listed in the first three ingredients plus Whole Foods like yogurt, salmon etc, so not a shabby diet at all. However, the strictly raw has made a drastic change in Damien!
Let me add that his stool changed immediately from a semi firm, stinky to a firm, kinda odorless consistency!
No lie !😊 Happy Boy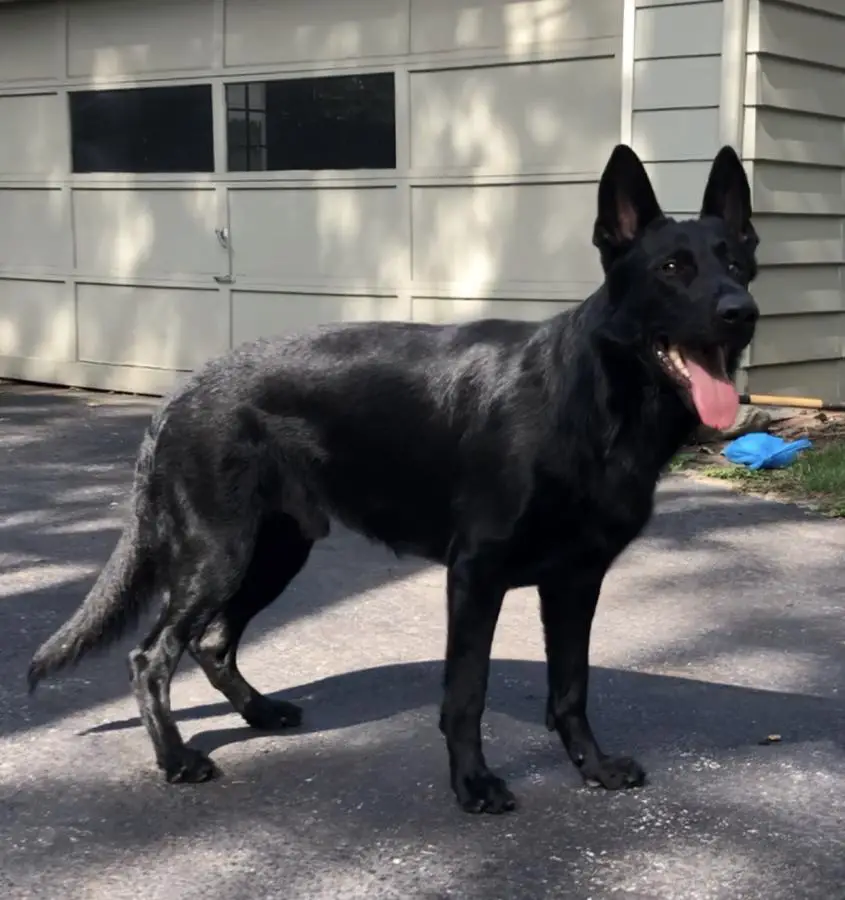 by Nans gsd on 09 November 2018 - 01:11
Fantastic.

Did you give us his pedigree, sorry I can't remember, if not could you. He's very pretty. Thx in advance Nan

by joanro on 09 November 2018 - 02:11
Pretty boy!

by 1Ruger1 on 09 November 2018 - 02:11
I am having problems embedding the links so Vito helped me out by posting Damien's pedigree and his welcoming page !
😊 thanks Nan and joanro !
by Vito Andolini on 09 November 2018 - 02:11
Maybe the food was just making him lethargic. Poison.
Or maybe he's got a pep in his step cause he's happy.
by Vito Andolini on 09 November 2018 - 02:11
by Vito Andolini on 09 November 2018 - 02:11

by 1Ruger1 on 09 November 2018 - 02:11
Vito~ I never said he was lethargic Grrrr..lol ! 🤓

He's definitely got a PEP in his step!

by ZweiGSD on 09 November 2018 - 02:11
Sure, anything is possible. Take this story about raw feeding for instance:
I had been after my brother for years to feed his dog raw. Whenever I had to clean up after him I would tell my brother that his poop stunk. After having raw fed dogs the look and smell of kibble poop is disgusting to me (whereas tripe is not). My brother would always reply, "It's poop. You're crazy. What's it supposed to smell like? Roses?" I would smile and tell him yes. After finally switching to raw I asked my brother how his poop smelled. His reply, "You were wrong. It doesn't smell like roses. It smells like chrysanthemums."



by yogidog on 09 November 2018 - 07:11
1Ruger I like that pedigree very nice . 👌👌
---
---
Contact information
Disclaimer
Privacy Statement
Copyright Information
Terms of Service
Cookie policy
↑ Back to top