by Working Dawgs on 01 November 2018 - 22:11
My friend owns a female Czech/German line that has just been OFA'd as Mild hip dysplasia in both hips at 2 1/2 years old,
and BOTH parents were tested "good hips"?
by Rik on 01 November 2018 - 22:11
it happens.

HD has not been eliminated in the GSD.

if the dog is a family pet, many good years still ahead. may never know the difference.

Rik

by Working Dawgs on 01 November 2018 - 22:11
Thanks Rik,

She was going to be bred, but that is out of the question now. Besides joint supplements, proper weight maintenance and not over doing it, what else can be done??

by yogidog on 01 November 2018 - 22:11
I have one at the moment 6 year old female 7 on 1 side and 25 on the other if I remember correctly a little week now but still years left in her. Perants and grandparents going back 4 generations are all good
by Rik on 01 November 2018 - 23:11
working dawgs, I'm not a vet.
personally, if it were my dog, I would not let her get overweight.
other than that and maybe not scaling 6 foot vertical walls every day, I really wouldn't do anything different.
mild HD is not a death sentence.
tell your friend to let the dog live life to the max and enjoy it with her.
swim a lot if the dog likes it and it's convenient, just because it's low stress and I like swimming dogs.

only advice I have.
Rik
by Nans gsd on 02 November 2018 - 00:11
Yes I have had it happen.. 2 good parents; can produce bad hips..

by Working Dawgs on 02 November 2018 - 00:11
The dog does love to swim and is very active, they will be relieved to know they can still let her swim and do all the things she loves to do, thanks so much for the input :)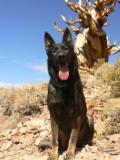 by Prager on 02 November 2018 - 01:11
Equivalen to OFA mild HD in Germany is considered normal and rated as Noch zugelassen - which means 'still permissible " or still allowed to be bred and they DO breed such dog. The dog is absolutelly not going to have probelm with such hips. I would NOT spay or neuter the dog though. That can add weight and be an additional problem for the dog. ]
OFA vs FCI/BVA/SV Ratings -– An Approximation
OFA

FCI (European)

BVA (UK/Australia)

SV (Germany

)
Excellent
A-1
0-4 (no >3/hip)
Normal
Good
A-2
5-10 (no >6/hip)
Normal
Fair
B-1
11-18
Normal
Borderline
B-2
19-25
Fast Normal
Mild
C
26-35
Noch Zugelassen
Moderate
D
36-50
Mittlere
Severe
E
51-106
Schwere
Unless the dog is super excellent I would not breed it. and if I would toy with such idea then I would get the dog evaluated by SV or Czech registry - for example. Then I would make sure that pedigree is free of any lesser hips - like fast normal or noch zugelassen and I would breed her to a stud who is hips improver. I personally say away from Noch zugelassen anywhere in the pedigree but Germans breed it so who am I to argue pro or con on this topic.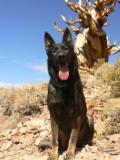 by Prager on 02 November 2018 - 01:11
It is not over untill the fat lady sings. Right? Is there any way that you can post the hips x ray of this dog? Sometimes ( quite often) the x-rays are downgraded due to poor quality of the x rays and due to poor positioning of the dog.

by clc29 on 02 November 2018 - 03:11
Working Dawgs,

Tell your friends to keep her muscle tone up (very important). Swimming is an awesome low impact joint exercise. Give her joint supplements, I use Dasuquin with MSM. Also, monthly Adaquan shots will help keep joints lubricated and reduce inflammation. Works wonders!! And, as others have said, keep her weight on the low end of the scale. I have one that x-rayed (OFA) moderate at 2 y/o and follow this protocol. We were so shocked with her results because she has always been a 110 MPH kinda girl. My vet told me not to pamper her and to let her play and do what she wanted. Said, she would show us her limits. We've followed his advice and so far (she is almost 6 now) it's worked. She gets a little slow if we've trained hard several days in a row or been on a long hike of 6+ miles. (By slow I mean, she's not trying to mow me over to jump into the truck.) But she's never taken a lame step.

One final note, I chose to keep my girl intact and not spay her. Others may disagree, but I think hormones play an important role in keeping muscle tone up and weight off.

I wish your friends the best of luck with their girl and hope she has a long, happy, and pain free life.

Cheri
You must be logged in to reply to posts
---
---
---
---
Contact information
Disclaimer
Privacy Statement
Copyright Information
Terms of Service
Cookie policy
↑ Back to top