by Dab353 on 17 October 2018 - 18:10
I need some clarification about a subject that I can not find any information about. I have attended my first GSSCC Regional and National IPO championships and Sieger Shows, and have noticed a huge difference about how IPO titles are attained based on whether it is a working line or a show line GSD.

Why does competing for an IPO1/IPO2/IPO3 as a working line, for example, include all 3 phases - obedience, tracking, and protection work, while for a show line competing for an IPO1/IPO2/IPO3 includes only protection and somewhat of obedience?

Thanks for your feedback in advance.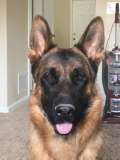 by jmcnees1 on 17 October 2018 - 19:10
Showlines still trial for their IPO 1/2/3. They still have the same process but during the Sieger show the courage test is a part of the requirements for a show rating after the age of two.

by 1Ruger1 on 17 October 2018 - 19:10
During a Sieger show they are doing a "modified version" of an actually trial. Behind the scenes they do the same IPO 123 that other working dogs do. My fiancé will tell you that not all trials where dogs are receiving their titles are created equal 😮😬🤐
That Sieger show only consist of a short protection routine and some obedience for showing purposes. At least that's what I remember from the Sieger I attended.
by apple on 18 October 2018 - 10:10
Your fiancé is correct. At IPO trials for show lines the helpers are instructed to not be too hard on the dogs. That is why in the courage test at the Sieger show, the dog are not actually being given a stick hit. I see that approach as a huge disservice to the breed.
by Juno on 18 October 2018 - 11:10
Last weekend there was a trial at one of the IPO clubs in South Florida. I personally did not attend, but several members from our PSA club and members from the IPO club (who also participate in PSA) went and said that it was quite shocking to see dogs getting BHs and IPO1s from a SV certified judge and the dogs could not do the basic healing exercise and were walking away doing their own stuff while the handler was yelling at them to get back to them. The judge in her critique mentioned that the dogs need a lot more work but she will "pass" them. So, I don't think this has anything to do with showline or working line but rather who and how the dogs are getting evaluated. I hate to say it but it is almost a reflection of our society where no one can fail, everyone has to be successful as it might do irreparable harm to their psyche. It is like bumper stickers on cars which say "my kid did the right thing". Really? You need a bumper sticker for that, as if it is so special. Maybe, I am just getting too old and not used to it. Sorry, did not mean to rant nor detail this thread.
by apple on 18 October 2018 - 13:10
Like Juno, I am training my 9 month old GSD in PSA. The amount of attention to detail and repetition is important because not only do you want your dog to show his best performance, you will also have increasingly more distractions during obedience and protection as you progress to the higher levels. The training can become boring for the handler, but putting in the repetition pays off, as well as making sure the dog is correctly performing the obedience exercises. IMO, the better PSA competitors have become more focused on precise obedience, although you don't need it to pass so long as the dog doesn't fail an exercise.
by astrovan2487 on 18 October 2018 - 13:10
It seems to be pretty well known that most "working line" vs "show line" IPO trials are going to be judged differently unfortunately and it is a huge disservice to the breed.
One thing I have noticed at recent trials for BH and sometimes IPO1 the judges have acknowledged that they are being more lenient with judging these titles because too many people are leaving the sport. That being said at the trials that the judges have said that I still saw people failing their BH and IPO1 for less serious issues than being out of control or ignoring the handler. They were all working line trials.

There needs to be more standard and uniform rules at the trials, seems like a lot of the judges even have different interpretation of the rules. At a recent trial for the temperament test for all dogs the judge had to be able to pet your dog and said this was in the rules, at a different trial the judge specifically said that the rule book stated that you do not have to let the judge touch your dog.
by apple on 18 October 2018 - 14:10
IMO, the BH is a poor way of evaluating a dog. It is more for show dogs than working dogs. My understanding is that the judge is not allowed to touch your dog. Some very strong dogs will light up if a stranger touches them and the dog doesn't like something about the person or is still fairly immature or just socially aggressive. It does not necessarily mean the dog has nerve issues. That is what I like about PSA. You don't need a good canine citizenship type of evaluation to evaluate a dog's character that might fail the dog and prevent him from going to higher titles. In PSA, there is a lot more pressure put on the dogs to test their nerves. A dog failed for lighting up when a stranger tries to touch him is going to dilute the gene pool. But the SV and USCA don't care about that because the vast majority of dogs are show dogs and most participants really don't want a strong dog. They have removed the gunshot from the BH. They were going to remove stick hits. That is one reason why it has become so hard to find a good GSD.

by emoryg on 18 October 2018 - 14:10
As most have said, it looks like Dab353 confused the Sieger Show with an actual IPO trial. I always enjoyed going to the trials and watching the teams compete at various levels. It did not matter if it was a National Championship or a local club with first time participants.
I personally would never have a dog that could not be approached and touched by a stranger while I was in the dog's presence and not feeling threatened. I expect my dog to have nothing less than nerves of steel and absolute confidence in themself.
by apple on 18 October 2018 - 14:10
I want a dog with solid nerves also, but a dog lighting up on an approaching stranger does not always mean the dog feels threatened. There are dogs like what you prefer that probably could be exposed for significant nerve issues if tested properly.
---
---
Contact information
Disclaimer
Privacy Statement
Copyright Information
Terms of Service
Cookie policy
↑ Back to top