by astrovan2487 on 16 October 2018 - 02:10
Copper (Naughty von Wolfstraum) earned her first FH on Saturday with a score of 98 in tough conditions, rained steady the whole time the track was aging. This is a big accomplishment for her as we had to completely change our goals suddenly when I found out she had a spinal injury and got surgery in April. Unfortunately she will probably never get her IPO1,2,3 because of the injury but she has always been a natural at tracking so doing advanced tracking suits her just fine. So very proud of her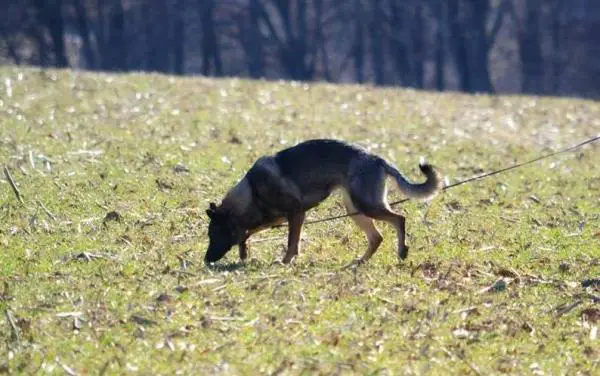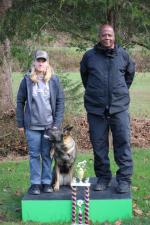 by hexe on 16 October 2018 - 04:10
So sorry to hear she suffered that injury, but kudos to you for not just putting her on the couch!

Congratulations to you both on the FH title, and with such an outstanding score under less than ideal conditions! Aside from the FH2, don't forget that she can also go for the AKC tracking titles, so there's a lot more she can work towards if you're both game for the challenges!

You must be crazy-proud of her, and deservedly so!

by Koots on 16 October 2018 - 04:10
Big congrats, that's an excellent score. Besides advanced tracking titles, there's also scent discrimination to work her if she likes it and you're so inclined.

by susie on 16 October 2018 - 07:10
WOW! Outstanding result!
I never even tried the FH ... too much work, difficult training ...
Big Congrats !

by Hundmutter on 16 October 2018 - 08:10
Well done ! That's a brilliant score. May you and she continue to enjoy this work (Like koots' suggestion, too).

by mrdarcy on 16 October 2018 - 08:10
Big well done to you both


by Q Man on 16 October 2018 - 13:10
Well done...Good job...

~Bob~
by astrovan2487 on 16 October 2018 - 23:10
Thanks everyone for the kind words and great suggestions. We have started narcotics detection, hoping to get her certified next month. She's already had several real searches and found drugs at a rehab. We'll continue doing FH's and possibly AKC tracking and RH titles. She is the kind of dog that needs to be doing something challenging

by Jessejones on 17 October 2018 - 00:10
Fantastic! Congrats Astrovan and Copper!

by clc29 on 17 October 2018 - 02:10
Congratulations!!
That's quite an accomplishment.
Looking forward to hearing more about you and your girl :)

Cheri and Ava
---
---
Contact information
Disclaimer
Privacy Statement
Copyright Information
Terms of Service
Cookie policy
↑ Back to top