by Western Rider on 05 August 2018 - 16:08
Well said and correct, if it can't be proven then leave it out.
by junkmail2014nov on 05 August 2018 - 17:08
Thanks. It is to no one's benefit to propogate rumor. It is only beneficial to state facts.
by junkmail2014nov on 05 August 2018 - 18:08
A member sent me a PM to request research on OCD in dogs. For any who are interested here are some places to look and one article in particular to look for and download.

Bone disorders in the dog- A review of modern genetic strategies to find the underlying causes

http://criticalcaredvm.com/osteochondritis-dissecans-dogs/

http://cal.vet.upenn.edu/projects/saortho/chapter_84/84mast.htm

http://cal.vet.upenn.edu/projects/saortho/chapter_84/84mast.htm#ocdstifle


by Sunsilver on 05 August 2018 - 23:08
junkmail, I pm'd you. Check your box, please.
by junkmail2014nov on 24 November 2018 - 23:11
Good Evening Fine Ladies and Gents! I wanted to take the time to put up a very "Thankful" post/update on my girl for the holiday season. First check out this beautiful face! If that's not a happy pup I don't know what one looks like then!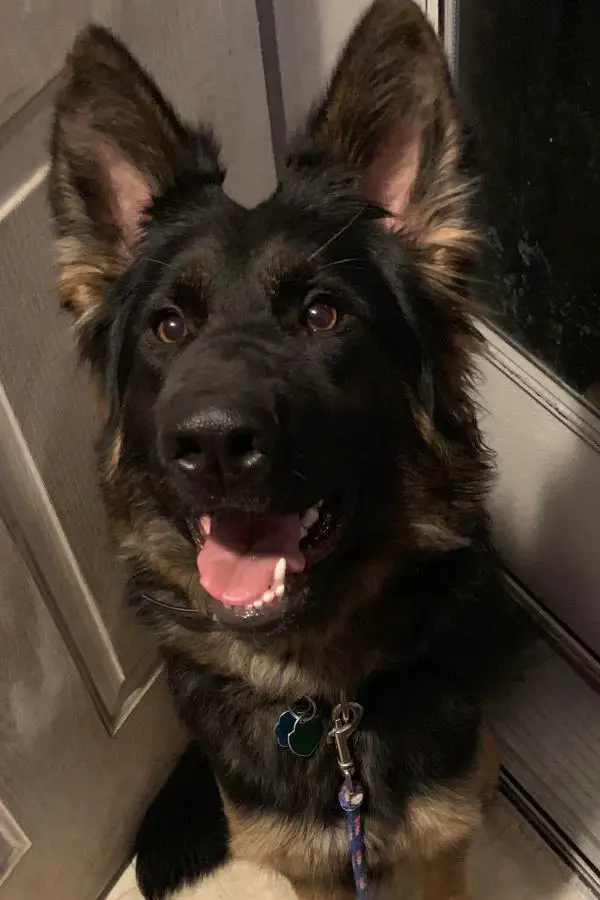 Here she is in training/work mode, and for all who've kept up with her progress, please note that she is attentive to the handler and best of all NON REACTIVE AT ALL!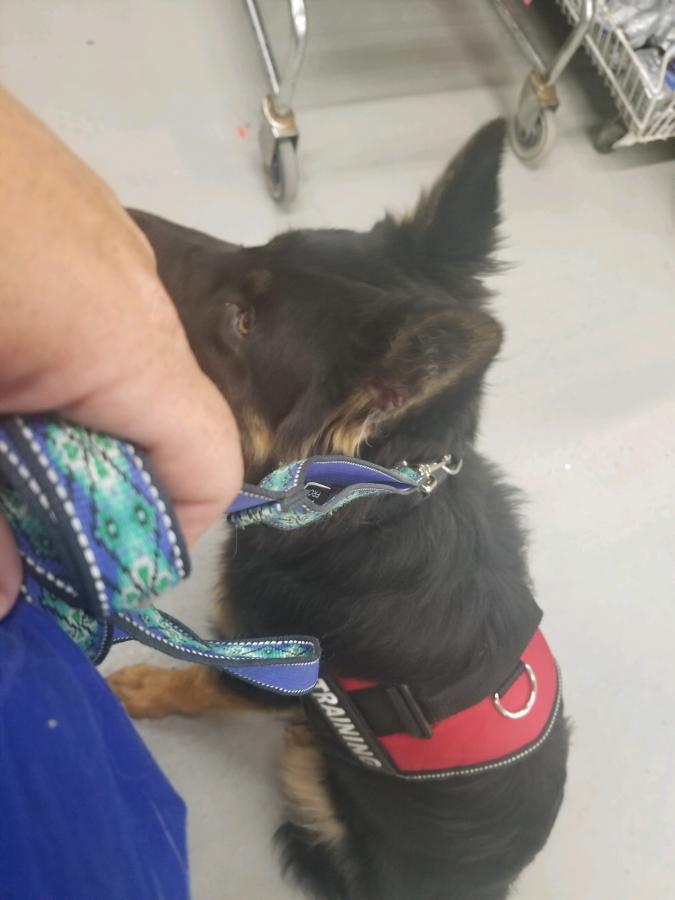 She is a complete "Ball Hound," preferring ball playing/chasing, rope-ball playing chasing even above treats.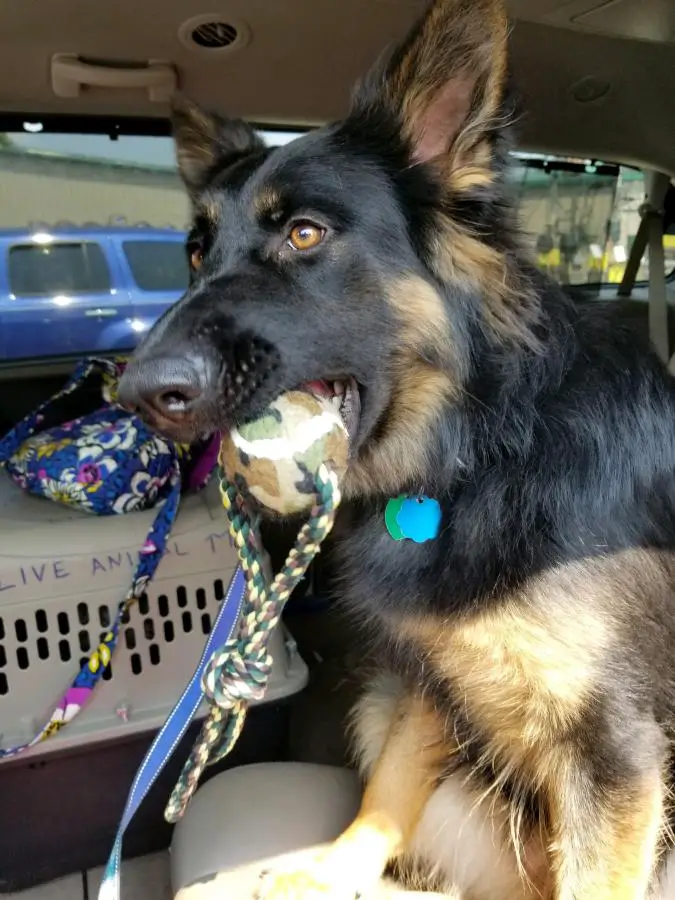 Finally, I've embedded a video of her playing in this post. She is happy, and, so far, healthy, and showing no signs of her OCD at this time. I will have her back with me for a short period of time in December over the Christmas break. At that time she'll stay with me for about three weeks. I have to go south for work for triaining and I've scheduled her one year old xrays of her hips and knees back with her ortho down there. She was a year old in October. We will xray her again two to three months after age two and see what they look like compared to these we'll take in December, and compare all three of the sets, (Her diagnosis xrays, the one year old xrays, and the final round after she reaches full growth) to see how her knees look. I will say this though, when she goes into heat, the work BEEOTCH is not an adequate enough description for her!!
Which brings me to my next point. I'm still on the fence on whether to do a full spay or OSS spay. Still doing the research. I'm also working through AKC to obtain full ownership. I've no plans to breed her at all. Not with the genetics. So its not that. Its that I've spent a fortune on her and becuase my work requires much travel, should anything every to happen to me and she survives, I want to ensure that there is absolutely no claim upon her whatsoever from the breeder(s). I don't want my family to have to deal with the breeder(s) should anything happen to me and I know beyond a shadow of a doubt my family will take wonderful care of her for as long as she would live. She has earned it. She deserves it. She's been through enough. I want absolutely nothing ever to do with the breeder(s) again so I want to ensure I have full and complete ownership. And if I have to, I'm willing to go to court over it. IDK what AKC's position is still regarding the breeder, however I do know they are treading very lightly with me and my communications with them, as well they should. I'm going to let them do the work on their end to see if they can convince the "listed owner" of my girl, (who, by the way, is NOT the person I signed the contract with....surprised? - NOT!) to release any and all rights of her to me without any further issue.
Finally a big shout out to all of you on here for your advice. Especially on the diet and supplements. Huge thanks to you all! Happy Holidays!
by astrovan2487 on 25 November 2018 - 00:11
She is adorable! Glad to hear she is doing so well with everything. Did they end up just removing the OCD lesion or did they also repair the joint surface? One of the vets I went to for my dog's spinal OCD lesion has started doing implants for joint surfaces damaged by OCD lesions, unfortunately though it can't be done in a spinal location. I hope you can get free and clear from any future dealings with the breeder, that whole ordeal sounded like it was a nightmare.

by mrdarcy on 25 November 2018 - 09:11
Thanks for the update...she's looking really good.

by Hundmutter on 25 November 2018 - 09:11
She is looking very good, lovely photos. I'm glad she is doing so well. Unfortunately I could not get your video to work ("An error occurred.") Please check your Inbox, I've sent you a PM.
by junkmail2014nov on 25 November 2018 - 17:11
astrovan2487, the vet actually did a lesion removal on both knees. Her surgery was done at age 21 weeks. I should say surgerieS as in PLURAL. She developed complications in both right after the bi-lateral repair so she's had a total of three surgeries: one bi-lateral, the initial repair, and then two subsequent, one on each knee. Good to know about the implants though. If she starts to develop issues later I'll keep that in mind.

I do too. Yes, it was and has been a nightmare. Technically, legally, there isn't anything the breeder can do. They acknowledged to me the day I bought her, in front of a witness if I need to call the person to court to testify, that the contract requiring a return of her to the breeder in case anything happens to me would not stand up in court. However that isn't my point. I want absolutely NO CLAIM upon her WHATSOEVER from this breeder. Hopefully the AKC will be able to reason with them. Although recently it appears there seem to be some "unhinged" behavior patterns emerging. Either way, I don't care. I just want her safe, happy, healthy, and well cared for for the rest of her life in the event something happens to me.

Thanks mrdarcy! I appreciate it. I'll look at the link hundmutter! I'm getting the same error too. Oh and much, much thanks to jenny(I forget the rest of the handle)! The diet instructions and supplements given ROCKED it!

Thanks everyone!!

by Jessejones on 25 November 2018 - 18:11
JunkMail-
I am so thrilled to see her pictures! She is indeed gorgeous and bright eyed!

At one point I sent you a pm answer to your question to me, but never heard back...did you get it? It was a few months ago.

How is her SD training coming along?

Gosh, I am so happy for you and her!
You must be logged in to reply to posts
---
---
---
Contact information
Disclaimer
Privacy Statement
Copyright Information
Terms of Service
Cookie policy
↑ Back to top