by junkmail2014nov on 04 August 2018 - 12:08
by junkmail2014nov on 04 August 2018 - 13:08
Sorry Folks. Technical difficulties. For anyone who wants to the history of my pup can be found in these threads:
http://www.pedigreedatabase.com/community.read?post=900021-ocd-puppy--genetic-treatment-options
http://www.pedigreedatabase.com/community.read?post=900173-ocd-5-mo-puppy-preop-xrayspostop-care
I know I've not been on here for a while. I've been working a lot of hours with my new job and balancing that against taking care of, rehabing, and working with the trainers, with my girl.
Update First: One of my trainers has repeatedly said, "Man! Whoever did her surgery did a hell of a job!" And the other one has said, "Wow. You've put a lot of care in to that dog." As far as the Breeder is concerned, anyone who wishes can do the research and find out. For a while the Breeder had placed their kennel under another person's name so as to continue registering dogs. The link to AKC's "disciplinary actions" which were given can be found under "Notices" here:
http://viewer.zmags.com/publication/d5188238#/d5188238/63
The Breeder has now resumed listing themselves however under the "more" tab where information is listed about the breeder, big red X's are listed for the following:
The applicable heath screens have been performed on the sire and dam as recommended by the Parent Club for this breed.
I provide a health guarantee for the puppies I sell.
I will provide a written bill of sale detailing responsibilities for the buyer and the seller.
If the puppy buyer cannot keep a puppy purchased from me, I will take the puppy back under all conditions.
After my puppies are permanently identified, I enroll them in AKC Reunite.
Which is a huge difference from what it was last year in October of 2017 when this Breeder was listed as a "Breeder of Meritt" by the AKC when I purchased my girl. So, true to form, as the euphamism goes, "A lepoard doesn't change its spots."
I've inserted some pictures of my girl. She continues with the diet recommended by you kind folks on here, (MANY MANY THANKS!!!) and also recommended by you kind folks on here, she has spent the spring and summer swimming, playing, and being just and all around D.O.G. having fun while still being required to behave appropriately as she enters and works through her juvenile period. She tops out right now at 61 pounds and "we," (her owner and entire team of care givers) think that keeping her "lean and mean" so to speak as she grows will be key in keeping her healthy and happy as far as her mobility goes. At this point in this journey, about the only good thing I can say about the Breeder is, as far as temperment, they got that part right. Everything else....no comment.
So When Should I Spay?: I have continued to remain in contact with the orthopedic specialist who performed her surgeries. For those of you who don't remember the surgeon is one of the foremost prominent specialists in the country. The surgeon recommended at least two heats and possibly waiting until she is 18 months old. However they do admit there is a risk involved of breast cancer. If she developes uterine cancer that's a no brainer. The cure for that is - uh - spaying. Breast cancer is a different story. The surgeon recommends that she be X-rayed prior to surgery to determine, if possible, if the growth plates have completely closed on her knees and to also make sure nothing new with her condition has developed any where else. If anyone has any opinion on this one way or another, I welcome it.
The surgeon also asked if I had notified the Breeder and then if the Breeder had had the parents had been tested. I did notify the Breeder at the same time I notified AKC and because of this, the Breeder's response was less than professional, not to mention polite. (I don't think I am capable of physically performing the act that I was advised to by the Breeder!) Apparently my choice to register my girl, who is genetically proven to be from both dam and sire, (The Breeder had both registered in AKC database), and is now a proven carrier of OCD, this has apparently caused some - er - consternation? My opinion of that is - "Facts is facts," so....SNMP as I say in my world, or, "Simply Not My Problem.
Finally, my girl has begun her full time training with a new, QUALIFED, fully investigated, OBSERVED, (And I mean house, farm, area where she will be living, car, transportation, training methods, etc. etc. not to mention I can stop in and observe ANY TIME I WANT TO!!!) Service Dog Trainer. We are working on Shaping her natural behaviors for alerts and everything used is positive training. Reactions to other dogs are extremely rare and even then only from and exitement stand point. Developmentally, from a mental stand point she is still a bit behind on how to "speak good dog language" however she is catching up VERY fast and both trainers believe she will be fine in this area. She is wicked smart. We have learned all sorts of games up to and including sitting, standing, and balancing on large PT discs to strengthen her legs and core. She loves to swim, loves the Jolly Ball, loves to sleep on Mom's bed, loves to sit at Mom's feet at work, and takes personal offense if anyone comes to Mom's office and does not reach into the cookie jar to give her a treat for something she does. Seriously! She just sits there and stares at you like, "WTF? When are you going to ask me to do something so I can do it and get my treat? What? You didn't think you came in to see HER did you?" So yeah...I'm out a little over 15K now on this girl, and will be more by the time training is done but to see her happy is worth it. However that being said, I will NEVER, EVER, go through this again. I will NEVER, EVER buy from this Breeder again. And I will NEVER, EVER, by another puppy for an SD when she has to retire.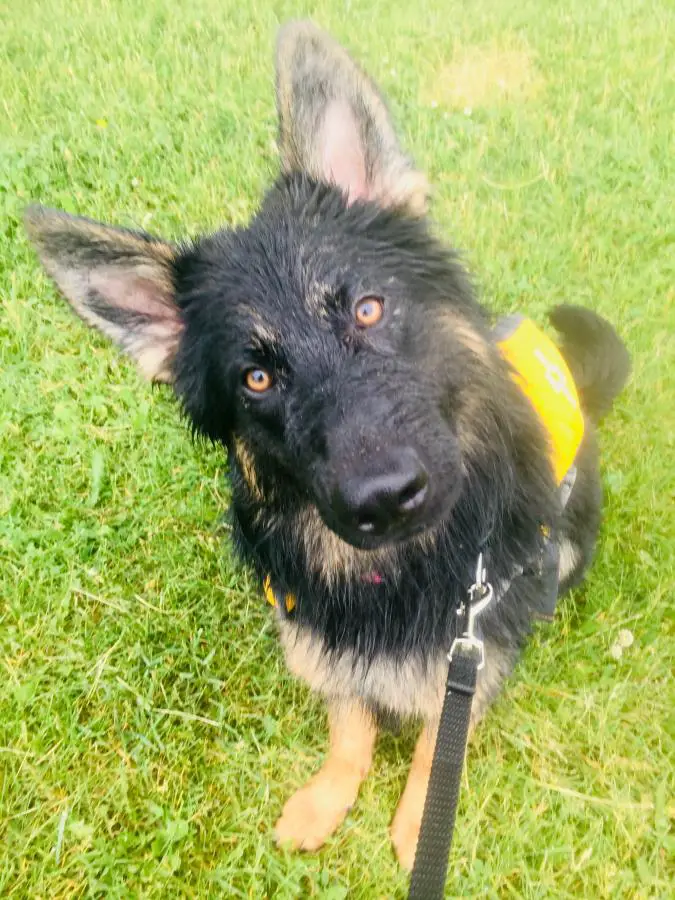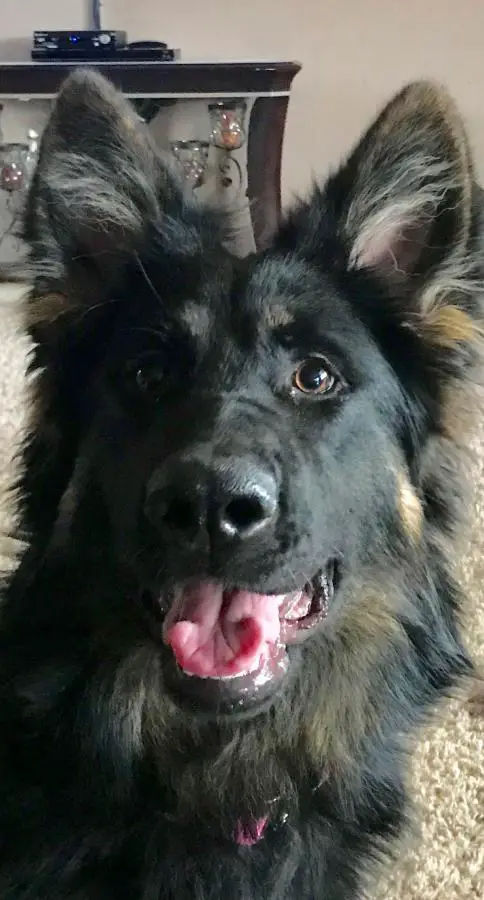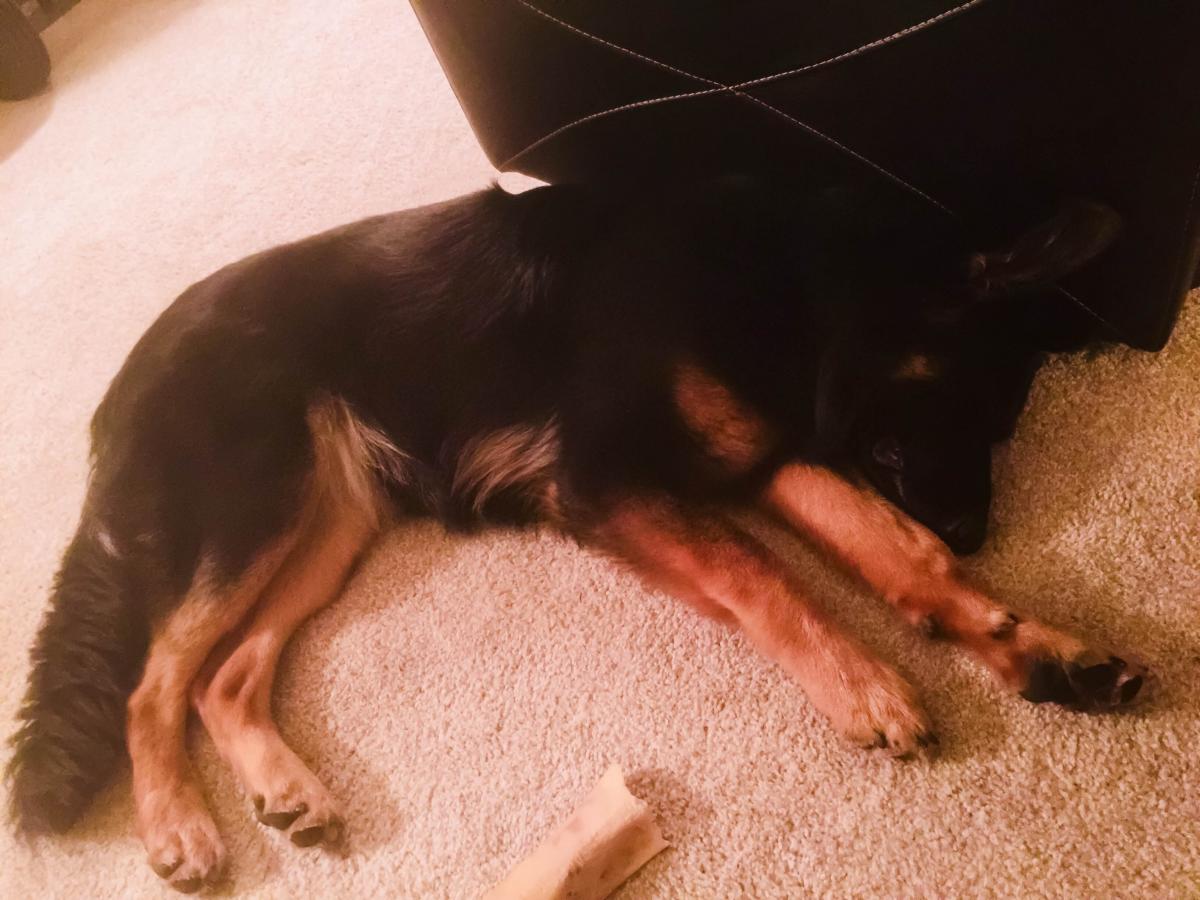 by Sunsilver on 04 August 2018 - 17:08
Wow...just wow!

The breeder is well-known on this board, and used to post here quite a bit.

Ironically enough, that's the best set of hips I've seen in quite awhile...

So sorry you are going through this! My hat is off to you for all your care and concern for this beautiful pup!

by Hundmutter on 04 August 2018 - 17:08
Welcome back ! Will reply to your PM but there are things worth saying on the main forum, too.
Like: well at least your actions, and the AKC response of a fine and 3-month ban on activities / 'priveleges', should make her realise she cannot just go on doing, and saying, the stuff she was, without incurring disapproval. And therefore needs to make changes ! It does not seem all that harsh, though, given some of the things that have gotten her a lousy reputation over the last few years. I have said it before, but will do so again: she WAS a breeder of quite high repute, and someone whose views I and others respected; how sad that things have degenerated to the point where we just hear about dreadful conditions, and contracts not worth the paper they are written on.

LOVE it that the girl is doing so well. In the past couple of weeks I have heard of two different Assistance Dogs over here, - one a Hearing Dog, one not - both of which have undergone skeletal surgeries recently and completely recovered, and gone on working for their owners. Its a pity I could not have quoted those at the time that you were so worried about her future ability !

Excellent news re the Trainer. Photos are great, she looks very well and happy. Talk to you in PMs later.

by Sunsilver on 04 August 2018 - 18:08
A breeder who lives in Pa. just told me the breeder has been suspended for FIVE YEARS from all AKC related activities.

She's getting around it by transferring ownership of her dogs to a family member.

Yeah, I used to respect her, too, and actually considered breeding to one of her dogs. :(

by Hundmutter on 04 August 2018 - 19:08
OP provided the link to official AKC record of the investigation result, so how does 3 months get to be 5 years ?

by Sunsilver on 04 August 2018 - 19:08
I'm not an AKC member, so I can't answer that. But I do know she was inspected, and told to improve on things, and she failed to do so. There were numerous issues, including registration papers/record keeping, health testing, vaccinations and worming (obviously!) and the way her dogs were kept (some were outdoors and lacked adequate shelter.)

Could be she took the same attitude with AKC as she did with the OP in this thread, and they decided to lower the boom on her!

I know the problems aren't new. Animal Control has been after her for a couple of years now.
by ZweiGSD on 04 August 2018 - 21:08
by junkmail2014nov on 05 August 2018 - 03:08
Thanks for the idea of OSS. I will research it further. This looks like it might be the best option for her. I need to learn more about it.
by junkmail2014nov on 05 August 2018 - 14:08
I want to make very clear that the reason I have been very careful in all communications within this site is that, both for my own personal beliefs and principals, as well as that of legal considerations, I think it is extremely important that only FACTS be stated. FACTS are those things which can be proven: Published reports, saved communications, i.e. those documents etc. which are a matter of public record. It is why I have taken great care to use only provable facts. The URL listed contains disciplinary dispensation which was handed down from the AKC and is publically accessible. This is irrefutable. I would humbly ask that anyone who wishes to offer opinions to please feel free to do so but at the same time please only offer information which is helpful and  is documented and publically available. Anything other than this allows all conversation to devlove into such an area of vitriol that nothing productive comes of it. 
To respond to user Sunsilver's statement of a 5 year suspension, I have been unable to, as of yet, to obtain any, provable, information on disciplinary actions or santions of that magnitude. Therefor I think, IMO, making this statement is very much preliminary as it appears not to be a documented fact. However, in this same argument, what is documented and provable is the kennel has been inspected and it is documented. The kennel is listed under Ritner Kennels in Cumberland County. The site where Kennel Inspection Reports can be obtained can be found here:
https://services.agriculture.pa.gov/PADogs/PublicKennels/SearchKennelInspections.aspx
I would respectfully please ask that this thread not be turned into any discussion other than and update on my girl and opinions as to when I should spay her and how. Any other topics of discussion please create another thread in the appropriate discussion forum. And please accept my apologies upfront as if I am offending anyone from asking this I am well and truly sorry.
---
---
Contact information
Disclaimer
Privacy Statement
Copyright Information
Terms of Service
Cookie policy
↑ Back to top