by Mountain Lion on 15 July 2018 - 21:07
Sometimes it pays to wait your turn...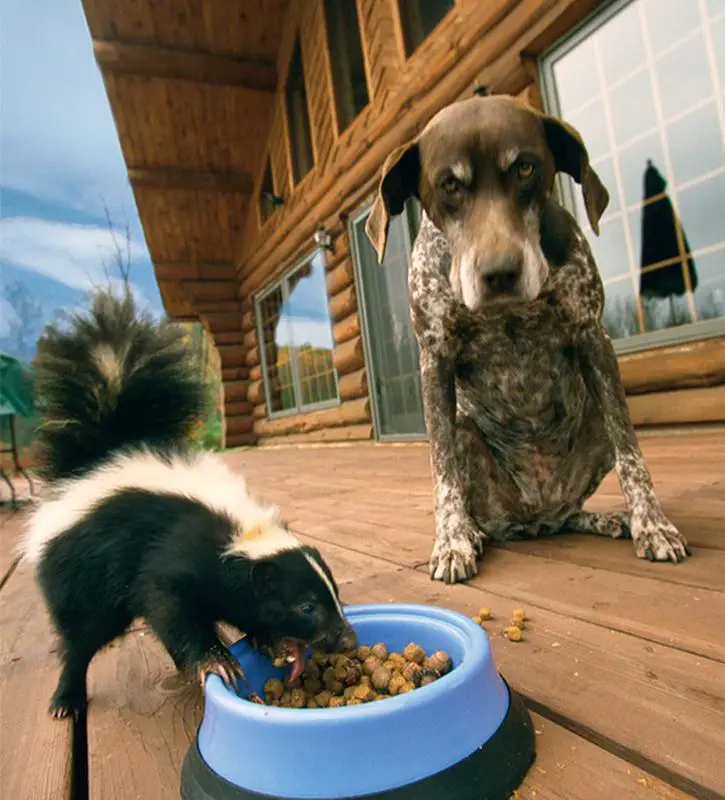 by Jessejones on 15 July 2018 - 21:07
HAHA, brilliant ML!
Love the look in your girl's eyes!
by GSCat on 15 July 2018 - 22:07

for the dog
Looks like daytime out... was the skunk sick?

by Sunsilver on 16 July 2018 - 11:07
That's a young skunk (still not full grown). It MAY even be a pet. When first kicked out of the nest by the mom, the young ones don't always follow the rules. They are still trying to figure out how to survive on their own. So, seeing one abroad in daylight isn't unusual.
And seeing a wild animal abroad in daylight does not automatically mean it's sick or rabid. It may have been forced out of its home by humans, and not able to find an alternate refuge. Or it may have lost its fear of humans due to being fed by them.
Here's another example...no idea why this mother skunk would approach this cyclist, other than sheer curiosity, though it looks like Mom may have been expecting a handout:
Smart cyclist....
https://www.youtube.com/watch?v=DwKV9dJzqDs

by Mountain Lion on 16 July 2018 - 11:07
That's not my dog, just a picture off the internet that I thought people would get a kick out of. LOL

by Sunsilver on 16 July 2018 - 12:07
Okay, I give up!! I can NEVER get YouTube videos to work!
I thought I followed the instructions to the letter. Can someone please tell me what I did wrong?
I clicked on the video and copied the embed code. Then I clicked on 'source', inserted the code into my post, and clicked 'source' again. The rectangle with the red square showed up the way it was supposed to, according to the instructions, so I clicked 'submit'. But the video either doesn't show up in my post, or I get a black screen that says there was an error.
I also tried copying the embed code into the bar below the editing screen, but that got me a '404' error. When I copied the video URL into the bar, I got a black screen with an error message.

by Western Rider on 16 July 2018 - 17:07
ONLY embed the code AFTER the "=" marks
You must be logged in to reply to posts
---
---
---
Contact information
Disclaimer
Privacy Statement
Copyright Information
Terms of Service
Cookie policy
↑ Back to top