by BlackMalinois on 28 April 2018 - 09:04
I ask myself how do this police department selecting and train dogs?? its a shame....very dangerous situation
by duke1965 on 28 April 2018 - 09:04
bet he was biting on the sleeve and suit just fine, like the mali at the whitehouse and dozens others, bet he had a full calm grip too


by BlackMalinois on 28 April 2018 - 09:04

Not saying every sport dog will fail but there is BIG diiference between real liife situations
and that conditioning sport training doing all the same exercises, Good quality breeding ,genetics.good proper SELECTION , high level experience(real world) trainers and training etc,etc very very important ..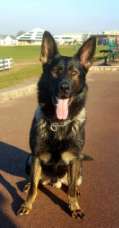 by RichCarne on 28 April 2018 - 10:04
BlackMal,

I have some genuine questions for you,

Is KNPV a sport?
Is a specific routine and/or sequence of exercises followed in KNPV?
Is it possible to condition a weak dog to pass?
How does KNPV test how a dog will function in real life situations?
Conceptually, How is KNPV different to IPO?
Do KNPV dogs ever fail in real situations?

Admittedly, I know very little about KNPV, but from what I can see, it looks no different to IPO conceptually.

Rich.



by yogidog on 28 April 2018 - 11:04
U can't expect a real life dog to work the streets if he had been training in a sports program biting sleeves and suit on a field. It has to be different there has to be pressure at different stages. and the age of the dog has to come into concideration. There has to be physical contact from decoy. There mús be many different decoys and as the dog gets older there must be many decoys at the same time and at this time no equipment. Equipment must be weeded out and used as little as possible. U need to see how much pressure the dog will take and how quickly he will recover. All sorts of areas for agatation should be used. Strong in environmental is a serious must. Super strong nerve is a must balanced drive is a must and very strong fight is a must. Knpv iPo is not a start for a street dog. But when u are dealing with mostly breed prey dog these days what do you expect. Most dog these days are born without suspicion and want to be everybodys friends. So that's how they are worked a rag on a string.
by joanro on 28 April 2018 - 14:04
That was a cop practicing his 'bring your pet to work' day.....you know how it releases stress to have your pet by your side during a stressful encounter with a guy with a machete.

by BlackMalinois on 28 April 2018 - 14:04
@ Rich

KNPV is never mean as a sport but its the only oficial police program in the world , but today its more sporty than in the older days I also think the today PH-1/PH-2 program is a litle bit out of date

They also practise a lot with real life situations and there are many real life contest competitions
outside the standard PH-1 program here we see stronger dog but also weaker dogs,so the selection is different than the IPO they are different programs and also some training.

And not every PH-1 dog is good enough for the real world .


When dutch police is interested in a specific quality dog mostly they follow the dog by training after the trial is succesfull
they buy him . Dutch police will test the dog also in real life situations for a few weeks if the dog is suitable and this not an easy test ofcourse dogs here will fail .This will mean a dog with high points can fail, and a dog with lower points will passed for the test and become in duty.

The German Shepherd on the specific video will never passed the the test by dutch police instructors.
I don,t know every K9 police dog in Holland but I have never seen a dog fail or on the run like this GSD, they wash out weak dogs long time before they become in duty by proper selection.
Dogs who are not good enough for Holland work on the streets in the US and other countries....this is a strange situation IMO
by duke1965 on 28 April 2018 - 15:04
Is KNPV a sport-------yes
specific routine-----yes
condition weak dog to pass --------yes
test on real life situations----no
do KNPV dogs fail in real life situations----------yes
having that said,definatyly that doesnot go for all dogs, as there are lots of KNPV trainers who will not train a weak dog up, but I will tell you a little bit about the situation from my point of view.
many KNPV dogs are trained and shaped for a two year or longer period of time, where a dog is shaped into expecting, having to bite after the repeated command "halt politie" for example, same goes for all the other exercises.
this is IMO a strong point about KNPV dogs, as they are usually well trained before even going to the police.
now the factual situation is much different with non KNPV dogs,sold to police vendors, most of them are not sport rejects so without any form of training these young dogs are prepared for minimal test of search and bite and often after a class of 8 weaks with unexperienced handler they are send out on the street
second problem is that,due to extreme demand, most of these dogs go at age of ten months, where A KNPV dog needs to be 2 and half years old to be entered in final exam, quite a difference
by duke1965 on 28 April 2018 - 15:04
must add to that, that yogi dog post is spot on, as many people dont know the difference between a prey or real bite, and many dogs selected these days are over social dogs with NO civil to kick in at all, this goes for both sport and LE people
I got a pup from my breeding back last week at 6 months from KNPV sport, as he was targeting the man and not the sleeve, genetics overruled by sport expectations
by ValK on 28 April 2018 - 15:04
good illustration of eventual outcome which should expect participants and proponents of "bite philosophy opinions"
and any other "building up dog's self confidence" discussions.
You must be logged in to reply to posts
---
---
---
---
Contact information
Disclaimer
Privacy Statement
Copyright Information
Terms of Service
Cookie policy
↑ Back to top