by cherjam81 on 27 January 2018 - 00:01
Is there a way of knowing if a dog is a carrier, clear or has DM from the numbers given when tested? (Ex: GS-DM6805/7F-PI-CAR)
Some have a VPI and PI at the end.

Cheryl
by CamoGenetics on 27 January 2018 - 04:01
The PI and VPI explained:

PI – Indicates that the animal has been permanently identified in the form of tattoo or microchip. If the dog has been permanently identified AND the identification has been verified by the attending veterinarian, a suffix of VPI is applied. If the animal lacks permanent identification, a suffix of NOPI is applied.

Effective January 1, 2001, the OFA adopted a policy acknowledging animals that have been submitted for inclusion in its databases that have permanent identification in the form of tattoo or microchip. Animals not permanently identified will continue to be evaluated; however, they will be issued a number clearly indicating that the animal has no permanent identification. Animals with permanent identification will have a suffix of PI added to the OFA number. Animals that are permanently identified AND have had the identification verified by the attending veterinarian will have a suffix of VPI applied. Animals with no permanent identification will have a suffix of NOPI applied. Effective 1/1/08, only dogs with verified permanent identification (VPI) will have their OFA data transmitted to the AKC for inclusion in their database.

From: https://www.ofa.org/about/faq

Now I know with Neuronal Ceroid Lipofuscinosis (Ataxia) with the OFA you can tell what the dog is from its OFA test number, but I only know that CAR means Carrier and when they are homo negative, there is no addition on the end of it. I don't know what it shown if they are positive for it though so sorry! I'm guessing this would be true for all of their diseases tested.

by cherjam81 on 27 January 2018 - 15:01
Thank you for explaining it all. Very helpful info.
by CamoGenetics on 27 January 2018 - 15:01
Glad I could answer most of it for you! :)
by foreversolucky on 28 January 2018 - 23:01
Our carrier female is GS-DM2265/6F-PI-CAR. Our clear male is GS-DM2787/2M-VPI. Looks like it's breed (GS) then test and number (DM XXXX), age when tested in months (6 months and 2 months), sex (F/M), and ID status. Not sure what an At Risk would look like.

by CrashKerry on 29 January 2018 - 14:01
At risk dogs don't get a number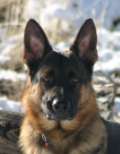 by feistyjen477 on 30 January 2018 - 14:01
the CAR at the end of the number means Carrier

by cherjam81 on 30 January 2018 - 18:01
Thank you everyone for the replies.

The reason I asked about this was a friend of ours has a male GSD that has a weak rear end. We noticed it when he was just 14 weeks old and mentioned it to her. She said it was always that way and she got him when he was 6 weeks old. He is now almost a year old and still shows signs of weakness.

Another person told her it was DM, but he has no pain and I didn't think this would show up in a very young pup. I have finally gotten his sire and dam info.

http://www.pedigreedatabase.com/breeding.result?father=2298460&mother=2721255

She stated she has a hip guarantee from his breeder.

Out of all the ancestors of her dog I only found 1 with a CAR Dm#. I know that don't mean anything as if they do have it the number will probably never get entered with the dog.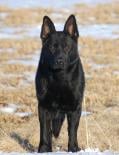 by Jenni78 on 30 January 2018 - 20:01
A wobbly puppy has absolutely nothing to do with DM.

by Hundmutter on 30 January 2018 - 20:01
You are right, DM does not normally manifest itself in young puppies. Typical onset is well into adulthood. DM is not painful. 'Dead' nerves do not hurt. This is the case whether you find a genetic test has been conducted, or not.

GSD puppies frequently show some varying oddities of gait while they are growing; this usually resolves itself eventually, but owners and Vets are often a bit quick to diagnose that there must be something wrong ...

I suggest the investigations of this "weakness" this pup is showing proceed along the following lines: find somebody else very experienced in the breed who can watch him walk and give you an assessment. (I respect that you are not a beginner, Cherjam, but it sounds as though your friend may be, and another view from somebody disinterested might be helpful to you both.)

Consider in depth the diet and exercise given so far, and whether there could be
deficits or excesses of either that might have given problems in either joint or muscle formation.
You must be logged in to reply to posts
---
---
---
---
Contact information
Disclaimer
Privacy Statement
Copyright Information
Terms of Service
Cookie policy
↑ Back to top