by Nans gsd on 11 October 2017 - 17:10
Anyone used this to grow up a puppy? If so, how did it work for you?? Thanks in advance. Nan

by Koots on 12 October 2017 - 03:10
Do you mean Acana Sport & Agility food?
by 1GSD1 on 12 October 2017 - 09:10
It's too new if you mean pup until maturity. It's the same as Pioneer Naturals which now makes an average food with peas etc. SDF bought their formulas and added the beef to it. We are using it as are many but pups on it are just 6 months old. Weights are good, stools is good and coats are nice. Feeding a lot less to high energy pups than before with Fromm Large breed which was not enough for them.


by Baerenfangs Erbe on 12 October 2017 - 13:10
I've been going through about a 100 pounds by now and I'm not sure whether I like it or not. I've got mixed results so far. A lot of people on facebook said it took them more than 2 months to switch the dogs and that the transition has to go slowly. It didn't take that long for me but mine are also partially on raw. So maybe that's why.

One dog gets is extremely hard to get weight on, I was hoping that the SportDog will do the trick but it doesn't. So I'm feeding one cup of Inukshuk and one cup of SportDog. The other dog has no issues whatsoever and actually gains weight too fast despite only feeding one cup per meal.

I've had my pups on Victor Nutra Pro but it was too much protein. Way too much. I couldn't put weight on them and they had quite a bit of Pano which I never had before. So I changed to Inukshuk and then let myself be talked into Sport Dog. People are going crazy over that food but I'm not sure whether or not it's just hyped up like crazy right now.


by Dawulf on 12 October 2017 - 15:10
I've had my girl on it for about 3 or 4 bags worth now. I like it. I'd still like to try raw with her once she matures, but I like it. Decent price, good stools, tons of energy, nice shiny coat. She likes it too, but that isn't saying much LOL.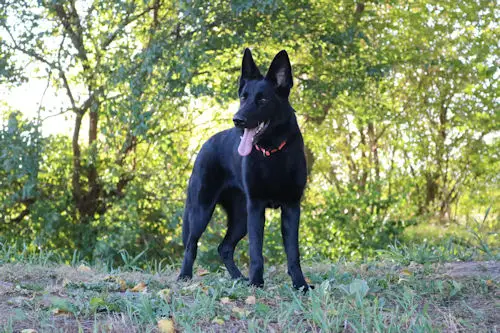 by Nans gsd on 12 October 2017 - 17:10
Thank you all; will wait and watch for updates on puppy growth etc. Nan
You must be logged in to reply to posts
---
---
---
---
Contact information
Disclaimer
Privacy Statement
Copyright Information
Terms of Service
Cookie policy
↑ Back to top