by Jen_j41 on 17 July 2017 - 10:07
Hi All,

Anyone have any experience with cyclosporine and breeding females/males? Any side effects? I have done some research on it, but there isn't very much out there.

Any info would help.

Thank you.
by SitasMom on 20 July 2017 - 22:07
If a dog is being treated for any of these problems, should it be used for breeding?

Cyclosporine is prescribed to suppress the immune system in diseases such as immune mediated hemolytic anemia, perineal fistula, atopic dermatitis, and keratoconjunctivitis sicca (dry eye).
Cyclosporine also can be used to prevent rejection after kidney or bone-marrow transplants.
Cyclosporine is commonly used to treat allergic skin diseases in dogs and cats. It is estimated that approximately 70% of allergic dogs will respond to treatment with cyclosporine with at least a 50% reduction in their skin lesions and itching.
Cyclosporine is also used to treat perianal fistulas in dogs.


The safety of cyclosporine has not been determined in breeding, pregnant, or lactating dogs, in dogs less than 6 months of age or weighing less than 2 kg (4.5 pounds).



Here's the FDA report on it...
https://www.fda.gov/downloads/animalveterinary/products/approvedanimaldrugproducts/foiadrugsummaries/ucm118025.pdf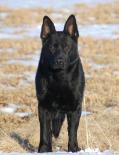 by Jenni78 on 20 July 2017 - 23:07
Wow, I hope there is a good reason for this question. I will wait for the facts before passing judgement but holy cow, I would be FURIOUS as a buyer to find out someone bred my dog's parents while needing cyclosporine. I can't think of anything a dog could have that would still make it breedworthy yet need cyclosporine.
You must be logged in to reply to posts
---
---
---
---
Contact information
Disclaimer
Privacy Statement
Copyright Information
Terms of Service
Cookie policy
↑ Back to top