by Zeliaskye on 16 May 2017 - 15:05
Some of you may already be aware of her and some may not be. There is a young woman who goes by many names. Shala Wallen, Shala marie wallen, Shay moore, Brenda wallen, Brenda dingus, Backroads kennels, Strongheart kennels and Punx Rock. She has been stealing many well known breeders pictures and claiming them as her own dogs as well as advertising them as parents of her poorly bred dogs. She is becoming well known throughout german shepherd pages on facebook. Along with stealing pictures she is breeding aggressive dogs and posts horrific photos. She supports dog fighting as well and claims her shepherds have mauled and killed many other animals. I wanted to give everyone a heads up, she will and has before cropped out watermarks and added her own.

by mrdarcy on 16 May 2017 - 15:05
Is this person a member here, if so could you give me more info please?

by Zeliaskye on 16 May 2017 - 15:05
I'm not sure if she is a member on here. This is one dog that she has stolen pictures of. There have been several others. http://www.pedigreedatabase.com/white_shepherd/dog.html?id=1597733-dt-ch-vdh-centurio-of-white-energy

by OliviaDae on 04 June 2017 - 23:06
german shepherds supposed to be aggressive (while defending). If you want fancy play dog who trained to jump on back legs and roll over - breed puddles or something.
by JudyK on 05 June 2017 - 01:06
Does she have a web site?

by Hundmutter on 05 June 2017 - 06:06
@Olivia: are you a supporter of dog fighting, then ? Seems to me, reading the OP, that Zeliaskye said nothing against GSDs being capable of 'bitework' i.e. in sports or personal protection, but complains about breeding dogs that are out-of-control aggressive, that try to harm other animals. That is NOT what a good German Shepherd should be like, as you can see if you visit what has recently been said on other current topics.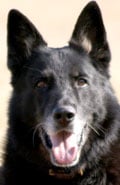 by BlackthornGSD on 05 June 2017 - 13:06
From what I understand, people have called the police and ACO in her area. They have investigated and the person who reported her heard back that she at that time had no dogs of her own, although she lived with her grandmother who has a couple of dogs. She is known to be a troubled young woman, and the authorities in her community are familiar with her. It appears that virtually all of her stories are fiction, deliberate attempts to outrage people and get attention. I know several instances where she has stolen pictures off the web and made up crazy stories about the dogs pictured, saying they are her own dogs.

Christine

by Reliya on 06 June 2017 - 09:06
She's sick. She'll do anything for attention. She posted pictures of dogs with bullet holes in them, saying she's just killing her dogs for no reason other than she can.

This prompted people to call the police, and the police said she didn't own any dogs. They are familiar with her.
You must be logged in to reply to posts
---
---
---
---
Contact information
Disclaimer
Privacy Statement
Copyright Information
Terms of Service
Cookie policy
↑ Back to top