by vomhausdurandkennels on 21 March 2017 - 17:03
Hi everyone I purchased a pregnant female from Ivan Yankov from Linde kennels in Bulgaria three months ago but she came with no papers are papers on the male she was bred to. So I could not register my litter.
He promised for ever he would and them and stupid me bought 4 pups from him and pad him a total of 9000 for dogs and shipping however now he has blocked me and refused to send my dogs. This man is a crook a liar and a thief never buy from him ever.
It's very sad how much corruption there is out there I think I will never buy a dog from over seas again. I hope that pedigree will ban this man from posting his dogs here.
If you need more info call Charles
225-235-0555

by mrdarcy on 21 March 2017 - 17:03
Could you please PM me this members user name thanks.
by vomhausdurandkennels on 21 March 2017 - 19:03
He is Ivan Yankov from Vom haus Linde kennels and his member user name is gepard96. Please do not send this man your money. He will not send you your dogs.

by vomhausdurandkennels on 21 March 2017 - 19:03
Please admin contact me so I can show you my proof and so he can not rip off anyone else
by vomhausdurandkennels on 21 March 2017 - 19:03
Admin I have every text we ever made and i will let you see each one. He help dogs to black male me for more money I of it and still never got my dogs.

by mrdarcy on 21 March 2017 - 21:03
I have PM'd you.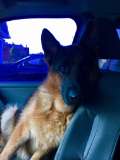 by Jrv112 on 22 March 2017 - 00:03
I also bought a dog from Ivan. Or so I thought. The dog never even came I was embarrassed to say anything till someone else came forward. The dog nor papers never came at first I thought it was maybe a miscommunication as maybe I had the date wrong for pick up or something of that nature. I messaged him to ask about it and then he blocked me. Unfortunately, every thing I communicated with him through was on facebook and when he blocked me it deleted him and all his messages completely. He does not need to be on here ripping people off. There are plenty of shady people in the dog world as is....

by Western Rider on 22 March 2017 - 02:03
gepard96
I see that you are here on line and reading what is being said about you.
I can't say strongly enough that you need to explain this problem. You can PM Mrdarcy as he has sent you a PM or you can do it here.
You make a living with selling dogs and it is not good for your sales if you are called a thief.
Remember the PDB does not want scammers using this site to sell dogs.
Western Rider Admin
by vomhausdurandkennels on 22 March 2017 - 13:03
So if you are reading this Ivan I want you to know I will never stop telling people what you are doing to me.
You know I have cancer and my money is c
Very tight. But I paid you everything you asked but you stole it all. Even though you did send beti you sent her without papers and title documents.
So the litter is not registered and I will have to pay for those pups to get them back.
Admin edit. Do not threaten another member. (mrdarcy) But I can't. So I pray that pedigree will remove your lying thieving self off this sight and not give you this source of promotion of your dogs here.
You tell people I am blackmailing you no sir I am only telling the truth. And it looks like I am not the only person you have stolen money from.

by gepard96 on 22 March 2017 - 16:03
From Team "Haus Linde"

The Advances have functions exactly that - to compensate the owner if the buyer refuses to buy a dog.

The owner of our kennel unfortunately was hospitalized for surgery. He most well could respond to the false charges that appear here and there in the Internet (made from Mr Charlie).

As chief assistant in the kennel, and I can say some things - on behalf of the team working in the kennel.

1. First, is not true that he had sent $ 9,000, for which nothing is received.

The money are around $ 8,000. From this money are pay the first dog in December 2016 (pregnant female, with transport price: $ 4,500).
The female is send in the the same week in US and from december 2016 are with Mr. Charlie!!!!!!

2. In the rest of the $ 3,500 includes: advance for the another dog from which Mr. Charlie refused, preserved 3 months ago puppies (which we keep two months after an agreement for taking of their time) and others. costs incurred at his request. IN DOWN CAN BE READ IN SHORT WITH THIS CASE!!!

Because of a lengthy health problems, the owner of our kennel from sold last one year 15 adult dogs and several litters of serious parents (costing tens of thousands of dollars) are late for dispatching only two females - the both female are with us, are in our Kennel. We are not scammers to resell a dog several times. Very fast we will do everything in his power these two dogs to arrive at their new owners. We are very sorry for this delay, and we'll try to make up in some appropriate way for your continued patience.

As for Mr. Charlie, he most impudently lie !!! Who decided to sell him dogs will have huge problems with a one big madman. To him we can not give our dogs which it blackmailing us to receive. because Mr. Charlie has to pay us more money. First we must say that he in no way respects from the work of us as breeders. He is an ordinary huckster and blackmailer. In short: First (December 2016) Mr. Charlie bought from our Kennel one pregnant female. She arrived at him after five days of purchase. Price: € 2500 + € 1600 transport. Total: € 4,100 ($ 4,500). In the same time he decided to keep another female, which paid $ 700 advance. At his express request (for $ 350 sent) this female was recorded for two international exhibitions and given to the trainer). She won one first and one second place. They had been sent copies of the catalog photos from the cup and certificates of the CAC and R.CAC.

The Pedigree of the first female was mailed via registered letter (together with the documents for the titles). Because of the Christmas holidays, the letter very slowly arrived at Mr. Charlie. During this delay, Mr. Charlie flooded us with allegations of fraud and a whole bunch of abusive language. He explicitly said that he is renouncing from the second female! In this case he lost the money given for deposit, Coaching training and drawing exhibitions (Total: 1050$)! After receiving a registered letter with the pedigree and Mr Charlie saw when it was sent, followed many excuses and a request to continue our common work.

In mid-December, Mr. Charlie wanted to preserve and 3 puppies (then 15 days) the deal was around the age of two months to be sent. From reach the age of 45 days for more than two months, Ivan constantly reminded of Mr. Charlie that have to pay for transport and take the puppies. At the moment the puppies are still with us - now 4 months. We are warned Mr. Charlie that all costs (food, vaccines, calcium, vitamins, prophylactic veterinary examinations etc) after the age of two months and a half to be borne by him! (This costs to this moment are for 45 day 180 euro for 1 pupp, total 540 euro/600 $) During this period Mr. Charlie once again asked to replace money given to puppies and get an adult female dog. Ivan and it agreed. After several days, if there was no that new deal and Mr. Charlie again decided it wants the puppies. Well, they and now are with us! Also, for a month, Mr. Charlie did not answer. We had no contact with him. However, we kept the puppies! Separately Mr. Charlie had asked us to keep him male dog of 18 months (Vico Brabus). What we kept him for an entire month!?

The finale! In early of March Mr. Charlie sent the money that was set by the transport company for 2 month old puppies, and now they are almost 4 months!!! Mr. Charlie to early March owed fraction of the price of puppies that was not paid. He wants to be considered in the price of the puppies and deposit the adult female of that refusal and the costs - at his request, for exhibitions and training. He does not want to pay also for the fact that we raise the puppies until now. Mr. Jonkov only to finish faster contacts with Mr. Charlie was ready to send puppies without being calculated in the final price all costs and obligations of Mr. Charlie to our kennel. Еven after the holiday March 3rd, we made a written request for settlement of transport to transport company Money for transportation arrived on March 1st. On March 6, we made a written request for reservation to the transport company. On March 6 from the transport company asked us details of the recipient to confirm booking. March 7 we are send full details of Mr. Charlie that are needed for reservation. For all of this we notified Mr. Charlie and asked him kindly to wait the transport company calmly take its course. Flights dogs can get to the US only Monday to Thursday. From the Transport company we received the reservation on March 13th. The first possible date for shipping March 21st. Mr. Charlie with all its gratitude to us, began on 8-9 March (only two days after we requested for a reservation) in different places on the internet to post various insults and lies against us. Warned Mr. Charlie that you start again with bullying, which we undergo when waiting for the letter with pedigrees, it will not get that super reduced price for the puppies.

Despite all this, he began to run accuse us that he gave $ 9,000 for that money we owe dogs. This is the dirty lie. So far, he has received from us in the form of dog and services as follows:

1. pregnant female (received) final price with transport € 4,100 ($ 4,500).

2. deposit for another female total + training and exhibitions $ 1050.

3. Pay 3 puppies (with us) € 2000 ($ 2200)

4. raising these 3 puppies to this moment (now are 4 months age) - $ 600.

Total: $ 8,350

Received: $ 8000 (NO 9000....) - by the end of 2016 - $ 6050, and 2017 - less than $ 2,000

AND THE MOMENT MR CHARLIE not paid all that was right ORDER!
Now the shipping company has set the price for the transport of the puppies - 1600-1800 euro (1800-2000 $) - depending on the weight and size of cells Because of all the charges leveled at us from Mr Charlie, for all the insults he made to us, we the Team "v. Haus Linde" thought of people like Mr. Charlie not trace them make any a service and reduce the cost. He made fun with us, the team of the kennel, which consists of 5 people.

Because of outstanding commitments to us to purchase the two dogs preserved from Mr. Charlie (the second female and male), we could not execute our commitment to our friends where we kept another dogs...


Team "v. Haus Linde"


Currently, our lawyer collects all the information on our conversations on the web and will consult with a lawyer in the US to launch a court case for violating the prestige, for death threats (!) and insults!
Unable is to want a dog, make for this dog reservations (and paid advances) and then after it has been reserved to you 2 months, for this money to let you return.


WE POST PARTS OF OUR CONVERSATIONS IN FB:

>> Clarification for What Are used the sent $ 6,050 = 5500 euro (from January 18, 2017) :
4000 euro (2500 + 1500 transport) for one female who is send and is in US with Mr. Charlie.

The anothers 1500 euro Mr. Charli are pay advance for another one female (from which later refused) and for traning and participation this female in exhibitions on his behalf what WE ARE DONE!
From this money are not pay the all price of the puppies who Mr. Charlie want!!!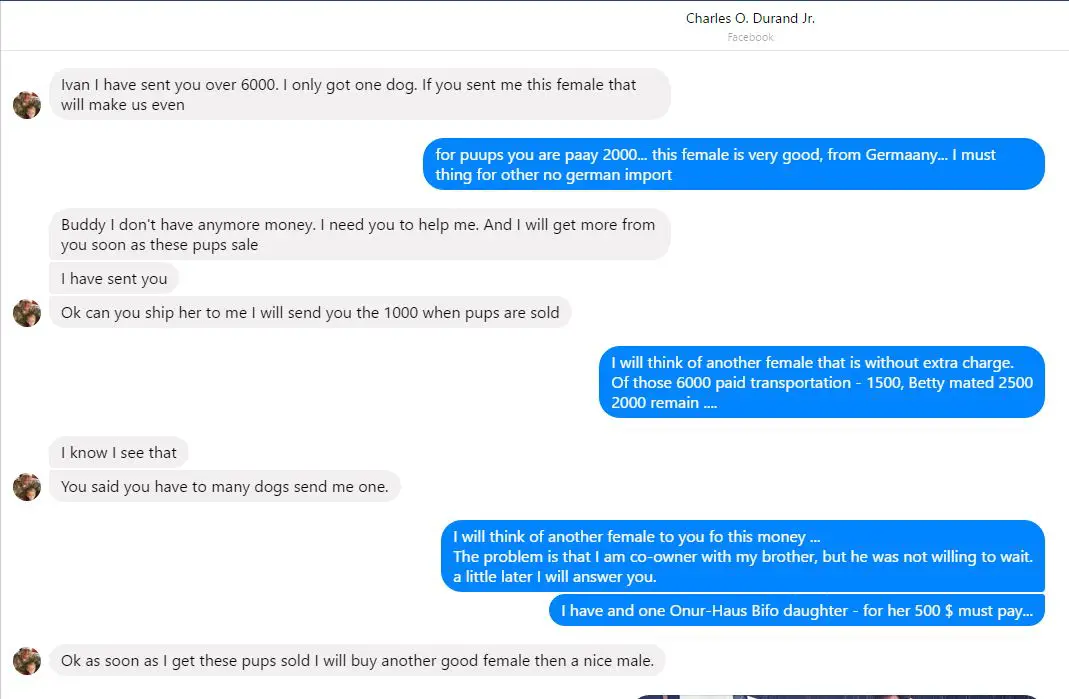 >>> One of the wishes of Mr. Charlie to his return put the puppies and the second female (22 December)

He blackmails even then that if he did not come back the advance will discredit the the Internet :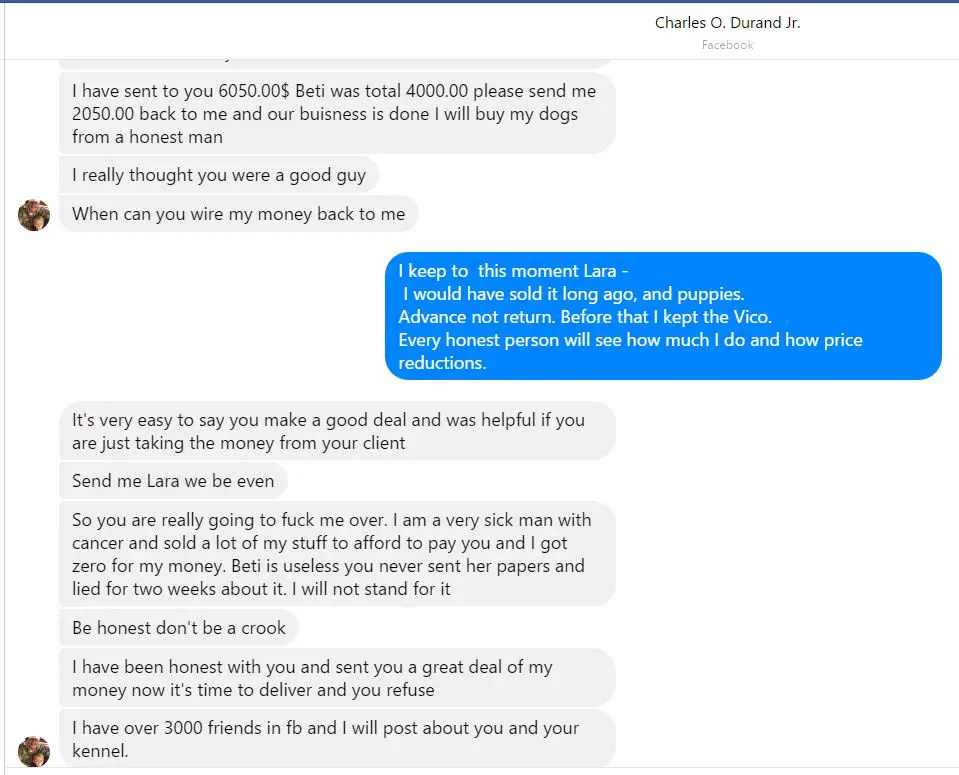 >> Excuse from Mr Charlie on the occasion of dozens of insults and threats over the period until he reaches a letter with the documents of the first female (from 24 desember):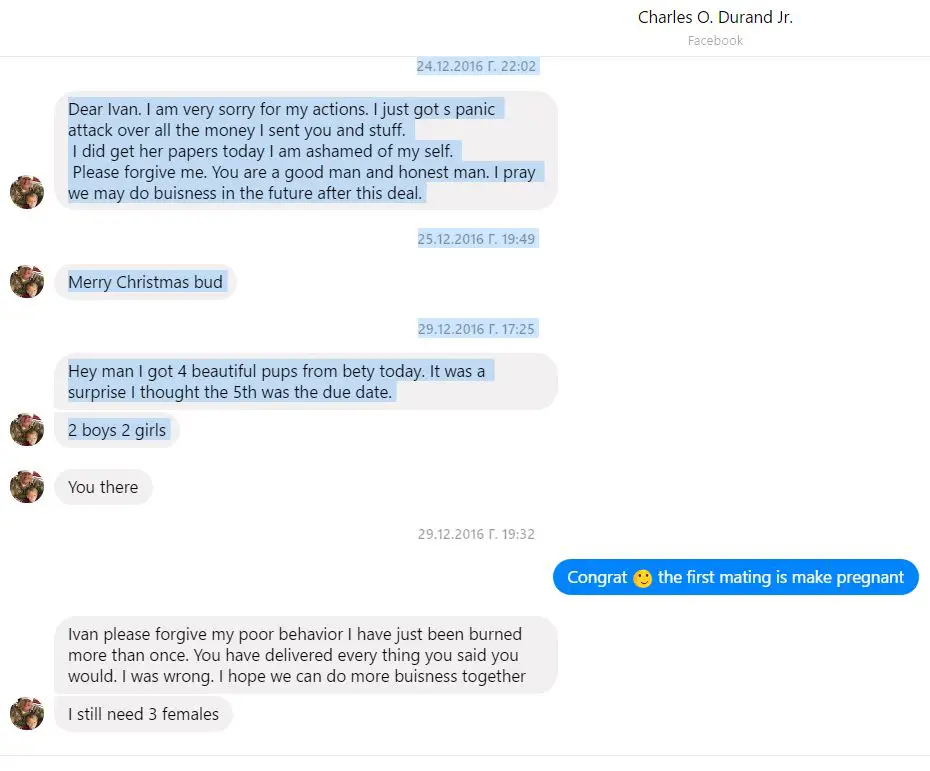 >>> Commitment given from Mr Charlie from February 6 that on 7 February will be paid the transport of puppies​: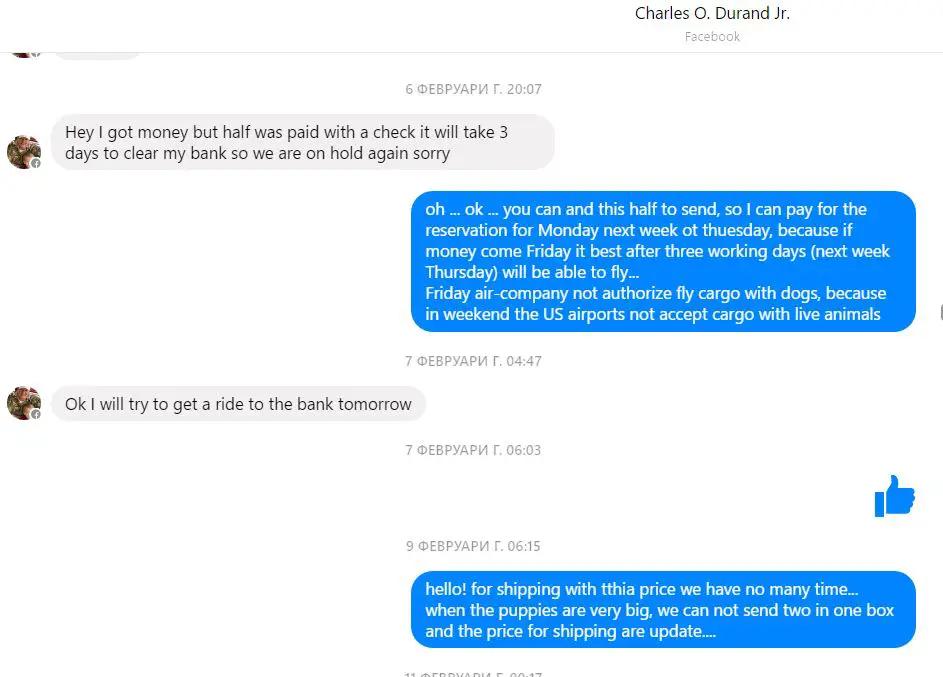 >> One of repeated insults and threats by Mr. Charlie of 8 March This happens when he knows that the previous day have been transmitted data to the transport company (booking came on 13 March, with the first available date for the transportation March 21).
We had decided to send the puppies (although not fully paid). Therefore we requested reservation of transport company (on March 6).
On 8 March, Mr Charlie began to pour insults and even death threats to our owner ....​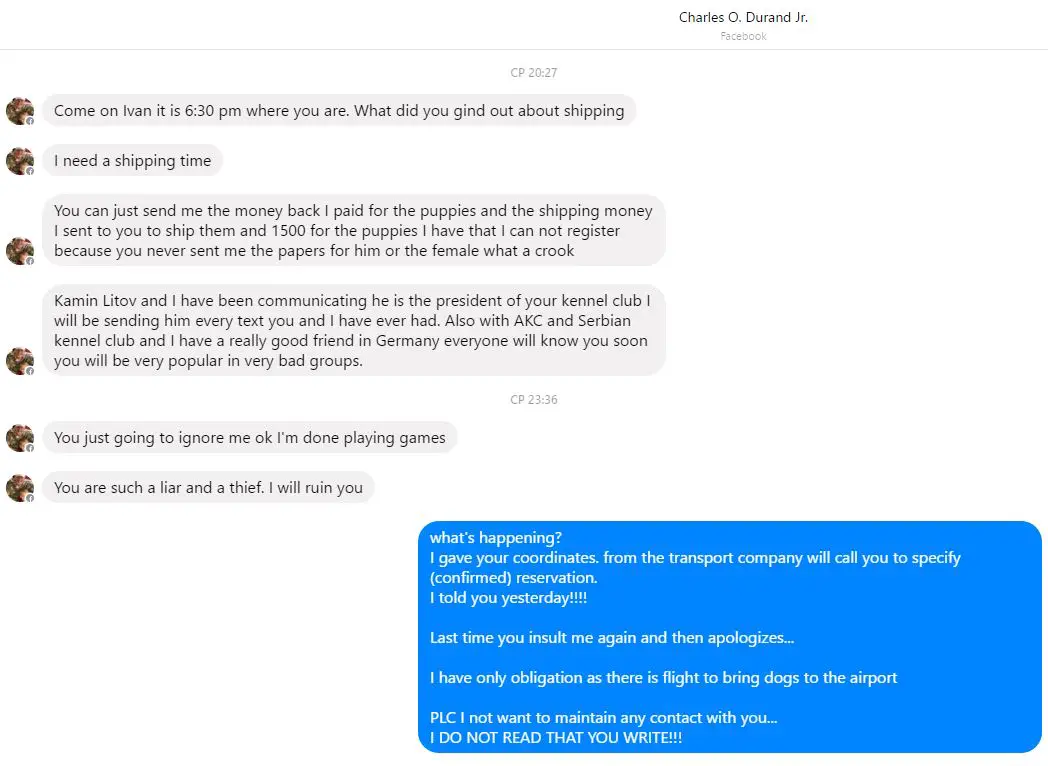 >> Photo of the e-mail for the application for fly reservation from 6 March and answers to the transport company: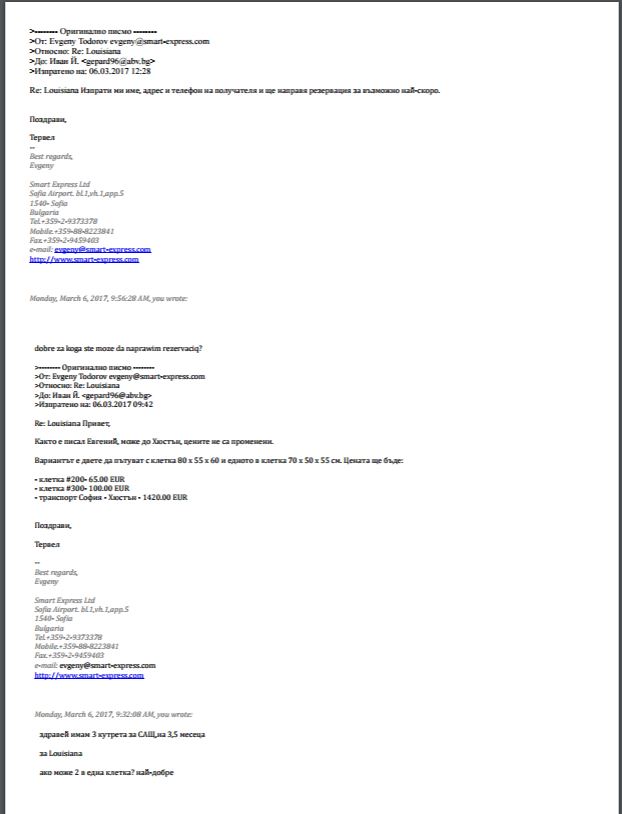 >> The flight reservation, which was ready on March 13 (the earliest possible date for the flight March 21):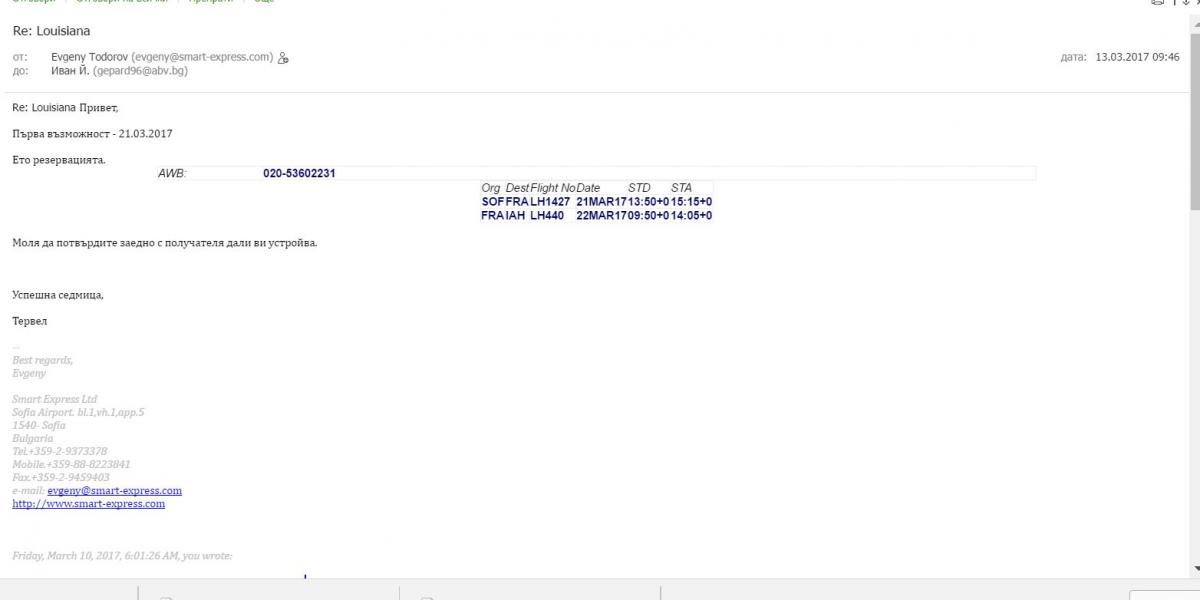 >> One of the threats to murder​:



>> We can post a lot more to be seen insulting epithets, death threats and extortion to us or on its commitments.

Separately, one month we kept one male, etc, etc.​
---
---
Contact information
Disclaimer
Privacy Statement
Copyright Information
Terms of Service
Cookie policy
↑ Back to top