by delta von Avalik on 14 March 2017 - 14:03
Hi everyone, I was just hoping someone could answer a question of mine. I imported a GSD female from Germany about 8 months ago. She arrived in perfect health, both physically and mentally.
However, I noticed that she was missing her export papers. I have never imported a dog from Germany, though I have imported several from Czech and they usually come with with their pedigree, and separate export papers needed to register with the AKC, I assume the same is true for the SV registered dogs. I only have her Pink Pedigree form, is there a way I can get the export papers from the company directly? I have tried for 8 months now to get the broker to send me her export papers, but he keeps saying that "He will call the company" and Nothing has happened this entire time.
Any advice would be greatly appreciated! Thank you.

by susie on 15 March 2017 - 18:03
For AKC you need the so called "Bescheinigung", there are no "Export papers" - you will find more on www.schaeferhunde.de .
You may give them a call or write an email- ask for Sabine.
They will need at least the original pedigree subscribed by every owner/buyer.
Ask for help, they don't bite.
by fring on 15 March 2017 - 21:03
must send sv papers and euro 60 to vdh so get export pedigree. is cheaper if breeder do it.
http://www.vdh.de/en/export-pedigrees/
by Menee on 15 March 2017 - 21:03
Hi I recently drove over to Germany to purchase a bitch, I too was only given SV pink papers, hence I contacted the VDH this is the reply I got:
in order to register a dog with the Kennel Club in you country you need a certification of transfer.

Therefore we ask you to send us

- the original pedigree of your dog
- your address
- date of purchase
- period of processing: 1 - 2 weeks
- EUR 60,00 each pedigree

Please transfer the fee to our account of

Stadtsparkasse Dortmund
Freistuhl 2
D-44137 Dortmund

IBAN-No.: DE64 4405 0199 0001 165690
SWIFT-BIC: DORTDE 33
reference: export pedigree + your name

Moreover, please ask your bank about the exchange rate and possible bank charges.

Please send the documents to:

Verband fuer das Deutsche Hundewesen (VDH) e. V.
Geschaeftsstelle
Westfalendamm 174
D-44141 Dortmund

Please notice that we can only issue export certificates for dogs that are born in Germany and have VDH-recognized papers.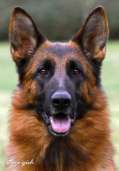 by bea on 15 March 2017 - 21:03
the Bescheinigung is sufficient for the AKC, it is also cheaper than export papers that are required in countries that have no WUSV subsidiary

by Menee on 15 March 2017 - 22:03
The Bescheinigung is the certificate the VDH attach to pink papers and send back to new owner, Delta will have to follow process fring completed in link and I posted in full as the VDH do not do as CMKU and issue a full export pedigree.


by delta von Avalik on 15 March 2017 - 23:03
Oh okay, thank you everyone so much for your help! I really appreciate it :D
by fring on 16 March 2017 - 00:03
must not forget to sign back of pink paper as owner or all come back and need to make mail again.
You must be logged in to reply to posts
---
---
---
---
Contact information
Disclaimer
Privacy Statement
Copyright Information
Terms of Service
Cookie policy
↑ Back to top