by hioaks on 11 January 2017 - 11:01
Looking to find whose breeding the duco lines. What they normally produce ie.high drive, high civil, high prey.
I also will be recognise siblings of duco that are producing well.
by vonrivera on 11 January 2017 - 17:01
Check bloedlijnen. More of that type of breeding there.
Vonrivera

by BlackMalinois on 12 January 2017 - 09:01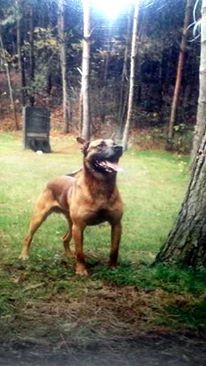 Duco II died in 1999 and also most of his direct offspring . as you can see Duco II have pitbull genes in him. Duco II was not a sport dog but more a hardcore police dog for real work, a decoy on my club have worked with Duco II many years ago. hard attacks hard solid pushing nasty grips but problems with out, also obsessed by tracking and real guarding
Duco II was a very extreme dog he was lucky that Rob Seegers and Peter Sommers titled this dog because this are 2 of the best KNPV trainers who can handle extreme dogs like him I,m sure without nobody ever have heard from Duco .This dog was working for his own, with extreme high drives and temper, courage and don,t care about hard corrections this make him only for a few handlers to title him for a trial.
I have a youngster who is 8 times linebreeding on Duco II and believe me it can be very frustrating working with this kind of dogs, most of the times this kind of dog goes from handler to handler it cost you a lot of time and patient and maybe not the result what you are asking for and not for the sport points. Some very good producers from this lines are Rico Vergossen, Max Weber, Rico Hendrikx, Django v/d Doelen they don,t live not anymore, The US bought Jochie a couple of years from The KNPV in Holland also a extreme dog ,I have heard some good offspring from Jochie and not so good offspring depending who is breeding with him and what females.
In Holland are plenty Duco II linebreeding studs and females not quarentee this will bring on the table what you ask..
by hioaks on 12 January 2017 - 23:01
Thanks good insight on what you could receive from a DucoII pup.
by hioaks on 13 January 2017 - 02:01
What bloodlines cross best with the Duco II dogs.
by NA7 on 13 January 2017 - 02:01
Jenny McPhee, owner of Omni K9 Gear in MA breeds on his line. Try contacting her. She's also on FB.

by Powerflex on 13 January 2017 - 15:01
I believe a Duco ll daughter, Beppie van Kamphuis, was the dam of Bono Pegge who produced a very high percentage of good working dogs. Dogs that were known to "bite for real".
by vonrivera on 13 January 2017 - 16:01
BM,
Is there frozen specimen of Duco ii around? I see his progeny but I don't think I've seen a recent breeding with him as the sire...
Vonrivera

by BlackMalinois on 14 January 2017 - 14:01

Not frosen semen anywhere Duco II died in 1999 Vonrivera

The last very dominant proven stud from Duco II line was Nick II he also died last year I have a son from him.( not for sale)
by hioaks on 03 February 2017 - 04:02
what blood crosses better with the duco ii blood
---
---
Contact information
Disclaimer
Privacy Statement
Copyright Information
Terms of Service
Cookie policy
↑ Back to top