by Ellispark on 10 September 2014 - 18:09
The last post was submitted around 4 months ago, besides I see no Corgi breeders posting anything but their dogs' Pedigrees maybe.
I mean no posts in this Forum as I see, No Corgi puppies for Sale Classifieds, which make me feel a little sad since as I have joined this place I did expect to see some sort of Corgi related posts and discussions in here.
Have all the Pembroke breeders left to a better place to post and discuss their own Corgis ? I feel kinda sad and disappointed for the Corgi zone on Database being so empty :(

by Jyl on 10 September 2014 - 21:09
I would contact... Kim at Kistha Haus... she has Corgis and German Shepherds....
http://www.pedigreedatabase.com/breeders.htm?kid=4396
She does not post on here very much so I would email her.

by GSD Lineage on 10 September 2014 - 22:09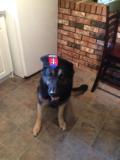 by Pirates Lair on 10 September 2014 - 22:09
Corgi's doing Shutzhund work? Say it ain't so!
Wait till BZ hears about this.......then this thread will really take off (LOL)
Wonder what their Grips are like?
Kim
by bzcz on 10 September 2014 - 23:09
Kim, I already found it earlier. LOL I'd like to see that though. The corgi's I've seen I've never thought were that athletic. I'd love to see some that were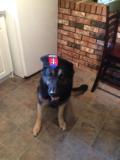 by Pirates Lair on 10 September 2014 - 23:09
I'm hoping someone will post a video for us all to see....if I like what I see, I might buy one and turn it into a Pirate!
Kim
by Blitzen on 11 September 2014 - 00:09
I believe board member Crashkerry also has Pembrokes she trains in IPO. She doesn't post here often either, but you could try to send her a PM via the database. She a really nice gal and I think she'd be happy to talk dogs with you.
by Ellispark on 11 September 2014 - 07:09
well, I'm glad that you somehow got to Sherlock Holmes Nord Shtorm (NB) page, he's one of the Corgis here in our Kennel (and he's also married to my Corgi girl :)
yes he's a working Corgi, but not as ussually Corgis mostly get do whatever is related to herding. the thing is that he was raised among German Shepherds since his very birth, was born in Ukraine at the Nord Shtorm (Komisarenko) kennel, they got both GSD and Pembrokes. then Valery Tarnavsky, who has mostly trained German Shepherds he brought this Corgi boy here to Israel and just included him in this training group. Jora (this is how we call him) Has also passed a BH Trial and there's a video.
anyway here is his schutzhund as Pirate Lair asked
by Ellispark on 11 September 2014 - 07:09
Blitzen and Jyl thank you for your recommendations, then I would try to contact these people hopefully to revive the Pemroke Welsh Corgi forum in here.
it is such an amazing breed after all, they're just like the German Shepherds only fat and with really short legs :) which is what makes them look so funny and adorable.
and are you all raising GSD only ? any other breeds besides that ?
by the way I'm very pleased to meet you people, I'm Sasha and I'm all new here :)
by bzcz on 11 September 2014 - 13:09
WAY COOL! I loved the video. He plays like a civil little shit.


---
---
Contact information
Disclaimer
Privacy Statement
Copyright Information
Terms of Service
Cookie policy
↑ Back to top