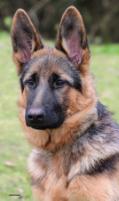 by lolabelle on 08 May 2010 - 15:05
Some of you may remember Lola and her mysterious illness. She is doing fine - temp down and no sign of any pain. Vets decided not to continue once she was OK but we are keeping an eye on her to see if there is any reoccurrance - however she has definitely been diagnosed with contraction of the gracilis muscle. It is very rare - and I am still trying to find out more about it. it appears to be mostly in working GSDs - I spoke to an Army vet and he had never heard of it in a pet GSD but had come across it several times with service dogs. He said that some dogs carry on working quite happily with it - but some are too severe and have to be retired.It does not necessarily get any worse but he recommended no 'forced' exercise.
I thought that as it would appear that a lot of people have never heard of it or at least seen it I would do a short film of Lola and publish it on You Tube - so anyone can have a look at what I believe are very classic signs of this problem. Note the 'flick' of the left hind foot before she places on the ground.
Would be grateful if anyone has any further info.

http://www.youtube.com/watch?v=8ikNJ5eUC5o

Thanks
Lolabelle

by hodie on 08 May 2010 - 16:05
I have seen it and heard of it and I am not so sure I would say it is "very rare". There is a lot of literature on it. Glad you have a diagnosis. Hopefully your dog will get over it. Most do not.
by Talia on 10 May 2010 - 03:05
unfotunately I have had experience with this. My dog is retired. It is not (as hodie said) rare! Infact our Ortho (very experienced with this issue) has said he see's this often with the Gsd. Many of his working dog (police, sar) clients go back to work. It is also common in the grey hound. I was told that the gsd is one of the dogs able to generate both power and speed to do this. My dog had a bilateral tear and it was severe. (was done while playing in a full out sprint!)

There is surgery, however in every case he has seen and done it has come back. There is some talk of the stem cells being injected into the area...but I do not know of any successful cases. It takes a good 5-6 months to see how much range of motion will actually be lost. My dog was in physical therapy day after it happened and that helped but scar tissue does what it does.

I know quite a few people with sport dogs, and a few police dogs that have delt with this. Do whatever you can to keep the scar tissue from forming, stretch your dog everyday, get him into physical therapy to give him the best shot.

good luck with your dog.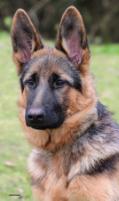 by lolabelle on 10 May 2010 - 17:05
Thanks for the comments - and yes I agree my 'very' rare was a little dramatic! However here in the UK does not seem to be well known and I have had several veterinary surgeons tell me that it is rare - and in one case 'extremely' rare (the vet that was treating her at the Royal Veterinary College) - and none of them had ever treated a case. The only vet to whom I had spoken that had personal experience was the British Army vet - who sees only working dogs.
I shall continue to post any info on this - for the benefit at least of anyone here in the UK who may have a similar situation and who are coming up against the lack of practical experience I have. My main concern is that Lola gets the best possible life with this. She is doing hydra therapy/physio and I am going to learn where/how to massage her leg. The good news is that I am the one worrying about this - she's as happy as Larry and it gives her no pain - and who cares if she walks with a strange gait she's still a gorgeous girl!
Lolabelle


---
---
Contact information
Disclaimer
Privacy Statement
Copyright Information
Terms of Service
Cookie policy
↑ Back to top