by Jannie on 10 December 2008 - 17:12
WE DO.............
We phoned after seeing an ad in the paper and were told jerland had dogs for $500.00
When we got to Barron and Jerland Kennels ( after a 3hour drive) they asked questions about us and then they got dogs out of their barn

They were all at least 4months old, not a 6 week old puppyin the bunch.... one dog my husband liked and said he wanted was a licker and a jumper ( if I had only known) come to find out it was $1500.00

He did not even bring out any $500.00 dogs

We did take it...
When we took the dog to the vet for the first visit, it had ear infections and worms

The dog was overly exciteable and is now 2 1/2 and is always on the move and still is a jumper and has what is to be a high anxioty type disorder, if it were a child it would be on ADHD MEDS

Even after training by a local professional the dog still jumps and is VERY CAT AGRESSIVE( we had cats befor the dog, and had dogs before without any cat problems!!!)
We purchased another german shepherd about 6 months later so this one would have a friend,

Boy were we suprised by what we found out..........in out at Renegade Kennels
WE got a sweet boy from Renagade Kennels at 6 weeks old
and the poor puppy was tormented by the jerland dog that we could not leave them alone.

( the Renegade Kennel dog has his revenge now, he is sick of the torment and is now big enough to take down the Jerland Dog!!!!
)
The Renagade kennel dog is AKC regestered and was $350.00 and is now 2 years old...and SUCH A SWEET BOY ans what's more he could care less about our cats!

I will never get a dog form Jerland again.....If you want a German Shepherd Dog, who is sweet and lovable, I strongly recomend Renegade Kennels in Edgar WI




by Trailrider on 10 December 2008 - 17:12

by snajper69 on 10 December 2008 - 18:12
Wow lol you for real? You should not own dogs, period.
BTW even though commonly acceptable age for a dog to go to a new home is 8 weeks, 6.5 or 7 weeks is just as good, most of my dogs I owned I got them at 7 not 8 and had nothing but a good experience with all my dogs. As long as the dog had plenty of time to spend with his littermates and dam, it should not have any negative effect. IMO
by Sparrow on 10 December 2008 - 21:12
My boy is out of a Jerland bitch. I never met Larry and have never been to his kennel so I have no personal experience with him. I can tell you though that Drake has everything I need in a dog. He is a bit oversized but I'm not planning on breeding him so it doesn't much matter. He has a wonderful temperment, adores children of all ages, is protective when he needs to be and friendly if there is no threat. He has good drives and a full bite and the helper at the club I attend loves him. He said more dogs should have a temperment like his. He will bite hard, work hard and lick the helper as soon as he leaves the field. Everybody that meets him falls in love. So, that's my only experience with Jerland dogs. I'm very proud of him and I had to share.
by gsds2luv on 17 January 2009 - 02:01
I have a Jerland Dog. She just turned 3. Beautiful, intelligent, very active, loves agility. One of the nicest
German Shepherds I have ever owned. Wonderful temperment, confident, loves all people and and any other
dog.
When I first called Larry he was very upfront and honest about the price of his dogs, but had no
litters available. I had to wait 2 months before I could get one.

When I first arrived we went into his home, sat at the dining room table and talked about what type of personality
I wanted in the dog, was I going to do obedience, agility, tracking with it or was it just going to be a family pet
and lay around all day. He showed me photo albums of past dogs and their families.

After picking out my girl, we went back up to his house, sat at the dining room table and talked for at least an hour.
Once I got her home, if I had any questions, I'd just call him and he was more than willing to answer them. I
actually email him or call him every 3 months just to keep in contact.

Even though he has all the pictures of the breeding males and females on his website, as far as I know,
they are not all at his home. If I understand correctly some of the males/females are owned by others as family
pets. I have a friend that has one of his females and drove there from Duluth when they decided to bred her dog.
One of my dog's half siblings was trained on site for a movie that was out about 3 months ago. His dogs are very
versitle.

I know that when I picked out the 5 females and was trying to make my final decision he would make
comments on the pups regarding their temperment testing , which pup(s) were more excitable, which pup(s) would
turn off and on more easily, which was the higher driven pup. He has employees on site that work with these puppies.
He also has a trainer from Germany that works with the dogs and you are welcome to bring the dog back for
training at any time.

I will go back in about a year and get another dog from Jerland Kennels without hesitation.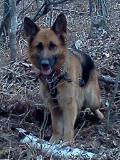 by ilovemypoodlefluffy on 21 January 2009 - 20:01
rolling eyes.......... i started the original thread mentioned by trailrider. all i can say is i still highly recommend vom haus miller (12 hour round trip from Duluth). alot of people in the duluth area have jerland dogs. half the people i talk to had good experiences, the other half bad. i learned my lesson, which was, do alot of research, make sure the breeder tells you the right price, ask around, talk to other people online about them (oh yes, i did research vhmillers before buying, and heard nothing but good about them), and buy following your head, not your heart. also good to find someone willing to work with you to get what you want. 'nuff said.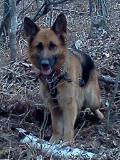 by ilovemypoodlefluffy on 21 January 2009 - 20:01
p.s. spunky is great with cats, rats, and hamsters too!

by bea teifke on 22 January 2009 - 02:01
i know many people that got jerland dogs and have had many health problems, but maybe he is getting better with his breeding program.
i tell people looking for a pup go else where , he is way over priced, and thats how he get people by saying he has $500 dogs , he does not.
i am a breeder , and i take very good care of my dogs. i have exceellnet pups, mine go fast cause i am very fair priced, i am in wisconsin too.
i also know steve miller too, and i would never do bussiness with him.
i heard good and bad about him.
i have met him in person.
i do know other breeders that are good in wisconsin if you are looking for a good breeder.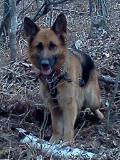 by ilovemypoodlefluffy on 23 January 2009 - 22:01
for pet quality, cheap gsds, there's a guy just out of duluth that sells usually for $300, though his current ad reads German shepherd male pup, family raised, first shots, $400 (see duluth news-tribune). i had a pup he bred once and he was smart as hell. he doesn't give a darn about conformation or working ability but most people in this area don't care either, they just want a purebred.
by zdog on 23 January 2009 - 22:01
Jerland doesn't have the dogs I want, but I think your problems are self induced and have nothing to do with the breeder.
You must be logged in to reply to posts
---
---
---
---
Contact information
Disclaimer
Privacy Statement
Copyright Information
Terms of Service
Cookie policy
↑ Back to top