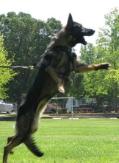 by Rugers Guru on 29 September 2008 - 02:09
Curious about this... I dont understand why. The only good explanation I can think of is, if someone cannot afford the training or traveling and needs assistance.
by Sam1427 on 29 September 2008 - 02:09
I think it's often the purchasing owner who has the money and the breeder or handler who has the expertise but wants to have his/her name on the super show dog. The contract of co-ownership would spell out who was responsible for what. For example, the breeder or handler who co-owned would decide which shows and judges would be best to campaign the dog to a title and the co-owner would put up the cash to make it happen. If the co-owner refused to take the experienced breeder/handler's advice, then that would trigger some punitive part of the contract. In the case of a bitch, the co-owners would have to agree who to breed her to, who got puppies, how much they cost and how the proceeds would be split. In the case of a stud dog, the co-owners would have to agree which bitches got services. Sometimes the co-owner with the expertise reserves a certain number of stud dog breedings for bitches of his choosing. There can be disputes about who should pay for vet costs if the dog is injured or becomes ill while being campaigned. Co-ownership can be a real can of worms if disputes arise. It's best to have it spelled out ahead of time. I wouldn't co-own a dog, but many people do.
by alaman on 29 September 2008 - 02:09

by Ceph on 29 September 2008 - 02:09
I am currently co-owning a dog with my Male's breeder...the reason?
I'm relativley inexperienced....my dogs have to deal with me learning as they do (or generally slower than they do) , and she has more experience training...and the biggest reason being I am stuck in an apartment for one more year. We'll be moving into a larger place next year, and I'll have more room to keep/train a dog.
we've worked it out with each other, know what we're gonna do...and I have no doubt in my mind that things will work out....we'll probably be working together in the future as well...since I have alot more trialing/showing opportunities where I live, and can take her dogs and do some work with them.
~Cate

by VonIsengard on 29 September 2008 - 03:09
To make money is not a fair answer. There are plenty of very good trainers/handlers/fledgling breeders who do not have the capital to invest in the kind of dogs they want. And there are plenty of people with money who love the breed but know full well they need the help of an experienced person. And yes, such things can get sticky. A word of advice- never, never partner through friends or family. Ever.

by GSDluver4lyfe on 29 September 2008 - 04:09
I personally would co-own in the future, to gain experience with breeding, and have the hands-on help from a very experienced and passionate breeder. BUT only with a breeder I TRUST.

by wdozier on 29 September 2008 - 04:09
I had no idea that people co- owned dogs. I found this topic very interesting. THanks for sharing.

by TIG on 29 September 2008 - 04:09
Actually there are several good reasons to co own a dog and no it's not all about the money. Frequently it is about education and mentoring or two good friends sharing a common interest and goal and resources. The devil however is in the details. Some will tell you that you MUST have a written contract for when things fall apart. My view is that all a contract buys you is the right to sue someone and if I don't trust them enough to do the deal on handshake then that's a message not to do it. But that's me and how I run my life. I also try to balance the importance of things. Anyway back to the reasons -
A breeder who has a particularly good litter may want to ensure that several members get trained, trialed or shown or can be accessed for breeding purposes (perhaps for the preservation of a line not just money) but the breeder is limited as to how many dogs she can keep. One way is to sell the dog on a co ownership where certain rights are retained. For a male that may include free stud services or a percentage of stud income; For a bitch that may be anything from a puppy back to several litters back or the right to choose what stud dog(s) she is bred to. The co owner usually agrees to a certain level of obligation in terms of training trialing, showing etc. Often the breeder is the more experienced and will offer guidance, knowledge and expertise to the other's journey. Also keep in mind that co ownerships were common in the days before limited registrations gave us more control over how a puppy was used. I know that once I kept "paper" co ownerships on a couple of puppies because I wanted to show them in a futurity system wh/ required one owner to be a member of the parent club - which I was but the owner wasn't.
Co ownerships are sometimes entered into when one person can house the dog but another shares the expenses and thus can share in the showing and trailing and if bred the choice of the breeding partner. Often in these types of arrangements the partners bring different strengths and aptitudes to the table that tend to balance each other out. This type of arrangement also will let you buy a dog that neither could afford alone or afford to do right by alone but together can.
Co ownerships are like snowflakes. Everyone has a different reason for or against them and a different take on them. I currently co own a bitch because while I love the genetics and researching breedings and love having pups, I hate selling/placing them and am not good at it. My co owner is great at finding working home for her pups. Is it always easy - no. There are times that you have to put the friendship first and the dog affairs way last to stay sane. So there are a few reasons, I'm sure other folks can add more.

by yellowrose of Texas on 29 September 2008 - 04:09
i CO -OWN ALL MY DOGS WITH MY SON OR DAUGHTER, FOR LEGAL REASONS. iF I DROP DEAD , THEY OWN THEM OR MY PARTNER , WHO IS A MEMBER OF USA AND IF I DIE, SHE HAS THE RIGHT AND CAN SELL, TRIAL OR BREED WITHOUT MY NEED TO SIGN AS SHE BECOMES THE OWNER UPON DEATH.
MANY OTHER GOOD REASONS TO CO-OWN BUT THAT IS MY ONLY REASON.
I URGE THE PEOPLE WHO BUY MY PUPS TO CO OWN WITH THEIR HUSBAND OR WIFE FOR THE VERY SAME LEGAL REASONS.
by crazydog on 29 September 2008 - 12:09
I depends who is the co owner but co owning with a wife/sone/husband is a good idea.
It is specially good for a country and the breed is several co own and import a quality dog.
Co ownerships turns bitter most of the time so best done with next of kin
---
---
Contact information
Disclaimer
Privacy Statement
Copyright Information
Terms of Service
Cookie policy
↑ Back to top