by pillpusher on 15 June 2007 - 06:06
Been looking for a dog for a while and have been lurking on this site for sometime. I did see a referrence to a breeder/kennel and went to their website. Well I seen a couple of dogs that i wanted further information on.. so i called.. left messages, and a return number.. date called.. name blah blah... waiting 1 week .. repeat call... no answer after another week.. no answer.. email sent.. no answer .. left a message on their site.. no response.
is mittelwest this irresponsible on returning possible contacts? or are they cherry picking customers?

by Hundguy on 15 June 2007 - 07:06
Purhaps they have been doing this long enough to know when something stinks like sh!t..... Like this post, with no name, phone # or return email address!!!
Best Regards,
Dennis Johnson
by D.H. on 15 June 2007 - 07:06
they may be busy, the dogs you inquired about are already sold, your email ended up in the spam folder, or got deleted by mistake (if pillpusher is part of your eMail addy that may not be the most convincing first intro), your number could not be made out in the message you left, if push comes to shove there are lots of reasons why you are not getting a response.
What are you looking for? I have several nice dogs for sale at the moment, references are available of course. Put something GSD related in the subject line please and include a phone number so that I know you are serious. Thanks.
by Jantie on 15 June 2007 - 08:06
Splendid comment D.H. Hope all is well with you and your dogs?
Is there any website where we can see your dogs? Would like to take a look.
Jan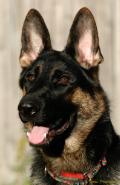 by DeesWolf on 15 June 2007 - 10:06
I know Julie from Mittelwest, quite well, and have done business with her on a few occasions. Julie never ignores an inquiry about her dogs, even after she sells them. Chances are very good that she is off site showing or trialing her dogs.
I have found Mittelwest to be very honest, honorable, accomadating and downright helpful. I have referred people to Julie several times, and they have all had favorable interactions. Julie returns calls and emails personally, and I know she doesn't always take a laptop with her when she travels. Give her some time, it will be worth the wait.
Dee
Haus Mansfield
by Dawn G. Bonome on 15 June 2007 - 10:06
Are you an ARISTA?? Trying your same BS as you did with another well known Kennel a few months back? I have never heard any complaints with Julie, or her contracts. I live in her neck of the woods!!
If she is not training, she is showing her dogs. What is coming up this week-end? Oh yes , a DOG SHOW in Kentucky!!
Take your BS elsewhere!!
Have a good day!
Dawn Bonome
by Dawn G. Bonome on 15 June 2007 - 11:06
Julie does call people back and CONTACT people.
She is an honorable person!
Dawn
by Dawn G. Bonome on 15 June 2007 - 11:06
Jantie,
Are you looking for a pup? How are you and you daughter? I know of 2 breeders that are in Belgium, and 2 in Germany. All are upfront, and honest.
Dawn

by Bob-O on 15 June 2007 - 12:06
I do not know Julie Martinez personally, but I will say that for all these years I have not ever heard anything bad about her dogs or her interaction with customers. And the Mittelwest group has been around long enough that if there were any problems, these problems would certainly be known.
This kennel is very active in the U.S.A. Schutzhund sport scene and has presented several nice show-line dogs. I would say they are trustworthy.
Regards,
Bob-O
by 1doggie2 on 15 June 2007 - 14:06
is Mittelwest honourable, yes she is. She will stand behind her dogs. No problem with papers. She does return calls even if the dogs you inqure about are sold. As Dawn mentioned there is a show in Kentucky this weekend and there was one last weekend. She could very well be traveling right now. I am sure you will hear from her after she ges back and gets settled in.
You must be logged in to reply to posts
---
---
---
---
Contact information
Disclaimer
Privacy Statement
Copyright Information
Terms of Service
Cookie policy
↑ Back to top