by jojonah on 22 March 2019 - 02:03
I rescued a German Shepherd that was used for breeding. She is the best dog we have ever had, so I was thinking a great gift to my family would be finding one of her offspring (she was spayed by the rescue prior to me finding her). I have her info from a AKC certificate. I have her lineage to past, but I need the lineage forward.

I would love any help someone can offer.

Rosie of Gaynor Hall
DN31043509 (06-13) BLK & SLVR

by Sunsilver on 22 March 2019 - 03:03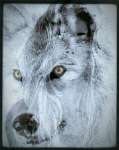 by Fantom76 on 22 March 2019 - 13:03
I checked her progeny's litter-mates (Born 10. December 2013) in AKC database and also found one who is not on the PDB database.
Zazha Hinojosa DN38497706
Haykah Shatzi Tanzer DN38497703
Valla The Great DN 38497705
These 3 progeny are in the USA
.
One of the progeny Alina 2008 born 04. September 2008 is in India.
by jojonah on 25 March 2019 - 22:03
Thank you everyone!
---
---
Contact information
Disclaimer
Privacy Statement
Copyright Information
Terms of Service
Cookie policy
↑ Back to top