by krenee03 on 18 October 2018 - 15:10
I have been doing as much research as possible and trying to learn about which lines my dogs are from. It is all so confusing to me. I think I know but not 100% sure.

Dog 1.
http://www.pedigreedatabase.com/german_shepherd_dog/dog.html?id=2788675-carter-ut-prosim

Dog 2. (he isn't in the database currently, I have included dogs from his pedigree)
Grand sire (sire's side): http://www.pedigreedatabase.com/german_shepherd_dog/dog.html?id=593843-angus-boaz
Grand dam (dams side): http://www.pedigreedatabase.com/german_shepherd_dog/dog.html?id=751771-blaze-belle

Dog 3. (not in pedigree database. Have included dogs from his pedigree)
Grand Sire (sire's side): http://www.pedigreedatabase.com/german_shepherd_dog/dog.html?id=398888-horace-vom-fleischerheim
Grand Dam (sire's side): http://www.pedigreedatabase.com/german_shepherd_dog/dog.html?id=443441-jill-vom-fleischerheim
Great Grand Dam (dam's side): http://www.pedigreedatabase.com/german_shepherd_dog/dog.html?id=721954-delilah-meridius-graham


by Q Man on 18 October 2018 - 16:10
Let me just suggest how I learned about bloodlines...I first look at my dogs and try to research them and learn all I could...then you will begin to see some of those same dogs in other pedigrees...You will begin seeing dogs that you'd like to know more about...
Ask people what you'd like to know..."PDB" is a good place to ask...there's a lot of very knowledgeable people on here...Not everyone knows all the lines...So don't be afraid to ask the same questions about different lines...
There are people on here (PDB) from other countries other then the U.S. so they can have a different take on the same dogs...
There are many things to know about the same dog...Usually here in the U.S. we know what we've been told or if lucky we see a video or two but that's not the whole story...There is the way the dog really is...How is his/her personality...How is he to live with...How is he to train...
So ask...ask...ask...It's the only way you'll learn...

~Bob~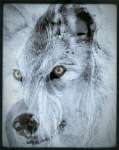 by Fantom76 on 18 October 2018 - 16:10
I would suggest adding dogs 2 and 3 to PDB so that people can get a better idea of the whole makeup of the dog
by apple on 18 October 2018 - 16:10
Looks like a combination of BYB dogs and German show lines.

by susie on 18 October 2018 - 18:10
Dog 1 is out of mostly German and Dutch workinglines (IPO) - pretty succesful dogs...
I don't know the 1. generation though.

"Fleischerheim" is a showline kennel.
The "Jill" descandant may be a serious dog, although showline, I know the motherline pretty well 😀
owned a Ira son by myself (show trained Ira)...the smartest dog I ever owned...


by Sunsilver on 18 October 2018 - 18:10
Jill has Ursus von Batu as an ancestor on both the mother's and father's side. Ursus is well known as a show line dog that could actually work and produce working ability in his progeny.

So, second what Suzie says. I have an Ursus grand-daughter, and even at 11 years old, she'd give an intruder good reason to decide they'd picked the wrong house!
She is fine with strangers if she's properly introduced, and despite her age, she's still playful and active.

by susie on 18 October 2018 - 18:10
Sun, I owned a Ghandi(Ursus)/Ira son...😀
And believe me, I know most of these dogs personally 😉

The question remains: Did the dog in question inherit those genes?

We don't know.
You must be logged in to reply to posts
---
---
---
Contact information
Disclaimer
Privacy Statement
Copyright Information
Terms of Service
Cookie policy
↑ Back to top