by Evangelina on 19 July 2018 - 16:07
Hello, I have 2 female GSD: a soon to be 8 year old and a 12 year old. In October 2017 I took my younger female to the vet because she had an extremely dry nose. He diagnosed it as nasal hyperkeratosis, he said it was genetic and recommended giving her salmon oil, or similar, to boost her Omega fatty acid intake, and also apply something to moisturize it. I have recently been using Bag Balm with her with good success, some days are better than others.

Anyways, now my 12 year old female has started with this condition as well, I have never met other GSD owners whose dogs have hyperkeratosis, and was wondering if anyone on this forum has dealt with this before and hoping for some tips or insight to help alleviate their condition.
Thank you in advance!

by Hundmutter on 20 July 2018 - 08:07
I have never known this condition move from one dog in a household to another ! Even if they are related. And perhaps strange, if they are, that it should develop in the younger one first.

It may have something more to do with environmental conditions for your two. Has it been extraordinarily hot & dry where you live, for instance ?

Suppose I have seen about five cases of different levels of severity, over the years. Almost always in older dogs.
I always used to use Vaseline petroleum jelly, topically, with varying degrees of success (am talking over a period of a lot of years & a lot of GSDs, many related to each other but also many not). And yes, I feel salmon oil in the food helps a bit.

The other thing that seems to me to help is to boost the dog's general condition; there is a tendency sometimes to let exercise and body weight and coat care slide a little as dogs get beyond 'middle-age'.

by Evangelina on 20 July 2018 - 14:07
Thank you hundemutter! I know, I found it particularly strange that first it happened on one female and then months later the other, maybe its just coincidence???
And yes, it is very dry where I live so I'm sure it plays into it as well as both are aging females.

My younger female is a Remo daughter, and since the vet said it's genetic, I thought perhaps it had to do with her being more line bred than my older female, who is a mix of show/working lines but both very open pedigrees even in the show line side.

Guess I'll just keep up with the nose moisturizing for my old ladies :)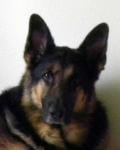 by Mindhunt on 24 July 2018 - 17:07
My oldest (15 years old) GSD had a very dry nose to the point of crusting and cracking. Tests showed nothing other than nasal hyperkeratosis. My vet suggested making home made bone broth and it did the trick. Bone broth made correctly is super nutritious. My boy now has a nice soft, shiny, near perfect nose. I use an Instapot and it keeps the smell down. I slow cook it for 20 hours.
https://www.dogsnaturallymagazine.com/how-to-make-bone-broth-for-your-dog/
You must be logged in to reply to posts
---
---
---
---
Contact information
Disclaimer
Privacy Statement
Copyright Information
Terms of Service
Cookie policy
↑ Back to top