by puppylove11 on 11 June 2018 - 17:06
Hello!
I am new to the breeding world and have a question. I recently got my dogs elbows tested and sent the results into OFA, they scored her with a DJD grade III. This was obviously very disappointing to me. I have heard that if you go to a vet that does not know what they are doing they can really mess up your x-rays. I am wondering if that is the case...? the clarity of the xray is fine, and OFA did not complain about the clarity. But has anyone ever resubmitted different ELBOW views and received a higher score?

When I had these xrays performed my bitch was only 21 months. Do you think that would make a difference? I'm looking forward to your responses.


by susie on 11 June 2018 - 20:06
Are you able to post the files?
Some members of this board are pretty good in reading elbows. They should be able to tell you if new x-rays are worth the effort.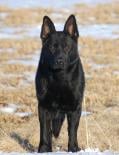 by Jenni78 on 12 June 2018 - 18:06
A grade 3 DJD is pretty significant damage. There was a very extensive "study" or experiment done by some Rhodesian Ridgeback breeders regarding grade 1 DJD and it showed that there was a higher incidence of grade 1 DJD in offspring, but nothing worse. That was only with grade 1, though. I would not breed a grade 3, for sure. I'm sorry for the bad news. :( It seems grade 1 is not necessarily indicative of an underlying problem (FCP, etc.) and might simply be "wear and tear" osteophytes. However, with greater degrees, the general consensus is in young dogs that there is *likely* a primary lesion that caused the arthritic changes. I can show you several grade 1's, but I have not actually seen a grade 3 with my own eyes.

With regard to "messing up" xrays, no. On an elbow, if they are seeing degenerative changes to that degree, there is no point in redoing them. Hips, if poorly positioned, can be pulled out far enough to mimic subluxation, and thus, positioning is extremely important, but damage is damage and typically shows regardless of position.
You must be logged in to reply to posts
---
---
---
---
Contact information
Disclaimer
Privacy Statement
Copyright Information
Terms of Service
Cookie policy
↑ Back to top