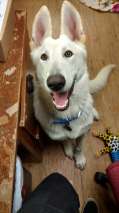 by ShirosOhana on 13 September 2017 - 18:09
Sorry I have been absent for so long, my town was hit very hard by Hurricane Harvey.

I thought I would share our story.

The day before the storm hit me and my husband discussed evacuating up north to avoid the chaos of power outages and food shortage, but we decided to stay home and ride the storm out. We have sheep, goats, chickens and a donkey that we cant just pick up and leave with. So we stayed and bunkered down all of animals in our barn and brought the chickens inside our spare bedroom for the night. We had our kennels and leashes and paperwork for our two dogs and our cat if we were forced to leave. Packed what clothes we thought necessary and of course our valuables.
So the storm started rolling in decently, hard rain, rain and more rain was all we got for a good 10 hours, nonstop mind you. The water was about a foot from reaching our door (mind you, we have NEVER had a flooding problem. ) The water was already ankle deep in the animal barn, so me and the husband made makeshift planks, so they could get out of the water. and we let the chickens loose in the top loft of the barn. We leashed up the dogs and kenneled the cat and called for a rescue. We had to leave our house by boat. Electricity had gone out right before we started to leave, and by this time it was already 11:00 at night and water was starting to seep into the house. We got our 90lb GSD and our 50lb GSD mix into a small boat with two packs of clothes and a very angry cat. We boated out to a family members house that was about a 9-10min drive usually but by boat it took almost an hour. Having to navigate by cars, houses, floating debris. As we were leaving it was like watching something out of a horror movie, helicopters were rescuing people, coast guard and national guard were making rescues in boats. We made it to our cousins house which was still safe for the time being. We bunkered down again, with their two Great Danes and their 3 cats and our wet and scared animals it was a circus in there. The storm was strong, very windy, lightening and thunder louder than any I have ever heard before. Mind you, I have stayed for many hurricanes and have never been so scared for my life.
The storm passed decently quick but when we woke up the next morning, water was already two inches deep in their house. So we took another boat to a dry spot where my father was able to pick us up and drive us up north. We found a hotel that was gracious enough to take us in with our two wet smelly dogs and very pissed off cat.

Three days of being cooped up in a hotel with no power or hot water, the water went down enough that we could return home. Sadly we lost all of our possessions, the bottom half of our house LOL our vehicles and a couple of our sheep. We got 28 inches of water in the house and even more in the barn.

But in the grand scheme of things, my dogs, cat and husband are safe, we can replace things but cannot replace each other. We are extremely lucky.

My heart goes out to anyone else what was affected by the recent hurricanes. I hope for a speedy recovery.
by Nans gsd on 13 September 2017 - 18:09
So glad you are all safe. Nan




by Hundmutter on 13 September 2017 - 19:09
Glad you got through it. What a horrible experience for you.
L x

by Dawulf on 14 September 2017 - 00:09
Glad you are all safe. Sounds like it would be an absolutely surreal experience.
You must be logged in to reply to posts
---
---
---
---
Contact information
Disclaimer
Privacy Statement
Copyright Information
Terms of Service
Cookie policy
↑ Back to top