This is a placeholder text
Group text
by TYKE on 24 November 2016 - 07:11

Any solution for a puppy that has incomplete nose pigmentation ? I am using Canina Sealgen as supplement.

by dragonfry on 24 November 2016 - 23:11
First How old is the puppy?
Is the puppy black pigmented or a dilute like liver or blue?
Pigment can take up to 3 years to full fill in, and you can't rush it.
Fry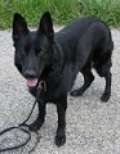 by Lunastar on 25 November 2016 - 02:11
Here is a webpage with info on dog nose colors: http://www.doggenetics.co.uk/noses.html
Dogs with heavy white coloring or merle are more likely to have bright pink spotting on their noses which is called a butterfly or parti nose. True pigment loss on a dog's nose is called a dudley nose and is usually found in the middle of the dog's nose and is a dull pink color. There is also snow nose, which is just like dudley nose, except it only shows up either during winter time or during high stress.
by TYKE on 30 November 2016 - 11:11

The dog is white and the pigment is black. All the brothers and sisters completed the nose pigmentation. He is just going slow and I belive there will be missing points even when he is adult. That is why I tought supplementing him would be good.

Thanks for all replys.

by Jyl on 30 November 2016 - 11:11
I have always used a supplement from Solid Gold called SEAMEAL. It is a kelp supplement. I was told about it over 20 years ago by someone with GSDs. All my dogs have had BLACK noses. (Although none of my dogs were white dogs).. All my dogs have been German Shepherds and either black/tan or sables.

by dragonfry on 30 November 2016 - 17:11
I tried Seameal with my dog Ivy many years ago. As she had incomplete pigment when i got her. Really didn't make a damn bit of difference. She was about 3 when her nose and lips stopped filling in. And she ended up with a complete black nose. When i got her it looked like she has central america running through her nose.
It either will or will not fill in that is genetic.
Fry

by dragonfry on 30 November 2016 - 18:11
http://www.pedigreedatabase.com/american_bulldog/dog.html?id=1596518-ivy-lee-west This was Ivy at about 1.5 years old. You can see it's nearly filled in at that age.
---
---
Contact information
Disclaimer
Privacy Statement
Copyright Information
Terms of Service
Cookie policy
↑ Back to top