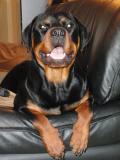 by Gallowitz Rottweilers on 20 February 2012 - 08:02
For anyone in the Toronto area beware of a Rottweiler breeder in Markham breeding unregistered dogs as registered ones. I will not metion any names but just want to put it out there as many people have been affected. Ask to see paperwork for puppy before buying from this person.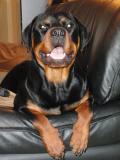 by Gallowitz Rottweilers on 21 February 2012 - 16:02
I am glad to see that this post is getting many views, and I hope the word gets out to the general public as all the Breeders in the GTA already know what he does. It's the new Rottweiler owners that are getting screwed by this person. They tattoo dogs and also give them away for no $ and then only ask for a puppy back when they can do a breeding....but by then you are out of luck as CKC states you need to give a consideration for the dog....this so called breeder did a verbal aggreement and swore on his daughters grave that I would get papers for my female!!!! This just goes to show what kind of man he really is!
by K9Chick on 23 February 2012 - 22:02

The best advice is to always sign a contract before taking possession of a puppy. And get a reciept for paying for the dog.
---
---
Contact information
Disclaimer
Privacy Statement
Copyright Information
Terms of Service
Cookie policy
↑ Back to top